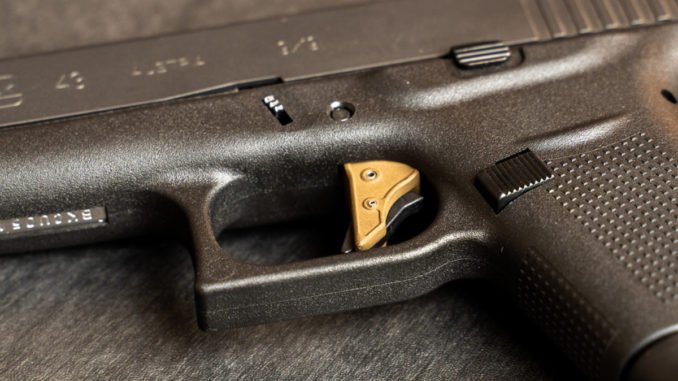 Overwatch Precision has added a limited edition FDE PolyDAT trigger that will only be available during July of 2019. Sure it looks super cool, but is it worth the $59.99 they are asking for it? I happen to think it is based on my previous experience Overwatch's DAT V2 trigger.
Built using the same geometry as the proven Overwatch Precision DAT and DAT V2 trigger used in the Roland Special, the PolyDAT has an impressive legacy to follow. Overwatch says that the trigger should reduce pre-travel by as much as 20% depending on frame tolerances as well as a reduction in overtravel. The only downside is that the PolyDAT isn't available for Gen5 pistols yet.
To sweeten the deal, Overwatch is also throwing in an NP3'ed OEM trigger bar with each FDE PolyDAT purchased so you should also get a bit of a smoother trigger pull than previously.
As stated previously, the Overwatch Precision FDE PolyDAT has an MSRP of $59.99 and comes with an NP3 OEM trigger bar. Find more information and place an order on the Overwatch Precision website.
More From Overwatch Precision about the FDE PolyDAT Trigger:
Limited Edition Austrian FDE PolyDAT paired with an NP3'ed OEM bar option for July 2019 only! 

Overwatch Precision is pleased to introduce the first aftermarket polymer trigger for Glock pistols! This trigger is designed to provide the same great feel that our aluminum triggers provide at a reduced cost for the budget minded shooter. As always, the flat-faced polymer DAT trigger will provide increased leverage to the shooter as well as a reduction of pre-travel by as much as 20% (depending on frame tolerances) without compromising firearm safety features, resulting in a clean, crisp break and reduced overtravel.

The shoe and safety are solid body polymer attached to a polished OEM Glock trigger bar.  The Overwatch Precision Poly DAT is completely drop in ready and is in stock for all Gen 1-4 Glock pistols. The addition of this trigger alone does not change the pull weight but when combined with our competition trigger spring and Glock OEM minus connector you can expect a reduction in trigger pull weight of one half to one full pound. Please note that we do not tune the trigger bar.