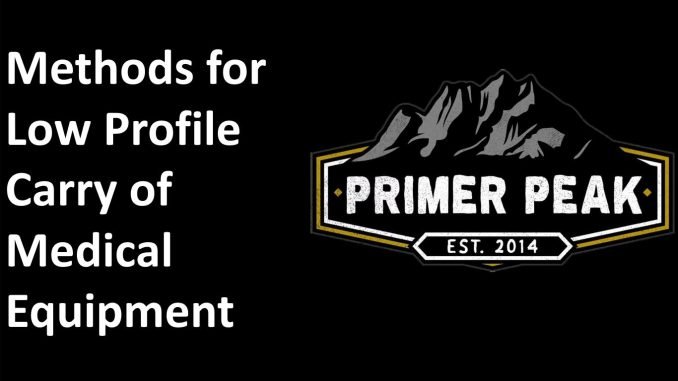 In our world people like to focus on tools to make holes and apply pain. From every pokey-stabby thing, to the latest and greatest ballistic binky, crushing cudgels, and more. While those are all well and good, holding important places in our pockets and waistbands, they're not the be-all-end-all of EDC. Folks put all of the effort into the shooting problem, without looking at any other potential issues or solutions.
A big shortfall is preparation for normal, day to day accidents. Slips and falls, car crashes, and other oopsies. While I've never been a responder to violent crime, I have responded to several wrecks and a variety of typical injuries. With this mind, we should probably keep some sort of medical equipment on our person. This need only increases if we also carry tools for personal defense. If you're planning on making holes, you should be prepared to patch holes as well. Much like our tools, we want something that is easy to carry and doesn't impede real life. Something that is easy to fly with, or take into other areas which may restrict weapons is also a good solution. With this in mind, here are some methods for the low profile carry of medical equipment.
OWB Tourniquet carry
Tourniquets worn outside the waistband is an extremely popular option for tourniquet carry in certain circles. Despite this, I haven't had much success in my efforts to carry in this manner. Concealment has been poor, as has comfort. I imagine this would be more effective for those wearing a BDU style top on duty, a hoodie, or something similar to aid in concealment. OWB tourniquet carry is certainly an option for those going overt, though exposure to the sun's UV rays can damage the TQ over time, along with other environmental factors to be wary of. On the positive side, access is faster than some other methods of concealment such as ankle kits.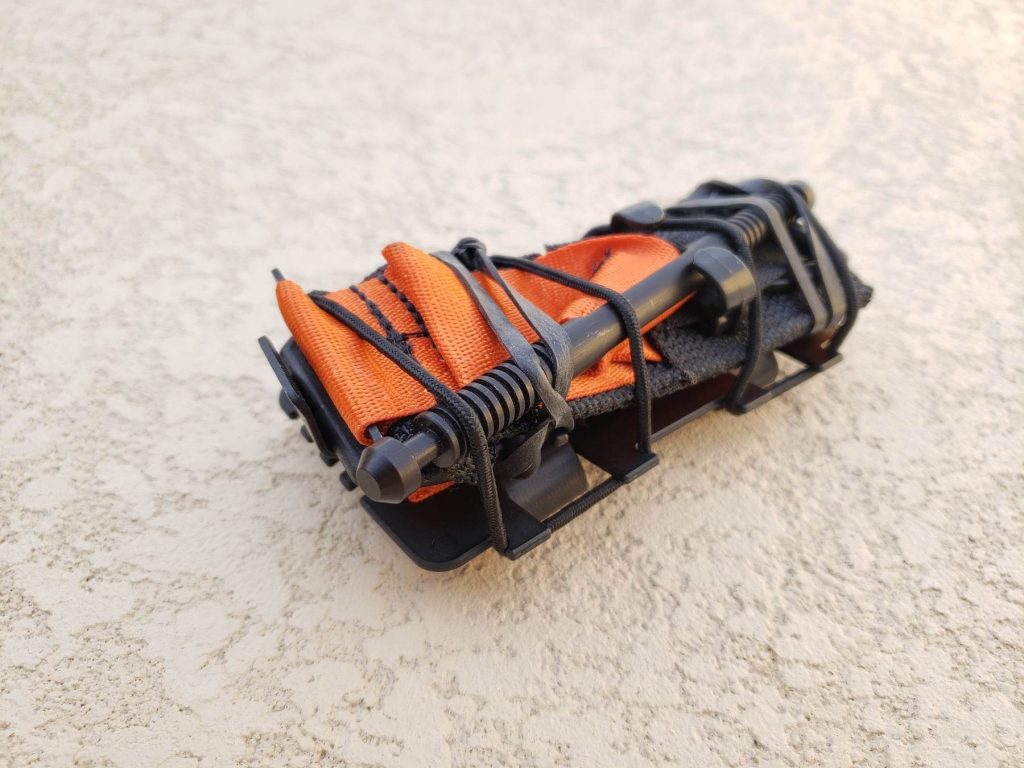 The PHLster Flatpack is one of the more popular methods of OWB tourniquet carry. I've messed with mine a bit, and it's certainly a well made piece of equipment. Other companies, such as Blue Alpha, make elastic style pouches that attach to the belt, which don't appear to be quite as durable, but may improve comfort and concealment.
Pocket Medical Wallets
Pocket medical wallets are something that I see suggested and advertised quite a bit, but I hadn't used until recently. In my experience, these are not particularly feasible for carry in the front or rear pockets of pants thanks to their large bulk. More suited for a cargo pocket or bag, pocket medical kits are great for those in uniform, or self described grey men. While taking some items out of these kits will slim them down a bit, they're still fairly large overall.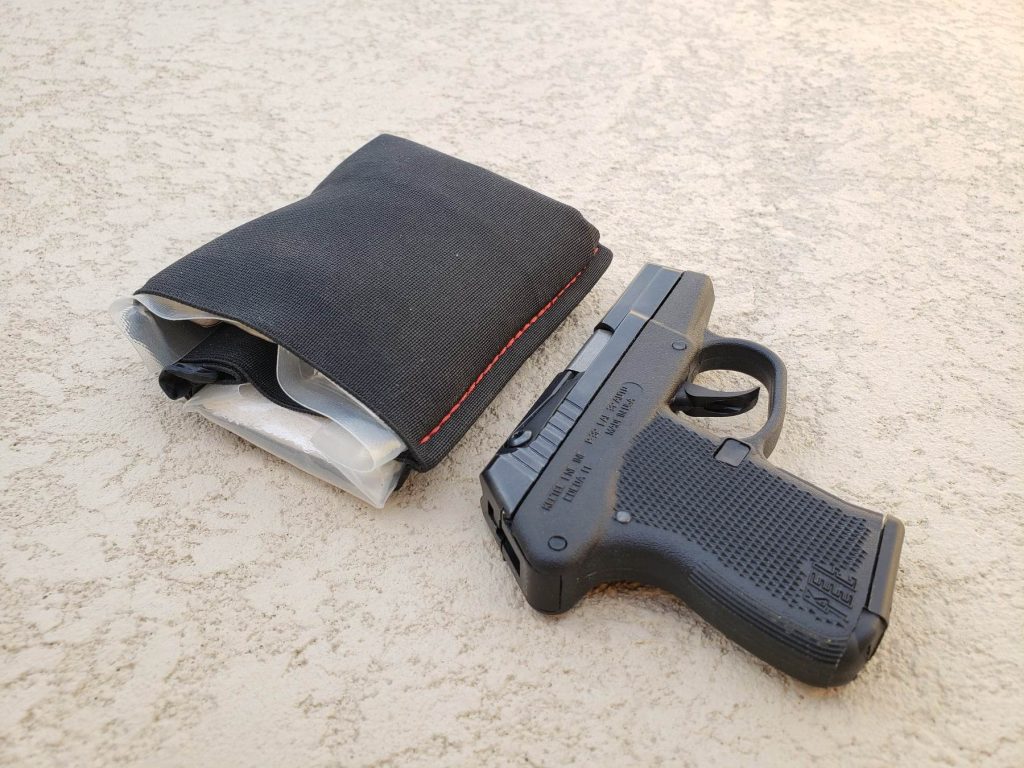 I haven't incorporated a medical wallet into my EDC due to their size. However, I have found them to be a convenient way to add medical to my range bag and suitcase when I travel. This keeps critical components, such as Quick Clot and chest seals in a nice package that is easy to transport. No need to worry about leaving a component behind as you rush to apply aid. Additionally, the different pieces of equipment are easy to remove from the kit, but don't fall out when you need them.
Currently my only experience is with the PHLster Pocket Emergency Wallet, which is a solid product. I've also heard good things about the LTC EDC Pocket Trauma Kit for those looking for another option. While not a designated "pocket" medical kit, the ITS Tactical EDC Trauma Kit was a constant companion in my uniform cargo pants for years, and fits the bill of "pocket size" much better than some competing options.
IWB Tourniquet Pouches
A tourniquet worn inside the waistband is pretty much the least invasive method of medical carry, and most the accommodating of different clothing choices. This is also the least amount of gear, limiting yourself to just a tourniquet or similarly sized piece of medical equipment. These fit excellently between my gun and a spare magazine for times when I'm carrying a bit more gear. Certain pouch and tourniquet combinations can make it a little difficult to get a good grasp of the TQ, but some practice quickly remedies that. For best results, I prefer carrying the SOFTT-W, as it is lower profile than the common CAT, while still being TCCC recommended.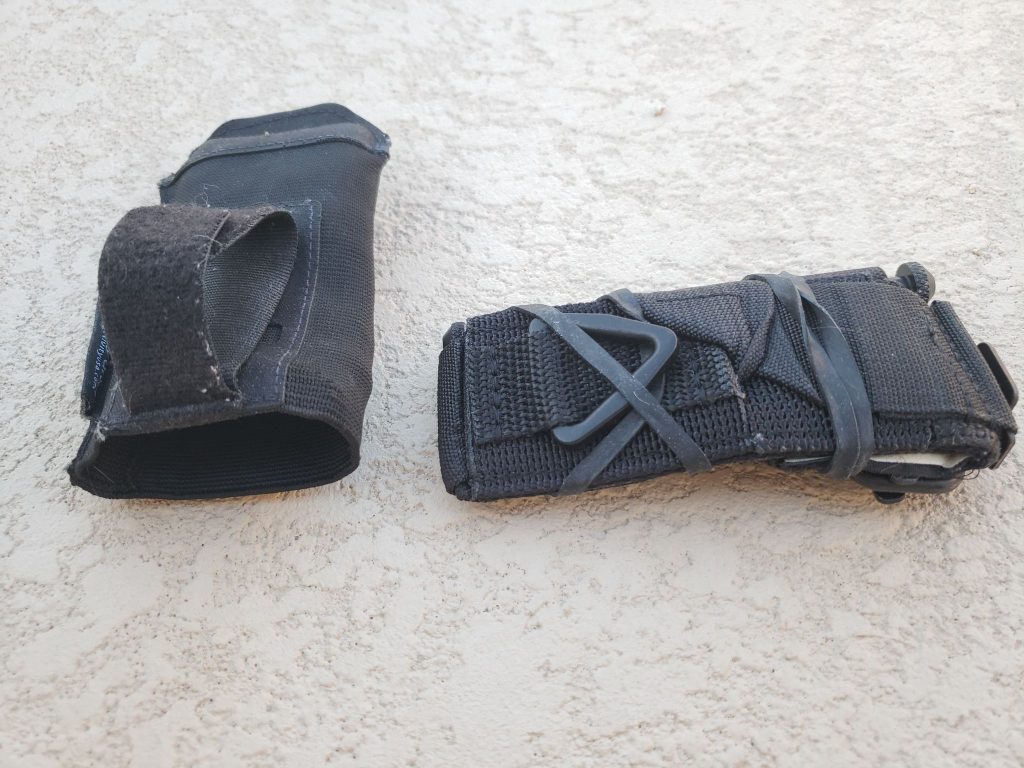 There are three IWB tourniquet pouches that I have worn over the years. These are from Snake Eater Tactical, PHLster, and Immediate Casualty Care. All have been fantastic products, each with slightly different construction to suit the user's preference. Snake Eater and PHLster both use velcro belt loops, which wear out over time. Due to this, I recommend purchasing a second pouch if you plan on training with your gear to avoid wearing out your carry equipment. ICC offers a variety of belt attachments, and is more compatible with a CAT than the others.
IWB Medical Kits
You can carry more than just a tourniquet inside your waistband. There are a handful of companies making complete IWB medical kits, allowing the carry of additional medical gear, or other critical EDC items. The two biggest players in this arena are Velocity Systems, and Immediate Casualty Care. ICC plays more towards the common man, with their products coming in at roughly $35-55 depending on your configuration, having the user source their own components. The STAMP from Velocity Systems starts at $110 for an empty kit, then jumps up to $252 for a fully stocked IWB package.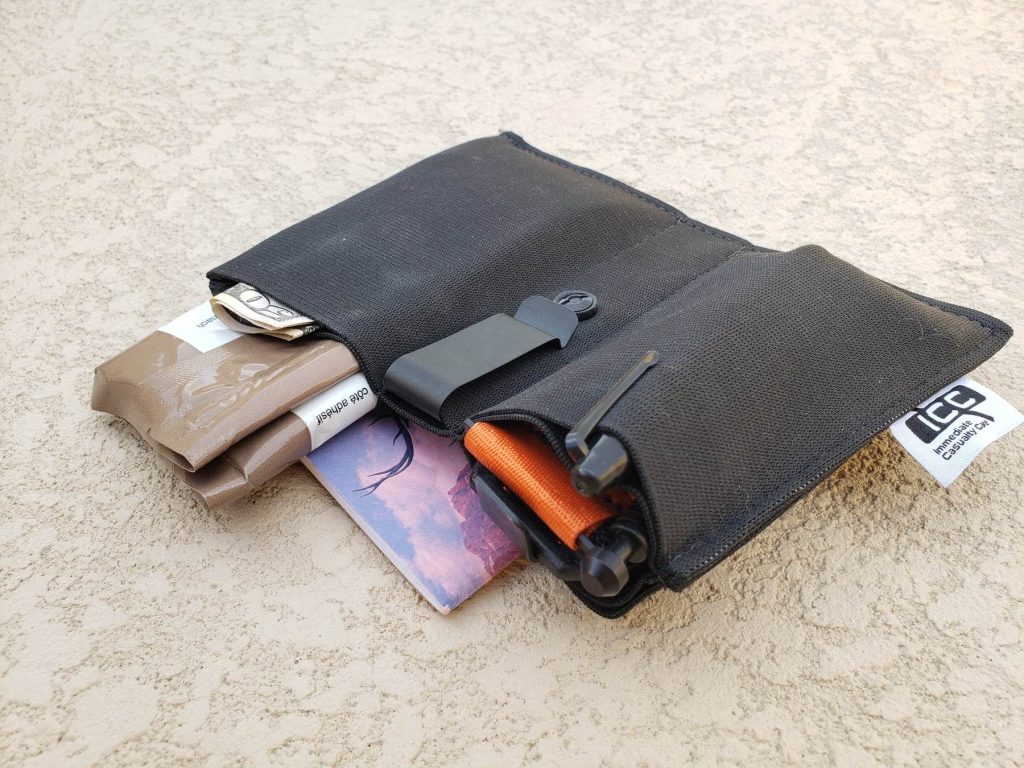 I've been experimenting with the Immediate Casualty Care Min-E-Med for a few months, and I definitely see some promise there. You can carry a fair bit of medical gear, and you're not limited to long pants like with an ankle kit. Typically I wear this on my side or in the front, though I see many place it behind the back. I have some concerns with gear directly over the spine, but less than with a gun or other hard things.
Ankle Medical Kits
The classic method of wearing medical gear on-body is the ankle medical kit. Much like the ankle holster for a backup gun, the ankle medical kit has been around for a long time. Thanks to the location of carry, storage capacity is relatively high while impact to daily life is fairly minimized. Depending on the cut of your pants, users may need to remove some contents to avoid the appearance of tumor-ridden ankles. Shorts and capris are of course incompatible here. I recommend wearing taller socks to improve comfort, as well as rotating the bulk of the kit behind your calf for maximum concealment. The additional weight and bulk feels a bit odd at first, but normalizes after a couple hours. Wearing your ankle medical kit at home can help you adapt without looking odd in public.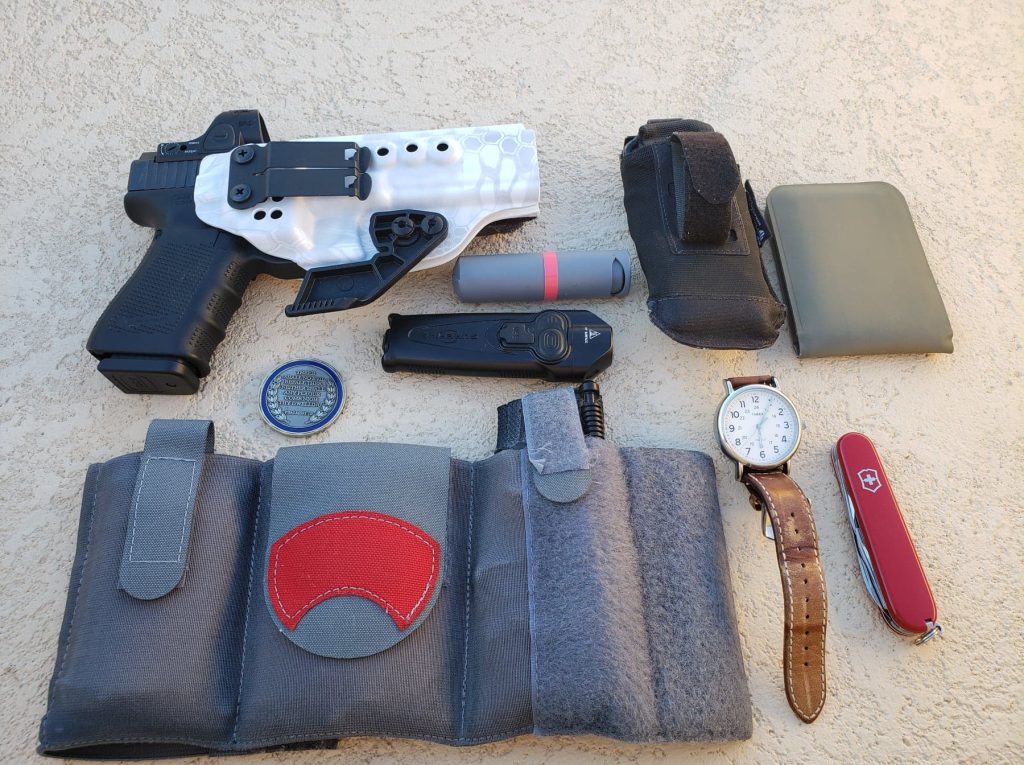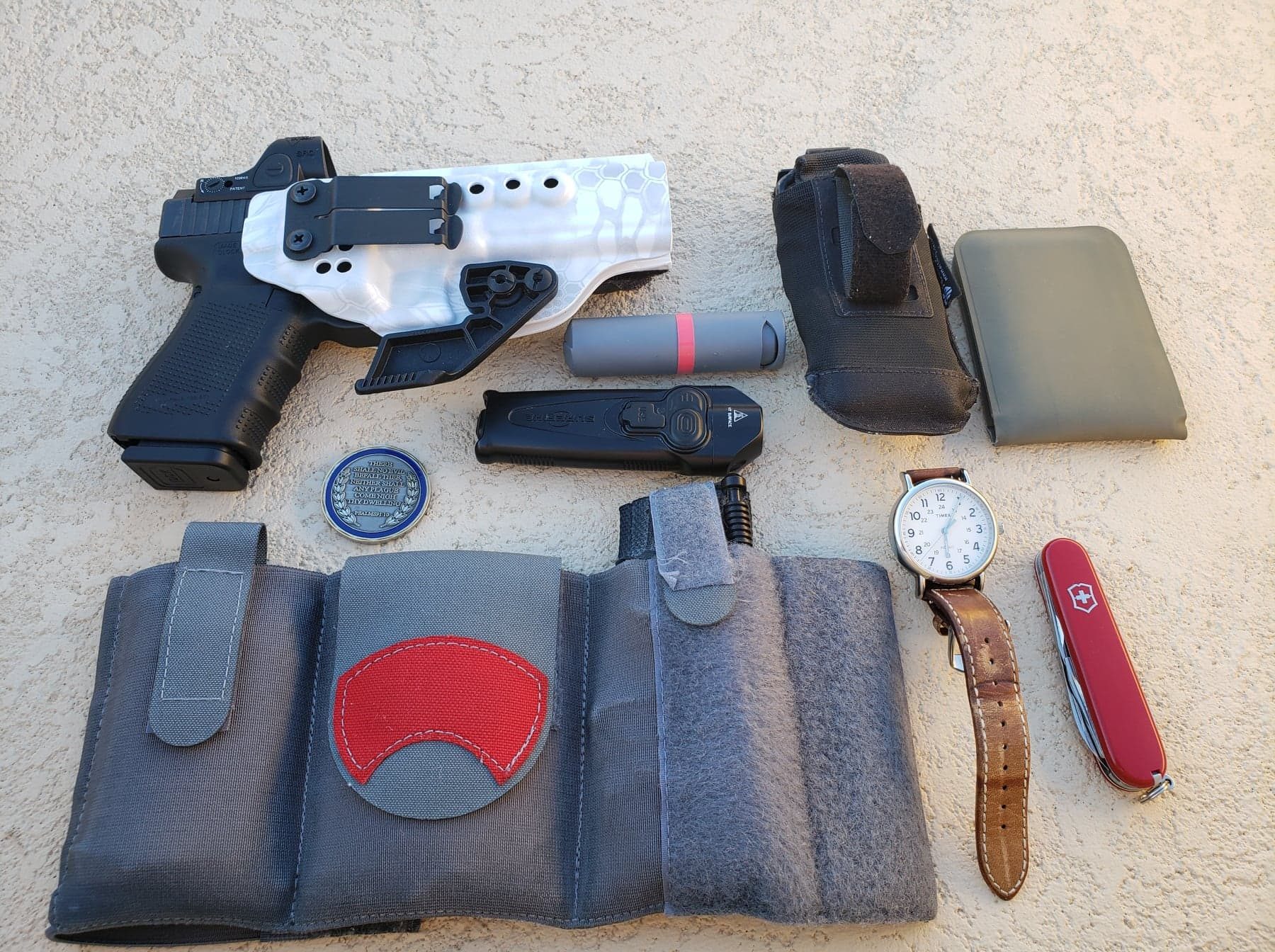 Over the past few years I've had great success with the PHLster ankle kit. Other options that commonly get praise include the Walther DDAM, and the Dark Angel Medical ankle kits.
Final Thoughts on Methods for Low Profile Carry of Medical Equipment
There is an amazing array of options for carrying medical equipment on your person. With this in mind, I don't see much excuse for not integrating one of these methods into your everyday carry, especially for those who live an armed lifestyle. From defensive encounters to more typical emergencies, being your own first responder often requires more than just a gun.