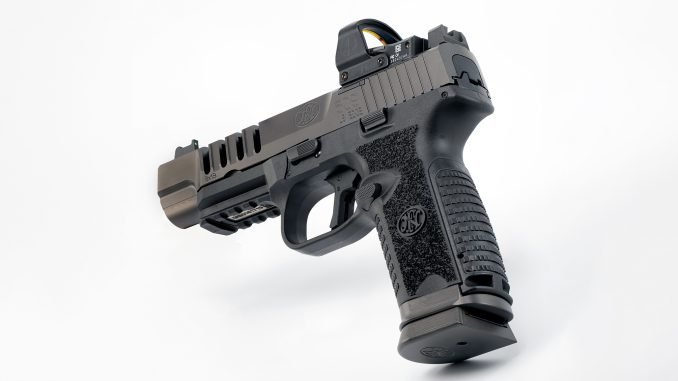 Today FN America unveiled the latest addition to the venerable 509 line: the 509 LS Edge. The FN 509 LS Edge is a long slide variant of the 509, designed with a focus on competition. FN seems to have spared no expense in giving this pistol an edge over the competition. See what I did there?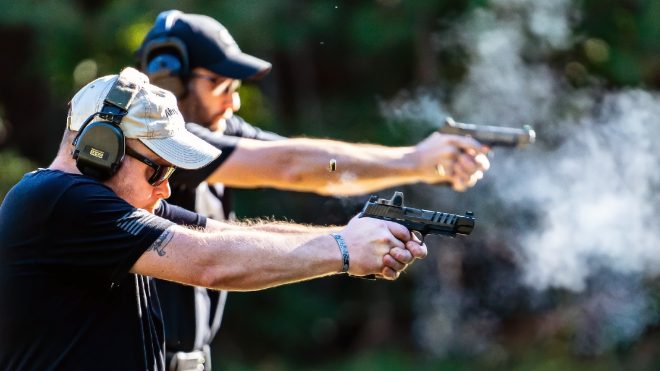 The 509 LS Edge features a cold hammer forged, 5 inch barrel, with a target crown for enhanced accuracy and durability. Lightning cuts have been added to the lengthened slide to help reduce reciprocating mass, thereby reducing felt recoil. The new flat face trigger gives shooters a flat face, breaking at 90 degrees, which is sure to please most folks.
Strikers have been redesigned to reduce trigger pull weight, and improve durability. A flared, aluminum magwell has been added to facilitate rapid reloads, helping those who have trouble finding the hole. Feed ramps and chambers are polished to ensure high levels of reliability no matter what rounds you feed the FN 509 LS Edge. The grip texture has been redesigned, and the slide release levers are slightly enlarged to be more user friendly.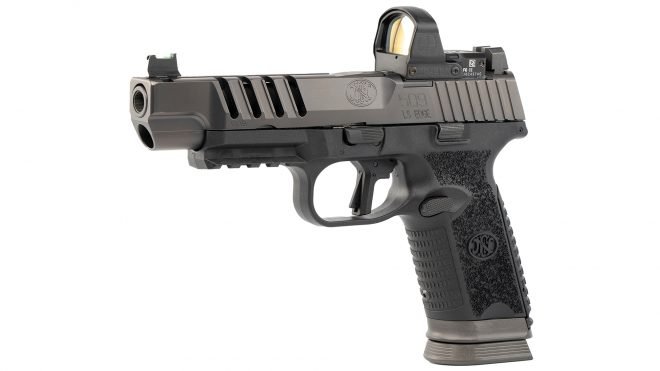 Fans of the original 509 have nothing to fear. The LS Edge accepts both 17 and 24 round 509 magazines, even with the flared magwell. Sights are suppressor height fiber optics standard from the factory. FN's best-from-the-factory optics mounting system comes standard on the 509 LS Edge, giving everyone a rock solid solution for their preferred red dot sight.
FN 509 LS Edge Specs
CALIBER: 9mm
OPERATION: Double-action
MAG CAPACITY: 10 or 17 Rd
WEIGHT: 31 oz.
BARREL LENGTH: 5"
OVERALL LENGTH: 8.2"
TWIST RATE: 1:10" RH
HEIGHT: 5.9"
WIDTH: 1.35"
TRIGGER PULL: 4.5 lb. -6.5 lb.
SIGHT RADIUS: 6.7"
MSRP on the FN 509 LS Edge is $1,499. The pistol ships with a ballistic case, found optic mounting plates, two backstraps, and three 17 or 10 round magazines.
FN's Press Release on the 509 LS Edge
The Edge of Performance is Here

Introducing the FN 509 LS Edge

(McLean, VA – January 11, 2021) Introducing the FN 509 LS Edge™, the ultimate tactical pistol designed by FN to give users every advantage in the most demanding environments. From the front lines to the range, this factory-tuned 9mm Long Slide delivers cutting edge performance. When split seconds make the difference, the FN 509 LS Edge provides the advantages of a fully customized firearm, right out of the box.

"FN's commitment to developing performance-driven products has reached a new level with the FN 509 LS Edge," said Mark Cherpes, CEO for FN America, LLC. "The foundation of unmatched FN craftsmanship and battle-proven reliability combined with expert counsel from professional users, allowed us to develop the most advanced FN 509 pistol to date."

Building on the proven FN 509 platform, FN teamed with tier one operators and world champion pistol shooters, to strategically enhance and purposely combine critical components of the new FN 509 LS Edge. The end result is a handgun that delivers superior versatility, accuracy, control and speed.

Versatility

The FN Low-Profile Optics-Mounting System™, combined with the green fiber optic front sight, allows users to run iron sights and a co-witnessed miniature red dot optic. Quickly mounting a favorite MRD is enabled with four included optic mounting plates. The midsized frame gives users the feel of a full-sized pistol that can still be comfortably concealed. An ambidextrous slide stop and two interchangeable backstraps allow users to further customize the FN 509 LS Edge, matching any hand size.

Accuracy

The five-inch hammer-forged target-crowned barrel delivers unmatched accuracy. With the 6.7-inch Long Slide bearing a .040" fiber optic front sight, the extended sight picture improves target acquisition and tracking. Additionally, the green fiber optic front sight co-witnesses with a micro red dot, users instinctively acquire a sight picture after their draw. The duty-rated, flat-faced trigger breaks cleanly at 90 degrees and features a reduced pull weight of around four to five pounds.

Control

Achieving the ideal balance, the 509 LS Edge's lightening-cut Long Slide compliments the graphite anodized base plates and flared aluminum magazine well, resulting in a flat shooting pistol that racks faster, recovers instantly and tracks perfectly. Maximum control is gained with the frame's full-height stippling, ensuring a full-contact 360-degree grip, locking into the hands under fire to reduce muzzle flip and control recoil.

Speed

The short take up and positive reset of the flat-faced trigger allows for speedy follow-up shots, while the green fiber optic front sight enables faster target acquisitions and transitions between shots. The flared, graphite anodized aluminum magazine well and weighted base plates of the 17-round magazines make for lightning-fast reloads, getting you back on target faster than ever.

The FN 509 LS Edge, part of a performance-driven series of firearms bearing the FN name, is shipping to an FN dealer near you. Gain an edge and learn more about the FN 509 LS Edge by visiting www.fnamerica.com/edgeseries.