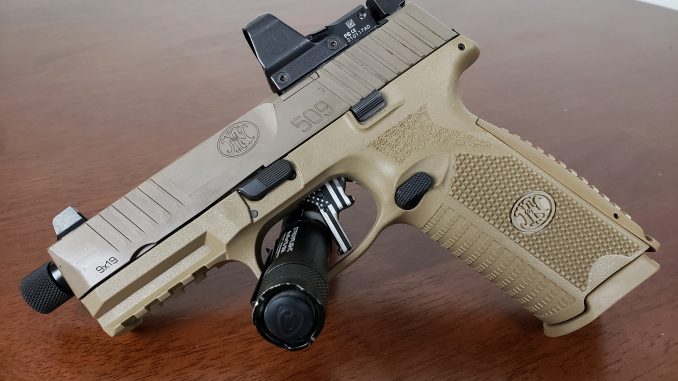 Every few years a new gun comes on the scene that every cool guy has to have. This year it's the Walther PDP, the year before was Staccato. In 2019, it was the FN509 Tactical. With a slew of features that made most other guns pale in comparison, I had to see what it was all about.
Unboxing the FN509 Tactical
The first thing you notice about the FN509 Tactical isn't the gun itself. Inside of a high quality cardboard box adorned with FN logos is an even nicer zippered case. This case has a sewn FN logo, quality handles, and internal storage for all of your range day supplies. For those in free states, the gun ships with one 17 round and two 24 round magazines. Additionally, FN provided two recoil springs of differing weights, and a variety of optic mounting plates.
Controls
Controls are solid, and fully lefty friendly. The slide lock is similar to the Vicker's slide lock for Glock, and is subtly fenced around the front and bottom. This allows for easy locking and releasing of the slide, and has prevented my grip from interfering with slide function. Front and rear cocking serrations are fairly deep and aggressive, allowing ease of use even in inclimate weather. Additionally, the front of the slide is scalloped, further easing access to the forward serrations. The external extractor plays double duty, also acting as a loaded chamber indicator.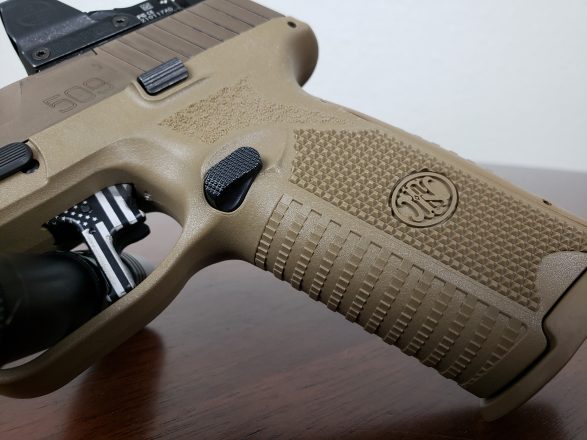 The magazine release is the real stand-out of the FN509. Ambidextrous is nature, it is perfectly positioned for rapid magazine changes, without being tall enough to be accidentally pressed. The release is scalloped to allow for a high grip with the shooting hand without interfering with the release itself. This plays perfectly with the undercut trigger guard and high tang for an excellent, modern firing grip.
FN509 Ergonomics
Using steel body magazines, the FN509 offers a reduced grip circumference, which is great for shooters with smaller hands. This is one of the only double stack pistols with which my wife can effectively reach the trigger. The grip is aggressively textured on all sides, which I'm a huge fan of. With additional texturing higher on the sides of the grip, the FN509 provides better purchase for your support hand than most competitors.
FN provides two backstraps for the FN509, one flat and one rounded. This helps to adjust both grip circumference as well as slightly changing the shooter's perception of grip angle. My gun shipped with the round installed, which I've kept in place out of pure laziness.
Other features
Optic Mounting System
FN's mounting system is the best factory option, hands down. In over 2 years I've never had my DeltaPoint Pro come loose, without the use of thread locker. The gun arrives with an irons-only plate featuring two large, serrated wings to help with one handed manipulations while also protecting the rear sight from impacts. At the time of purchasing, FN included both an RMR and DPP mounting plate with the gun.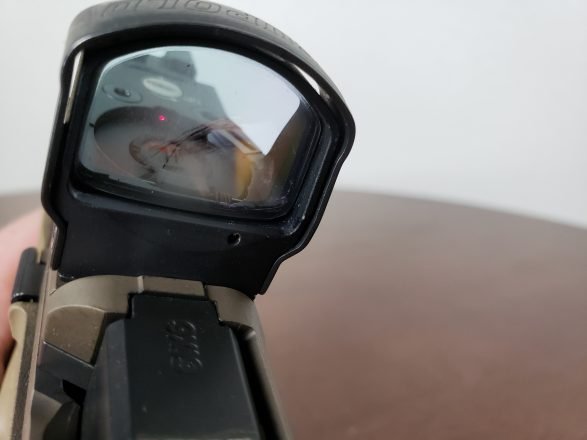 One shortcoming is the proximity of the optic to the rear of the barrel. This causes carbon to foul the front of the lens of the optic, degrading the sight picture when using improper technique. However, maintaining threat focus alleviates this issue, making it a non-factor. I could potentially see issue when clearing stovepipe stoppages, providing little room when using the case sweeping technique.
Factory Suppressor Height Iron Sights
The included night sights are fantastic. They're tall enough to  be able to get a sight picture over my DPP, which typically requires specialty irons. Serrations on front and rear sights reduce glare.
Threaded barrel
The cold-hammer forged barrel is capped with a target crowned, 1/2-28x threaded muzzle. Putting those threads to work, I've repeatedly mounted my Silencerco Hybrid-46 with no issues.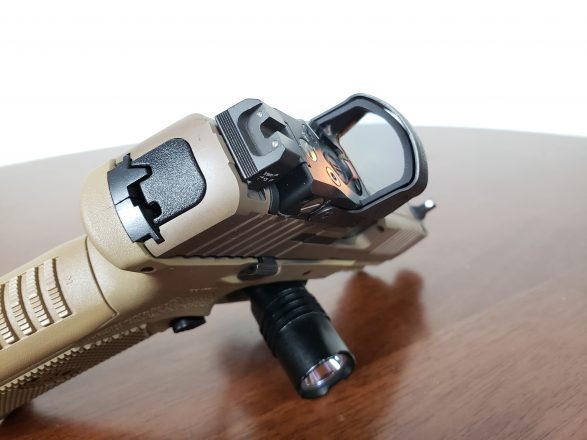 These threads are protected by a textured thread protector, held in place by a rubber O-Ring. This thread protector continues to stay in place across several classes and normal range time.
Apex Tactical Action Enhancement Kit
While I'm a fan of the OEM trigger, all rounds fired through my FN509 have been using the Apex Tactical Action Enhancement kit and their flat faced trigger. I won't speak to it much here, as it gets its own review later. In summary, I'm a fan. Additionally, the Apex kit reduces trigger reach, which is a benefit for shooters with small hands. Plus the black, Freedom Edition draws lots of attention on the range, both serious and ironic.
Range Time
My FN509T has seen roughly 1,800 rounds over the past 2.5 years. Over 650 rounds were Blazer Brass 124gr FMJ. A variety of 115gr and 124gr brass case FMJ, and Speer Gold Dot 124gr +P make up the remainder of rounds fired. Most rounds have been fired during classes, to include time with Chuck Haggard and Scott Jedlinski.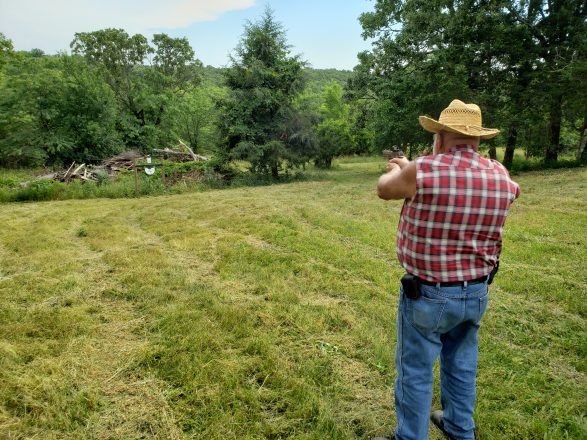 During all range time I've never cleaned the pistol outside of the initial few hundred rounds to wipe away the rain. Despite this, the FN509 continues to run flawlessly, both suppressed and unsuppressed.
Final Thoughts on the FN509 Tactical
This is a really good gun. The attention to ergonomic details is virtually unmatched, and the optics mounting system obliterates OEM competition. Reliability is stellar, and the gun's track record is solid. The only downsides I've found are a lack of aftermarket support. This results in less available, and more expensive parts and accessories, though often no more expensive than options from SIG, Walther, or other competitors.
This will not replace my Glocks. That being said, I'm a big fan of the FN509T, and if someone wanted a Glock alternative, this should be high on the list.
MSRP is $1,049 for the FN509 Tactical. I bought mine using the NRA Instructor discount, which actually saves me more money than Blue Label. You can find yours >>HERE<<