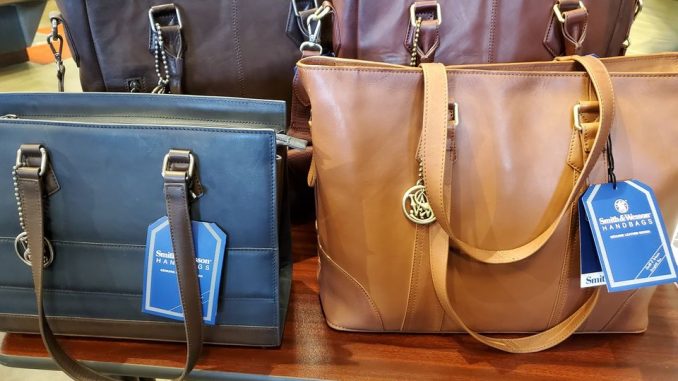 Smith and Wesson has partnered with Cameleon Bags to introduce a new line of conceal carry bags. The bags were introduced on Black Friday at the Frontier Justice locations in Lee's Summit, MO and Kansas City, KS. Frontier Justice was the first retailer in the country to offer the bags in store. I work at the Lee's Summit location so was able to see the new bags in person and visit with the folks from Cameleon on site.
Not Your Average Conceal Carry Bag
I am not a huge proponent of off body carry but recognize that sometimes it is the only or best option for some women. If you are going to carry off body, it is important that you do so in the safest, most responsible means possible. My article on the Pros and Cons of Purse carry has some tips to doing just that.
While I have not had the opportunity to use one of the new Smith and Wesson Cameleon Conceal Carry Bags (maybe Santa will bring me one if I'm really good...), I did get to spend some time inspecting them today. The bags are all leather and have a high quality, fashion forward appearance. No overtly (or overly) blinged out bags here. At first glance you would never suspect this is a conceal carry bag.
Responsible Concealment
There are several sizes of bags available with various firearm accessibility options. Access zippers are located on the sides, back, and/or the top of the bag depending on its size and shape. One larger bag I looked at had access through both sides and the top.
Each bag includes a holster in the the storage compartment to hold your firearm in place. This ensures your gun is exactly where you expect to find it if you need it. No need to add Velcro or a sticky holster, and no worries about it shifting around into odd angles.
A Special Sneak Peak
Cameleon also offered a special sneak peak during the Black Friday in store launch. They will soon be offering gun belts and wallets. Just like the bags, these items are all leather and maintain the high standards set by Cameleon. The belts felt stiff enough to support your holster and gear without being uncomfortable. They have a nice business casual look to them not always found in other belts.
Wrapping Up
Overall, my initial impression of the Smith and Wesson Cameleon Conceal Carry Bags is positive. They appear to be well constructed with clean stitching and quality materials. There are a variety of sizes, styles, and colors to meet the fashion needs of most women. The price points are in the Coach range, but I expect that they will have similar longevity and durability. The styles are timeless and should remain fashionable for years to come.