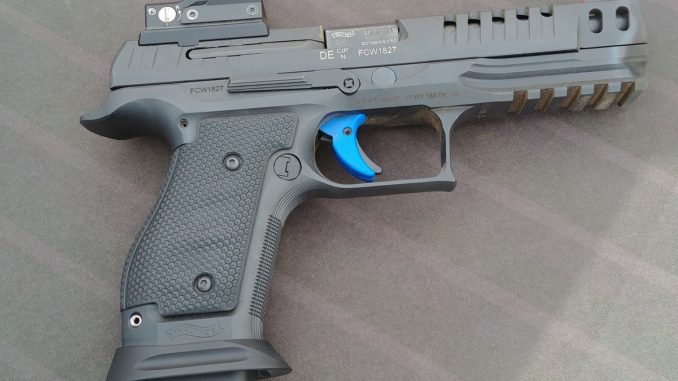 The new steel frame Walther Q5 Match might be one of the most unexpected releases of the pre-SHOT new product cycle. It also has excited me far more than many of the other new pistols (See my op-ed on the Glock 43X for reference) that have recently launched with the exception of the Mossberg MC1 SC.
Ever since I have spent more time working on pistol shooting with drills I have noticed that I am beginning to expect a lot more out of a handgun in terms of accuracy, how easy is it to mitigate recoil and sight options.
The steel frame Walther Q5 match just might be a home run given my current shooting style. Not only is it red dot compatible, but I understand the trigger is the same one that Walther nerds have been raving about for years. I own a P99 AS, which has a very nice trigger on it but less than ideal sights, and imagine that I would enjoy a steel frame version of something similar quite a lot provided the sights were better.
Plainly put, it is a steel frame striker gun. More weight = flatter shooting.
The 42.3 ounces of gun is going to be noticeably heavier than the 23.1 ounces of the Glock 34 that I have been shooting a lot lately.
Do I Want One?
Hell yea I want one. I won't be an early adopter on this pistol, and I probably will borrow or rent one before I buy it to avoid buying something that isn't right for me, but I do intend on getting my hands on one for a few hours.
As I said, I have been focusing more and more on building skill, a large part of that is focused on being faster and faster at a drill. The large, heavy frame and MRDS mount system are key features for me AND the pistol will still have a striker rather than a hammer. Since I shoot a ton of striker guns personally, that is a giant plus.
The MSRP of $1,499 is going to be a bit of a hard pill to swallow, but I expect street prices to be just north of $1,000 after retailers put price tags on them.
More from Walther:
Walther Arms, Inc. is proud to offer the highest level of Quality and Precision on the market with the Q5 Match Steel frame.

Walther Q5 Match Steel Frame Pistol

Combining the industry-leading PPQ Quick-Defense Trigger, superior accuracy, and unmatched ergonomics found in the popular Q5 Match model, while adding in a high-quality precision-machined frame, the Q5 Match Steel Frame has raised the bar in pistol performance. The pistol comes standard with LPA Fiber Optic front sight, LPA Adjustable rear sight, and optic mounting plates to accommodate most micro red-dot optics available. The Q5 Match Steel frame will initially be available in two models: the standard model with three fifteen-round magazines, and the PRO model with new Walther Performance accessories including a low-profile magwell and aluminum magazine extensions that increase the capacity to 17 rounds.

"Walther's goal was to take our existing high-performance PPQ, the Q5 Match, and push the boundaries of performance further than anything offered on the market," said Bret Vorhees, Director of Product Development for Walther Arms. "The Q5 Match Steel Frame exceeds all expectations in terms of performance, quality, and attention to detail. This new product line shows what Walther is really capable of, and it's just the beginning."

MSRP for the Walther Q5 Match Steel Frame Pistol starts at $1,499.00 and are available for purchase immediately.

For more information on the Walther Q5 Match Steel Frame product line, visit https://www.waltherarms.com/handguns/