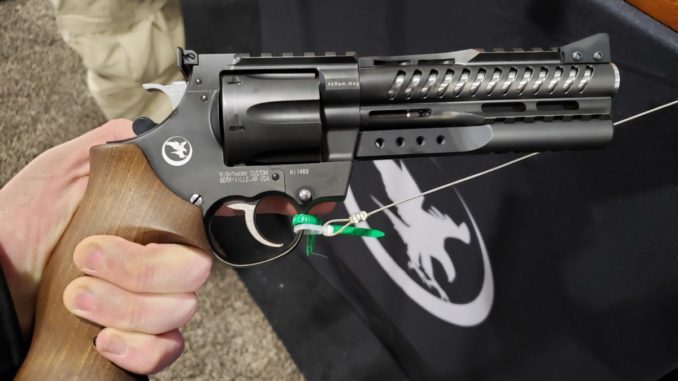 Nighthawk and Korth has their new NXR .44 Magnum on display at SHOT Show 2020
The Korth NXR is a high end, six shot revolver in .44 Magnum. Dirty Harry wishes he had one of these. The six inch hammer forged barrel features a ventilated housing to aid in cooling to preserve accuracy. Atop the barrel is an integral picatinny rail for mounting accessories. Underneath the barrel, shooters have the option of adding various weights to help reduce muzzle rise, along with the option of adding a compensator to the muzzle. The rear sight is fully adjustable, and the front sight has removable panels for use across multiple shooting styles.
This slideshow requires JavaScript.
The entire gun is DLC finished for a both looks and durability. The Korth NXR .44 Magnum uses a legacy style cylinder release alongside the hammer. As will all Korth revolvers, the cylinder is quick detach for easy cleaning. The action is adjustable for trigger length and weight, as well as feel of the press. The example I handled had the most incredible trigger I've ever felt. For comparison, it makes the new Colt Python feel like a Taurus. Despite being a hulking beast of a revolver, the NXR .44 Magnum exudes class and craftsmanship, something that is usually missed on big bore options.
The Korth NXR .44 Magum is available for purchase through Nighthawk Custom right now. Pricing starts at $5,299.00.
Affiliate Disclaimer: Firearm Rack is funded through direct donations and affiliate programs. Some links on FirearmRack.com are affiliate links. Using one of these links costs nothing extra, the retailer pays a percentage of the sale to Firearm Rack. Funding in this manner will assure that factual information is always first. If you would like our Amazon affiliate link or find more retailers on the Support Us page