Several years ago I started seeing various people online claim to be packing serious heat in their pants. As someone who had just made the transition from a Glock 26 to a G19, claims of easily carrying a G34 with a Surefire X300U seemed far fetched. Were these people serious, or just talking a big game for strangers on the internet? Not one to let questions go unanswered, I decided to verify their claims myself. In mid-2018, I picked up a PHLster Spotlight to see if carrying such a thing was truly possible.
Construction and Design
The PHLster Spotlight is a pretty conventional, but well made, light bearing kydex holster. My specific model is configured for a Surefire X300U mounted on a Glock 34. Options exist for a variety of other pistol and light combinations, supporting a variety of Streamlight offerings. With retention coming primarily off of the light, users can fit other guns into the Spotlight, thought I would not recommend that practice despite the potential cost savings. This could potentially expose the trigger unnecessarily, or cause the holster to interact with control surfaces such as the manual safety on a 1911.
Retention is adjustable using screws on the light side of the holster, allowing users can adjust the Spotlight's tightness to their preference. As with all PHLster products, the Spotlight is optics ready from the manufacturer.
Mounting Options
The PHLster Spotlight comes standard with soft Pull The Dot loops. With direction specific opening, these offer excellent security to the wearer's belt, while still being easy to don and doff. Across my three Spotlight holsters, each required minor trimming on the PTD loops to remove excess material.
Prior to this modification, the loops would rub my middle finger raw during repeated drawstrokes. While not a problem for conceal carry, it did become an issue during training.
Real World Use
I carried the PHLster Spotlight for roughly three months straight in 2018, returning to it briefly in 2019 and 2020. During this time, the Spotlight saw use in Haley Strategic D5 Handgun, Shooter Symposium, and Agile Training & Consulting Low Light Pistol. For these courses, I swapped between a Gen4 Glock 34 and G17, and an FN509T. The G17 was equipped with a Trijicon RMR atop a Brownells slide, and the FN509T with a Leupold DPP.
Shortcomings
Over the past four years, three Spotlights have passed through my hands. My first model developed a small crack near the mouth of the holster, which did not impact function or security. Once I noticed the fracture, I reached out to PHLster on a Sunday looking for guidance. Within five hours of my initial email, PHLster responded, asking for an address to send a replacement. My new holster arrived within the week, and instantly went back into my carry rotation. To date, this is the only durability issue I've had with PHLster products.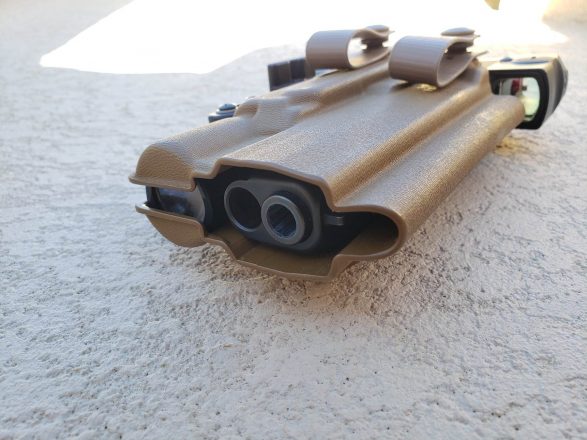 Carrying with a Surefire X300U is certainly feasible, but not without shortcoming.  When worn for long periods of time, the edge of the Spotlight near the bezel of the light would dig into my leg and crotch, causing a hotspot. On top of this, the holster also would occasionally crush more sensitive areas when seated. Moving the holster when changing from standing to sitting can help alleviate this, but it's certainly something to be aware of. There was also some slight creaking from the holster when bending over.
 Strengths
Learning how to manage the holster and how it interacts with the body takes trial and effort, and the additional bulk of the light cannot always be mitigated. Over time, the PHLster Spotlight showed me that carrying a big light is possible, and not completely uncomfortable while doing so.
After the one minor durability issue I experienced, the Spotlight worked fantastically moving forward. The holster held up well in serious classes, retaining the pistol excellently without being overly tight. When strapping this holster into my waistband, I felt confident in it's ability to secure the pistol, while also allowing immediate access in an emergency.
Final Thoughts on the PHLster Spotlight
Overall this is a very well made holster, which was supported by excellent customer service. This is not my preferred holster for use with full size lights, however, you can do far worse than the PHLster Spotlight. For those unaware, PHLster has since discontinued the Spotlight in favor of the newer Floodlight. That being said, KSG Armory currently offers an updated version of the Spotlight, adding compatibility with a wider variety of belt mounts.
You can find the improved version of the Spotlight >>HERE<< direct from KSG Armory. MSRP starts at $85.00, and varies based upon customizations to your order.