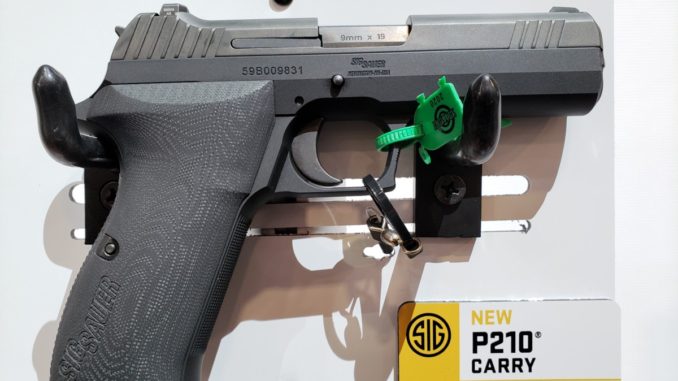 SIG Sauer made a somewhat unexpected move during SHOT Show 2020, releasing the P210 Carry.
The P210 Carry is an updated version of SIG's P210 Target pistol. There have been several changes to make the new model ready for duty and conceal carry use. The frame is aluminum, helping to reduce the weight from its original steel. Sights are fixed, SIG night sights for added durability and use in low light. The P210 Carry barrel is shortened to 4 inches, making it in line with popular defensive handguns like the Glock 19 and FN 509. Grip panels are made from G10, and are slightly extended and beveled to provide a solid purchase while improving reloads.
Magazines are interchangeable with the SIG Sauer 210 Target. Capacity is eight rounds of 9mm, and the gun ships with two. The trigger weight has been increased to roughly 4.5 pounds for improved safety when carrying. I dry fired the P210 Carry trigger roughly 50 times and it was nearly indistinguishable from the Target model. Despite its increased weight, the smoothness and consistency makes for an excellent trigger.
The SIG Sauer P210 Carry has an MSRP of $1,150 and will be available in early summer.
Affiliate Disclaimer: Firearm Rack is funded through direct donations and affiliate programs. Some links on FirearmRack.com are affiliate links. Using one of these links costs nothing extra, the retailer pays a percentage of the sale to Firearm Rack. Funding in this manner will assure that factual information is always first. If you would like our Amazon affiliate link or find more retailers on the Support Us page