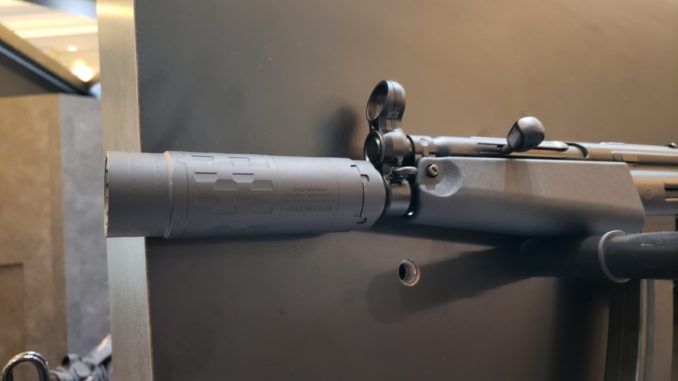 Silencerco had their latest suppressor on display during SHOT Show 2020; the Omega 36M.
The Silencerco Omega 36M latest modular suppressor. With a 9mm bore diameter, the 36M is capable of handling from a .22 Hornet up to a .338 Lapua. The suppressor is made from titanium, making for a strong, yet lightweight can. Being a modular, two piece design, shooters have the ability to add an additional set of baffles in place of the end cap to save a few decibels at the sacrifice of weight and length. All Silencerco Omega and ASR accessories work with the 36M.
Length ranges from 4.90-7.91 inches depending on configuration. Weight comes in at 9.8-17.1oz based upon length. The Omega 36M is rated for 10" barrels with 5.56 NATO, 16" barrels on 7.62 NATO, and 20" barrels for .300 Win Mag. Expect to see 130.6, 136.9, 141.1 decibels at the muzzle for those respectively. For even greater noise reduction, .300BLK offers down to 124.1db.
The Silencerco Omega 36M is available now and has an MSRP of $1187.00.
Affiliate Disclaimer: Firearm Rack is funded through direct donations and affiliate programs. Some links on FirearmRack.com are affiliate links. Using one of these links costs nothing extra, the retailer pays a percentage of the sale to Firearm Rack. Funding in this manner will assure that factual information is always first. If you would like our Amazon affiliate link or find more retailers on the Support Us page