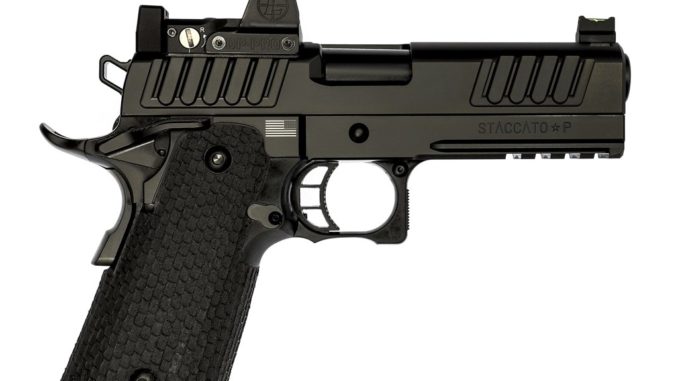 A trusted, anonymous source revealed to Firearm Rack that STI International is no longer accepting new orders of any kind. The company is restructuring their lineup, dropping the entirety of the DVC series. STI International is over 3,000 pistols behind in production, it seems as though demand has eclipsed supply.
All is not lost however. The Staccato line, introduced in 2019 will see new products added, as well as an infusion of updated DVC pistols. This follows the trend set in 2018 when STI ceased production on the majority of their legacy models in favor of new and improved guns.
Below is the transcript provided to us:
As 2019 begins to wind down, we are excited to share with you a preview of where our product line is headed for 2020.  As always, every year we work to improve our product line.  We listen to market feedback from you, from end customers, and from numerous law enforcement agencies actively testing and fielding our products.  We also analyze sales data and conduct market research. Based on all that information, for 2020 we have designed, refined and thoroughly tested both planned revisions to existing products, as well as new product introductions, and the results are incredibly exciting===  To start with, for 2020, we will transition all products under the Staccato brand which has been very popular and well-received by consumers.  Existing DVC line products will be discontinued, or revised and transitioned into the Staccato line. Specifically,  the DVC O, DVC S, and DVC-C will not be produced in 2020, The DVC L and DVC 3 will both be replaced in 2020 with a single new 5.4" Staccato model designed to fill these market segments.  The DVC P will be updated and transitioned to the Staccato line.  In the meantime, we recognize that market demand continues for our 2019 product line and we will, of course, fill your existing orders for these products and get them shipped to you ASAP.

Comprehensive details of 2020 products will be shared first with you, our retail partners in the coming weeks, and shortly thereafter we will begin accepting orders.
If the current crop of pistols is any indication, the shooting world is in for a gourmet treat with these new offerings from STI International.
We'll keep you updated as more information is released!