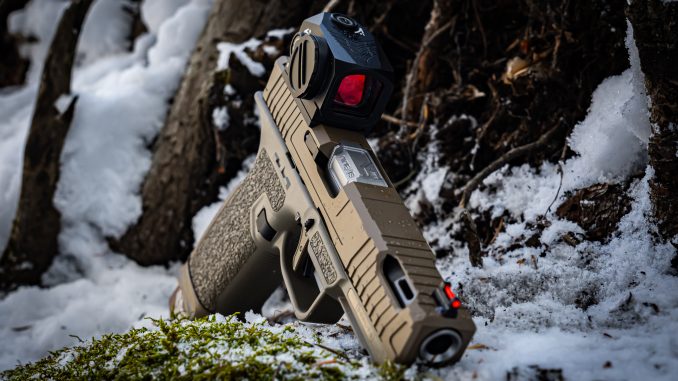 A few weeks ago we brought you some our picks for The Good, The Bad, and the Ugly of SHOT Show 2022. Among them was the Swampfox Kraken red dot sight. While it didn't receive top marks, it did catch my eye. I'm a big fan of micro red dot sights (MRDS), and I love seeing innovation in that field. For the past few years, the closed emitter MRDS market has been cornered by the Aimpoint ACRO. Recently, the status quo has begun to be challenged, with Swamp Fox being one of several manufacturers to step into the ring.
With a few features that stood out, and not much media coverage to answer my burning questions, I reached out to Swamp Fox for more information about the Kraken. Below is a Q&A I had with Mike, the Product Marketing Director at Swamp Fox.
Swamp Fox Kraken Battery Questions
Primer Peak: What is the estimated battery life?
Swampfox: "Pure" battery life based on emitter amperage draw levels are:
850 hours at max brightness
8100 hours at middle brightness
9000 hours at NV brightness
But that doesn't account for the Shake N Wake saving battery life when the optic is not in use, which extends battery life tremendously. Practically we advise changing batteries once a year just to make sure.
PP: Is battery life expected to be the same with both red and green reticles?
SF: There isn't enough difference for us to make a distinction in terms of claimed specifications on the side of the box, but practically the green gets slightly better battery life. This seems counter-intuitive for those of us used to green lasers eating batteries like candy, but laser technology and light emitting diode technology are not the same thing.
PP: Is this factoring in Shake N Wake, or constant-on? If using Shake N Wake, can you give specifics on those estimations?
SF: See above. Shake N Wake helps a lot for optics that aren't in constant use, but for those who actually carry their guns all day every day the benefit is more limited. If you are wearing the gun at all, Shake N Wake will NOT kick in. Just the movement of your body breathing, even if you are asleep, is enough to keep the dot constantly on in the holster.
PP: Is Shake N Wake permanent, or are there other modes available to users?
SF: It's permanent and hard wired into the unit. We program it for 225 seconds but practically when the unit executes the command some of them take a few seconds more or a few second less. It's very sensitive, if I have one of the dots sitting on my desk, me typing on my keyboard is enough movement to prevent it from "sleep" mode.
Swamp Fox Kraken Adjustment Questions
PP: Does the Kraken use buttons to adjust brightness, or a rotating dial?
SF: Brightness buttons up and down both on the left side of the unit. They are protected by a metal fence around them to make it harder to scrape them off the side with holster abrasion or torture testing. You get ten total brightness settings of which the first (most dim) two are NV compatible.
PP: What are the zeroing adjustments on the Kraken, in MOA?
SF: 1 MOA per click. It's our first pistol dot with tactile and audible click adjustments, which we were able to accomplish because the unit itself is so much larger than previous open-emitter type dots we have made. Previously we had to settle for a tension setup without clicks at all.
PP: Does the Kraken require specialized tools for adjusting zero, or common tools?
SF: A flathead screwdriver or cartridge rim will work just fine.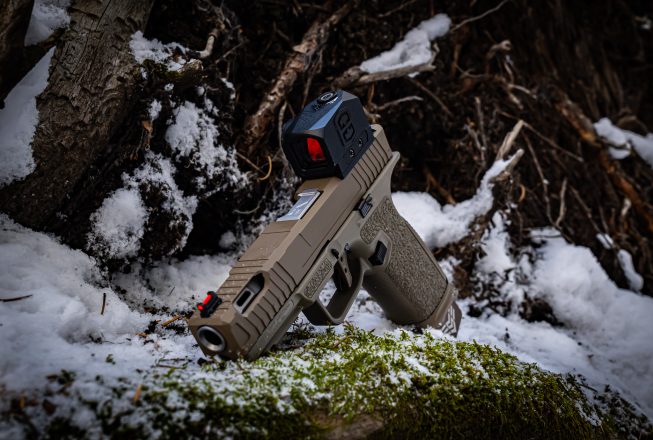 PP: Are tools required to change batteries?
SF: No, the battery compartment is on the right side and can be unscrewed by hand.
Swamp Fox Kraken Dimensions
PP: What are the maximum Length/Width/Height measurements of the Kraken?
SF: Length: 47.3mm
Width: 35.7mm
Height: 31.2mm
PP: What are the dimensions of the objective window on the Kraken?
SF: Both front and rear windows are 16mm x 16mm
PP: What reticle size options are available on the Kraken? 
SF: 3 MOA in red or green only. We are working on a selectable reticle for the future but it is not ready yet. It could potentially be installed into Kraken as an in-line change, or saved for an improved "Kraken II" variant in the future.
PP: What footprint does the Kraken utilize for mounting? 
SF: Out of the box it will come with two plates, one for variations of the Trijicon RMR footprint and one for the Glock MOS slides. Later we will release other plates compatible with non-RMR-native slides that are popular enough to justify production. Not sure on specifics yet but Sig 320 slides and Canik TP9 slides come to mind off the top of my head.
PP: Does the Kraken ship with mounting plates? Is it compatible with aftermarket plates from C&H Precision, or Forward Controls Design?
SF: See above, but the BODY of the scope is it's own footprint which is similar to a miniaturized 1913 MIL STD Picatinny rail, with two recoil lugs and horizontal clamping screws going left to right across the slide. You can't make the scope body itself compatible with the RMR footprint because there's no way to install screws running straight down through a nitrogen sealed unit.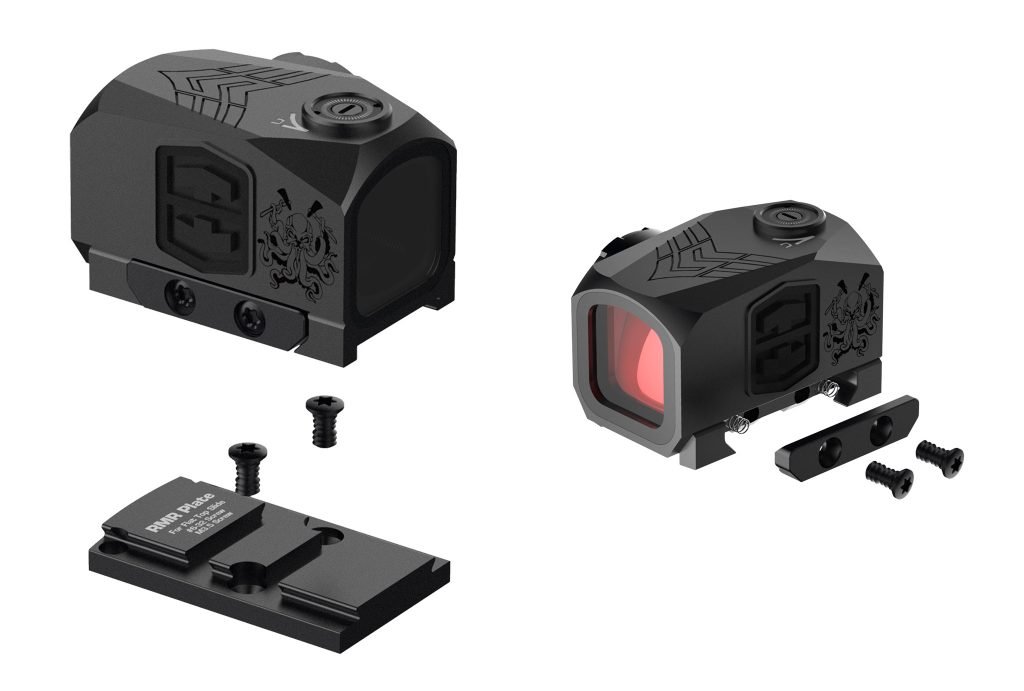 So, the problem with trying to combine this with aftermarket RMR plates is that you wind up with a "plate stacking" situation with too many plates and too many screws. If you're lucky you just wind up with a super tall optic that looks goofy and extra failure points from multiple screws everywhere. If you're unlucky you'll have a fitment problem as your multiple plates have screws running through them in more or less the same locations. The best solution is to have one plate going straight from the slide/mount footprint to the scope body.
So for example:
Glock MOS + C&H Precision MOS-to-RMR plate + Swampfox RMR-to-Kraken Mount + Kraken = Terrible Idea
Glock MOS + Swampfox MOS-to-Kraken Mount + Kraken = Fitment solved and failure points minimized
Other Questions About the Swampfox Kraken
PP: What is the waterproof rating of the Kraken?
SF: Officially IPX7, submersible for 30 minutes up to 1 meter depth. Unofficially, it's not the time but the depth that matters. Either water will get in in the first ten minutes, or water won't get in over, say, 5 days. As depth increases of course pressure increases and that's where your failures occur, but the optic is "dunkable", you can swim while wearing a pistol with it mounted and that sort of thing.
PP: What material is the Kraken made of?
SF: The scope body is 7075-T6 aluminum and hardcoated
PP: Is the Kraken night vision compatible? If so, what are the specifics?
SF: As mentioned above, the lowest two brightness levels are NV compatible and should not be easily detectible by the naked eye at all.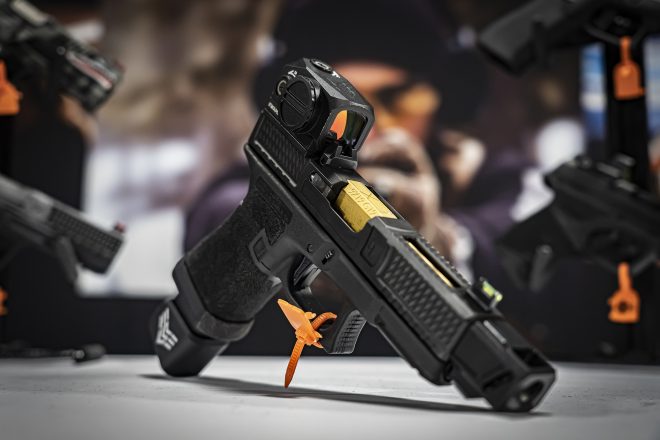 PP: Is there a specific market the Kraken is aimed at? Competition, duty, conceal carry, etc?
SF: We hope that Kraken will help us break into the law enforcement and serious duty use market.
PP: When is the Kraken expected to be available for purchase?
SF: Late spring or early summer, theoretically. Lots of moving parts and variables beyond our control there, as the past two years have well proven.
PP: What is the MSRP on the Kraken?
SF: $349. That puts street value at around $300, we reckon, between dealers selling at MAP, coupon codes, and sales we run ourselves.
Author's Note: Shoutout to Alex of The Suited Shootist for connecting me with Mike. That saved me a lot of time and effort in making this conversation happen.