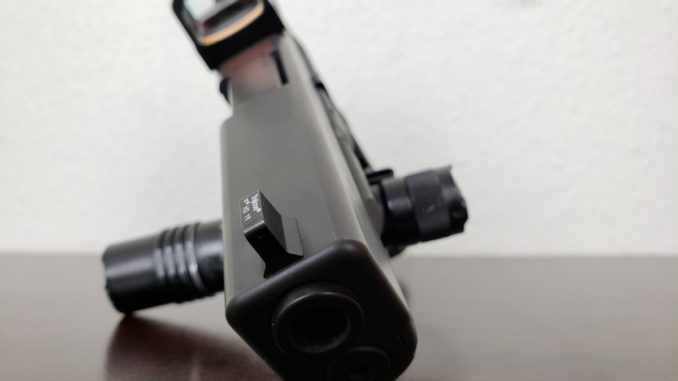 Call them suppressor sights, optic sights, backup sights, or any number of other terms. Sometimes you need tall iron sights to see past your preferred accessory, and not all are created equal. When I made the transition to shooting with an RMR I wanted to have irons on my gun in case of my optic failing or to help if I butchered my presentation. With that, I went with a name I trust, Trijicon.
Trijicon Bright & Tough Suppressor Sights are some of the most common suppressor height sights on the market today. They're known for their durability and consistency. Glock hooters have nearly two dozen options when it comes to the style they prefer. From plain black sights, to tritium inserts in green, orange or yellow, both with or without white outlines, any shooter will find something they like. There is also limited support for pistols from SIG Sauer, FNH, and a handful of other brands.
Use with Slide Mounted Optics
I prefer to keep most of my window clear with slide mounted optics. This keeps situational awareness high and offers the greatest room for error with reticle alignment. Taking up just under 1/3 of RMR window when using a Brownells Glock slide, and around 1/4 with a Glock MOS slide, Trijicon Bright & Tough do a good job at keeping things clear. The front sight allows for enough air on either side to see the target, without leaving a substantial gap to wander in the rear sight. The sight picture is easy to attain when needed, but is easy to ignore when using your optic.
One concern I had was with the tritium inserts in my sights. I feared that in a low light situation I would be fighting against three green dots while trying to get a good sight picture with my red dot. This proved to be a non-issue. Mike Pannone's low-light portion of Shooter Symposium gave me the opportunity to test this over several hours on the range. Not once did I notice the night sights unless I specifically looked for them.
Carrying Trijicon Bright & Tough Suppressor Sights
I carried the Trijicon Bright & Tough Suppressor Sights for several months on a Glock 17 in both a Tenicor Velo and a PHLster Spotlight. The 90 degree edges on the front and rear of the rear sight irritate my stomach after approximately 8 hours or more of carry. This can sometimes happen more quickly depending on activity levels and my undershirt or lack thereof. My longest duration of near continuous carry was two 13 hour road trips, with four days of Shooter Symposium sandwiched in the middle. Afterwards my stomach had been rubbed raw from the constant contact and drawing which caused pain when carrying.
Despite the sweat from Summer heat and daily wear, I've never experienced corrosion issues with the Trijicon Bright & Tough Suppressor Sights. When my pistol slide began to rust, the sights stay rust free, even without direct cleaning.
Final Thoughts
Much like with the RMR, Trijicon sets the standard for suppressor height sights with the Bright & Tough series. After trying a few other makes and models, I'm making the switch back to these. Find your Trijicon Bright & Tough sights >>HERE<<
Affiliate Disclaimer: Firearm Rack is funded through direct donations and affiliate programs. Some links on FirearmRack.com are affiliate links. Using one of these links costs nothing extra, the retailer pays a percentage of the sale to Firearm Rack. Funding in this manner will assure that factual information is always first. If you would like our Amazon affiliate link or find more retailers on the Support Us page