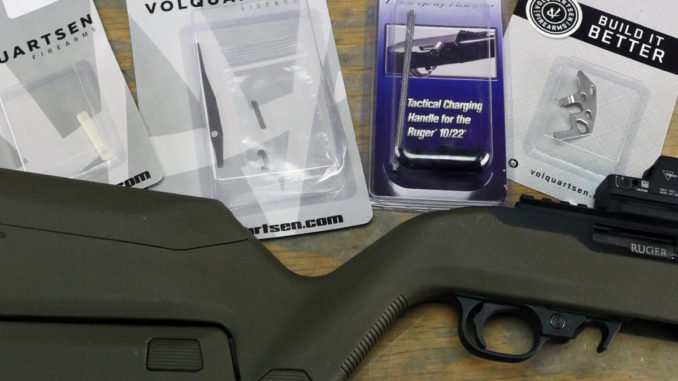 It is no secret that the Ruger 10/22 is one of, if not the most popular rimfire rifle in America. With our love of modding guns here, it only made sense that we did a Mod Minute video with 4 easy 10/22 upgrades.
With the most expensive upgrade right at $41, these are all easy to do and cheap!
Installing 4 Easy 10/22 Upgrades: Video
While it isn't supposed to be an instructional video, the Mod Minute shows you how easy it is to install the upgrades. We always recommend referring to the manufacturer's instructions when installing anything.
I have added more information about everything used in the video as well as links to find them on Brownells. If you want to see the Mod Minute where we installed the Tactical Solutions takedown barrel and Magpul Backpacker stock you can click HERE.
Our Picks For 4 Easy 10/22 Upgrades
If you have mounted your 10/22 in a stock of any kind, the stock charging handle can be hard to use. While the stock unit is perfectly serviceable, it is nice to have a larger handle.
Installing this part is super easy, all you need to do is field strip the rifle and replace the stock recoil assembly with the new one.
When shooting your 10/22 rifle suppressed or with CCI Quiet ammo, the bolt hitting the bolt retaining pin is louder than the gunshot. The Volquartsen 10/22 Recoil Buffer Pin provides a softer, quieter surface for the bolt to hit making the rifle quieter.
Also, as a side benefit, the Volquartsen 10/22 Recoil Buffer Pin reduces the stresses that the receiver sees during firing.
The thing about the Ruger 10/22 that I find most annoying is the bolt catch. Why in the hell didn't Ruger make it release the bolt when it is pulled rearward on an empty magwell or a fresh magazine?
The Volquartsen 10/22 Bolt Release fixes that issue. Just pull back on the charging handle when you insert a new mag or have removed the empty one and the bolt will go into battery.
If you want the most reliable Ruger 10/22 possible, check out the Volquartsen 10/22 Bolt Tune Up Kit. Volquartsen includes their improved firing pin made from polished tool steel and the well regarded Volquartsen Exact Edge Extractor.
While I haven't had an issue with the 10/22 takedown that I installed the bolt tune up kit in, at only $32.99 I don't see any reason why I shouldn't.
Tools Used To Install Our Easy 10/22 Upgrades:
I know, a screwdriver set that costs over a hundred bucks sounds crazy, but it is my most used tool that I use on guns. I have the 58 bit Master Set and couldn't sing its praises enough.
The tips are all hollow ground and designed to be used on firearms right out of the gate. On top of that, the bits are super strong and come in such a variety of sizes that you will just about always find the right size bit.
While the $129.99 investment is steep, it is well worth it in my opinion.
While these are out of stock, if you have your heart set on them you can get them from Amazon HERE. Brownells does have some good alternatives available like the Grace USA punch set priced at $37.99 from Brownells.
These punches are made from super strong hardened steel and have held up to some pretty hard use over the last couple of years since I bought them. Good tools aren't cheap, but they sure do make the job easier.
If you are working on guns and need to drive a pin out, you probably should use a bench block. Not only can it help prevent damage to your firearm, but it also allows the pin to pass through holes in the block.
I keep two of these on my workbench at all times and have become an invaluable tool for working on guns.
This tool is a favorite of mine and is probably the most used in my toolbox right after the Magna-Tip Super Set. The older style of 1" gunsmithing hammer appears to be out of stock at this time but they will be getting more in soon.
What Upgrades Would You Choose?
Would you add something to the upgrade list? I want to know what your favorite Ruger 10/22 upgrades are, tell me in the comments!