When I first began conceal carrying I hated the idea of wearing a belt with my pants. It took six months, but eventually my husband convinced me to give Blue Alpha Belts a try. My husband gifted me the Hybrid EDC Belt and since then it has been a reliable staple in my closet.
Construction of the Blue Alpha Hybrid EDC Belt
Blue Alpha Belts Hybrid EDC is made from two layers of nylon sewn together to create a rigid belt. A 1.5" width allows it to fit into a variety of belt loops, to include the fashion belt loops my lady pants often boast. The Hybrid EDC belt comes with a smaller "female" COBRA Buckle to fit between any belt loop.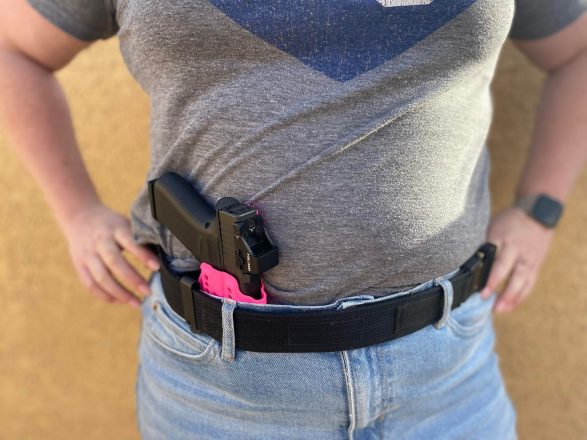 The COBRA Buckle is relatively easy to use, but it can take a bit of wiggling to get the buckles through different belt loops. This is an issue that I've had with other belts as well, and I entirely blame the design of women's pants on that issue. It is a lot bulkier than Blue Alpha Belts Low Profile EDC, which can lead to printing. I wear looser fitting shirts when I opt to wear this belt.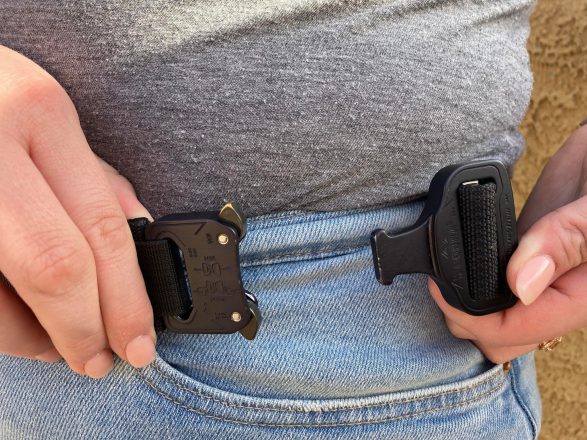 The double layer of nylon makes the EDC Belt very rigid, and at times feels more difficult to move around comfortably when I wear lower rising jeans. I find it incredibly comfy when I wear high rise jeans that sit at the smallest part of my waist. Sometimes I do struggle to adjust the size of the belt. Depending on bloating and waistband rise sometimes I only need a small adjustment in size, and unfortunately it is not very easy. With the Hybrid EDC belt I feel the extra material on my waistband, and try to wear looser shirts to account for both my pistol and this belt.
It comes in black, coyote brown, OD green, and wolf gray. The belt runs pants sizes 28-48, but you can make a note on your order if you need a size that is not listed. In the US you can change sizes within the first 30 days. The Blue Alpha Hybrid EDC belt currently retails for $74.97.
How does it hold up?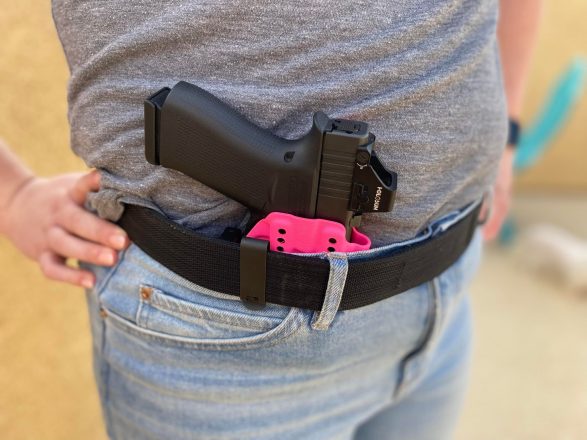 In my experience Blue Alpha Belts have been sturdy and durable, and the Hybrid EDC is no different. The stitching has not frayed with use and I am more than comfortable conceal carrying with it. I carried in it pretty regularly for about three months over a Midwest winter, but ended up preferring another Blue Alpha Belt more. Prior to this, my husband wore the belt intermittently for three years, both in classes and day to day. I can't speak to how the belt compares in warmer and sweatier weather, but since I relocated to a desert, now seems like as good a time as any to test it out further.
In Conclusion on the Blue Alpha Hybrid EDC Belt
Blue Alpha Belts make belts of amazing quality, that are great for every day carry. As much as I liked this belt, it is not my favorite, and I rarely wear it anymore. I prefer the Low Profile EDC, also from Blue Alpha Belts. The Hybrid EDC feels very bulky, and stiffer than I would be comfortable wearing on a daily basis. It is also more difficult for me to adjust how tightly the belt sits on my waist, which is annoying as I handle bloat. However, you can't seem to go wrong with Blue Alpha, and the Hybrid EDC is still a solid option.