While I was dealing with the death of my Charles Daly 601 DPS, I realized that I needed another shotgun. I had acquired nearly 3000 rounds of ammunition, and needed a blaster to put that through. Lo and behold, I ended up purchasing a Blue Line Pump shotgun, which turned out to be something that I was very familiar with. What are my first impressions of it?
What Is The Blue Line Pump?
The Blue Line Pump is a 12 gauge shotgun, imported from China by Blue Line USA. It is sold as a "Blue Line Solutions LLC" product, however, Blue Line is just the importer. This is actually a Chinese produced copy of the Remington 870. The Blue Line Pump is a Hawk Industries Type 97, exported by Norinco Firearms. Most recently, these were imported into the US as the Hawk Industries IAC 981/982 shotguns, about half a decade ago.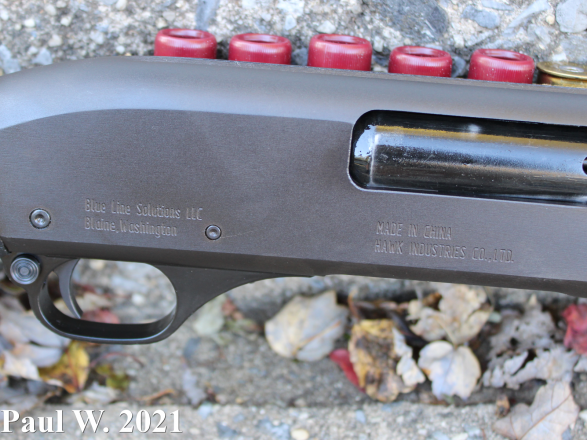 So, the Blue Line Pump is a Chinese produced 870 copy. It is advertised as being able to take 870 furniture and some parts too, which would make accessorizing it a fair bit easier. The last time these were imported as Hawk 982s, they had a reputation for being on par, if not outright better than many of the Remington produced 870s of the time. This is both sad, and extremely hilarious to me. I had an 870 Express Tactical back when I was younger, and the quality given its price was terrible. It had horrid finish, was finnicky with certain specific target loads, and generally felt cheap.
I ended up deciding to purchase a Blue Line Pump to both see if it was as good as I had heard, and to shoot through my remaining 12 gauge ammo. I would provide MSRP for the Blue Line Pump here, but I can't find it on their website. Street price tends to run between $180 to $200 bucks, and I personally got mine for about $215 after shipping and transfer fees. What features do you get for that chump change?
Features of the Blue Line Pump
This Hawk shotgun is an 870 copy, through and through. It has the same form factor, same controls, and same furniture options as an 870. It sells with a standard sporting furniture configuration, and has a 5 round magazine tube. The Blue Line Pump has an 18.5" cylinder bore barrel that has no provisions for chokes, and uses a standard bead for aiming. It has a 2 & 3/4" and 3" chamber, and isn't drilled or tapped for an optic rail. The finish on the Blue Line Pump is a rough matte bluing, but it is serviceable enough.
If you are familiar with the 870, you are familiar with this shotgun. That being said, there are some changes to the gun, that reflect a different manufacturing technique. Most notably, this shotgun uses a metal trigger guard, and has non MIM'd parts.
Working from reverse order, let's begin with the lack of MIM'd parts. Metal Injection Molding (MIM) is a process in which hot metal is poured into molds to make parts. It is a process that when done well, can create cheap, strong parts. However, when done poorly, it is terrible. Remington started using MIM to make 870 parts, most notably, extractors. These were not done well, and were a failure point in the design. Hawk Industries machines out their extractors from steel, rather than MIM'ing them.
The trigger guard is also made from metal, rather than plastic. The vast majority of 870s come with plastic trigger guards these days. They were advertised to be more shock resistant to drops, but in reality, it just cuts cost.
So this is kind of like an old school 870, but made in China. How did it perform on the range?
Shooting the Blue Line Pump
I took the Blue Line Pump on two different range trips, firing about 375 rounds of 12 gauge through it. One range trip was on an overcast day, and the other was on a very wet, rainy day.
I'm happy to report that the Blue Line Pump performed excellently. No malfunctions to report, no parts breakages, and no rusting.
I shot the following loads through the Blue Line Pump:
Federal Game Load, 2 & 3/4" #6 Shot, 1oz (150 rounds)
Federal 2 & 3/4" Foster Slug, 1 oz (20 rounds)
Black Aces 2 & 3/4" Foster Slug, 1 oz (10 rounds)
Federal 2 & 3/4" 9 Pellet 00 Buckshot, Standard and Low Recoil (30 rounds)
Federal Turkey Load, 3" #5/6/7 Shot, 1 3/4 oz (5 rounds)
Winchester 2 & 3/4" #7 Shot, 1 1/8 oz (150 rounds)
Winchester 3" #4 Shot, 1 7/8 oz (10 rounds)
Again, no malfunctions or failures to report. I'm used to some occasional stuck casings with certain types of bird loads, but none to report here! I was not surprised by this good performance, but I was happy with it.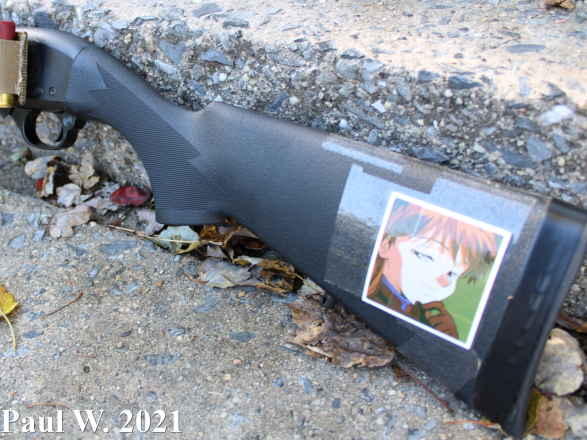 One of the things that I really like with the Blue Line Pump is the stock. I'm so used to standard shotguns coming with stocks that are far too long, and make the LOP awkward while trying to shoot quickly. The Blue Line is a teeny bit shorter for the LOP, which makes it nicer. I'm still looking at replacing the stock with a Magpul one in the future, but I'm content with it for now.
The (Short Term) Verdict on the Blue Line Pump
So far, I am quite pleased with the Blue Line Pump shotgun. It has been reliable, hasn't had any parts breakages, and shoots quite well. It takes universal 870 furniture, so accessorizing it should be pretty easy. I won't be giving a recommendation right now, but if the Blue Line Pump continues to perform as it has, I can be confident in my future recommendation. Once I pass 1000 rounds fired through the shottie, I should be more solidified in my opinion of it. Tune in down the line!