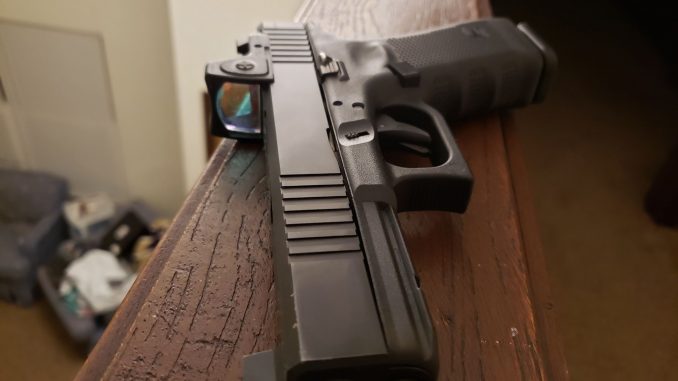 Slide mounted optics are becoming more and more common, and with them mounting solutions. When jumping into the optics game I didn't want to commit to milling a gun. MOS plates for my Glock weren't inviting, with rampant stories of optics flying off of slides under recoil. Then I watched Patrick's video on Brownells' Glock slide, and immediately placed an order.
Currently, Brownells makes a somewhat wide variety of aftermarket Glock slides. Shooters can choose between optics ready, and iron sight only versions, both with and without lightening cuts. Optic cuts are limited to the RMR footprint on double stack slides, and the RMSc footprint for slimline slides. There are also Gen3 only slides milled for the Aimpoint ACRO. From here, the are several configurations, including the Glock 43, 48, 26, 19, 17, 34, and a few hybrid slides. If you haven't noticed already, these are all limited to 9x19, with no other calibers being offered. Gen5 owners are out of luck as well, as Brownells only supports third and fourth generation pistols with these slides.
While options are limited, most Glock owners should be covered. Hopefully Brownells releases versions compatible with the Leupold DPP, Trijicon RMRcc, and other calibers in the future.
Brownells Glock Slide Construction and Dimensions
Immediately noticeable is the slightly larger size and square shape of the slide. These differences can impact holster compatibility, both positively and negatively. When using a friction retention holster, shooters will likely experience increased resistance when drawing and holstering due to larger dimensions versus an OEM slide. I have carried mine in holsters from Tenicor, Dark Star Gear, Bawidamann, Safariland, Raven Concealment, PHLster, and Blackhawk. The biggest problem across the board has been some shaving of holster material during the draw. Aside from that, everything has fit very well. Interestingly, I am able to get retention in a Tenicor Sagax Lux from slide friction, where an OEM gun will not using an incompatible G17 frame.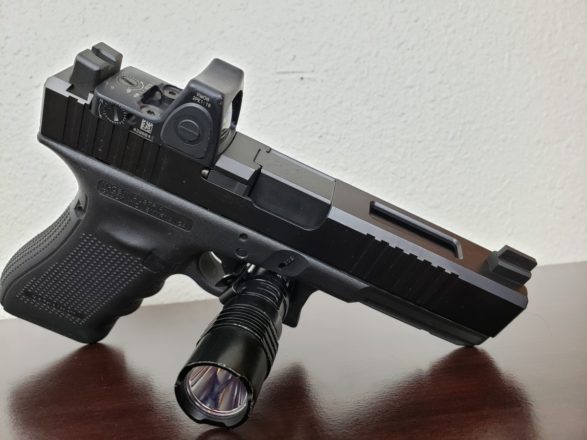 Glock OEM parts and accessories should fit your Brownells slide with no issues. I used OEM internal parts and barrel, as well as a Tau Development Group Striker Control Device to complete my slide. For irons I've used Trijicon Bright & Tough, Dawson Precision MOS, and Ameriglo all black XL sights. Patrick experienced issues with rear sight dimensions during his review, but I did not run into this problem.
Mounting Optics
Unlike Glock's MOS system, the Brownells slide uses two posts to help secure the optic. These provide more threads to engage screws than a typical plate arrangement, as well as an additional boss for securing optics. I have racked the slide using my optic body several times during class with no loss of zero or loosening of the sight. Additionally, my zero has been nearly perfect after several battery changes, requiring only a click or two in any direction.
Post style attachment methods have been known to have posts snap off of slides under high round counts. I have not witnessed this, but it is something to be aware of. If this occurs, shooters typically need to drill out their screws to recover the optic. When swapping batteries, be sure to check your posts for wear to avoid this problem.
Range Time
This configuration currently has a little over 5,000 rounds of 9x19mm through it. Approximately 90% of all rounds fired have been standard pressure, with nothing exceeding +P. While this list is not completely comprehensive, these are the most common rounds fired through the gun:
On Target 115gr

Blazer Brass 124gr

Federal HST 124gr

Speer Gold Dot 124gr

Speer Gold Dot 124gr +P
Aside from two stoppages, I ran into no other malfunctions. Both were failures to go into battery within the same magazine in a single string of fire. Due to this, I think they were either ammunition or magazine related.
This Brownells slide was carried as part of my EDC for seven months, from Spring through the Fall. It came with me to Shooter Symposium, the Rangemaster Instructor Course, as well as USPSA, and regular range time. During this time it experienced pouring rain and blowing dust, as well as normal lint and debris from conceal carry. Averaging 1,500 rounds between cleanings, the open top slide has proven to not be a detriment to reliability during normal usage.
Final Thoughts on the Brownells Glock Slide
Overall I think the Brownells Glock slide is a good purchase for someone looking to get into optics without direct milling a blank slide. I've trusted my life to mine for over a year and it has cleared every challenge with ease.
Prices range from $156-300 depending on configuration. You can check out the wide variety of options on Brownells' site >>HERE<<