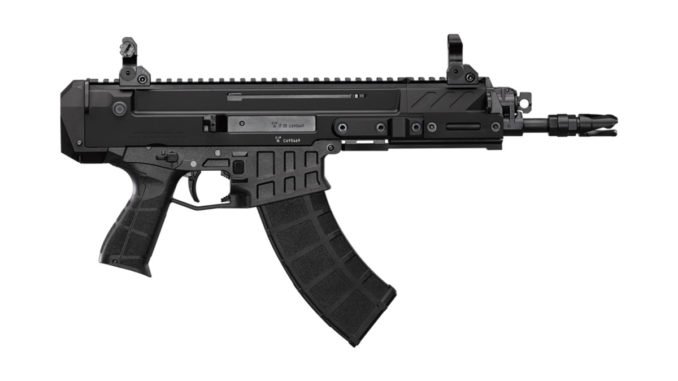 Back in September of last year, we wrote about a handful of CZ-USA Bren 2 S pistols that quietly made their way onto the commercial market here in the states. Now CZ-USA is announcing a very similar pistol, the new CZ-USA Bren 2 MS.
CZ made several changes to the Bren 2 MS, the more notable changes are a lightened receiver, a carbon fiber reinforced lower, and a modular forend.
The CZ-USA Bren 2 MS pistol will have an MSRP of $1,799 for all models. Find more information on the CZ-USA website.
More about the CZ-USA Bren 2 MS from CZ-USA:
CZ-USA is excited to introduce the next generation of the Bren, the CZ-USA Bren 2 MS Pistol, offered in multiple barrel lengths and two chamberings. Whatever your tactical shooting needs, there's a Bren 2 Ms Pistol model just right for you.

The original Bren 2 was developed as a select-fire rifle for the Czech military. However, the new Bren 2 Ms Pistol is a clean-sheet design, with a modular forend (hence the 'M') and is offered in semi-auto only ('s').  

The other most noticeable change is the strict weight-loss regimen the Bren 2 Ms has undergone. With a trimmed-down aluminum receiver and a lower made from carbon fiber-reinforced polymer, the Bren 2 Ms Pistol is a robust but substantially lighter firearm than earlier versions. Easier to carry, quicker to get on target, and durable enough for the toughest duty: that's the new Bren 2 Ms Pistol.

The Bren 2 Ms Pistol has also done away with the reciprocating charging handle of the past, replacing it with one that stays stowed in the forward position until needed. This change means less chance of the handle getting snagged on clothing, vegetation, and other items. Swappable from side to side, the new charging handle does double duty as a forward assist.


CZ-USA has also added is an AR-style bolt catch/release system to the Bren 2 Ms Pistol that is mirrored on both sides of the firearm. This ambidextrous system allows for a faster, more efficient charging of the pistol.


There's even a catch/release nestled into the front of the Bren 2 Ms trigger guard. The magazine release and safety are also ambidextrous and located in very familiar locations for the many shooters well-versed in the AR platform.

Depending on a shooter's needs and preferences, the Bren 2 Ms Pistol is available in one of six variations:

.223/5.56 with an 8.2-inch barrel

.223/5.56 with an 11.14-inch barrel

.223/5.56 with a 14.17-inch barrel

7.62x39mm with a 9.0-inch barrel

7.62x39mm with an 11.14-inch barrel

7.62x39mm with a 14.17-inch barrel

AR-15 style magazines are used for .223/5.56mm models; CZ factory magazines are used for the 7.62x19mm models to ensure last round hold-open and consistent feeding. The magazines are swappable within the same caliber no matter what the barrel length.

Want even more modifications? The Bren 2 Ms Pistol features a flush rear plate that allows you to attach an AR-style buffer tube for the installation of an arm brace, cheek rest or similar pistol stabilizing device. For those who wish to SBR, a Carbine buffer tube and stock can be installed, or the entire rear plate can be removed and replaced with a factory folding/adjustable stock.

Whatever your tactical needs or mission, the CZ-USA Bren 2 Ms Pistol has your shooting covered.

Bren 2 Ms Pistol (six models) Specs

Calibers: 223/5.56NATO or 7.62x39MM

Barrel Lengths: 8.26 to 14.17 In.

Overall Lengths: 19.9 to 25.8 In.

Finish: Black

Standard Mag Cap: 30 rounds

Weight: 5.4 to 5.86 Lbs.

MSRP (all models): $1,799.00