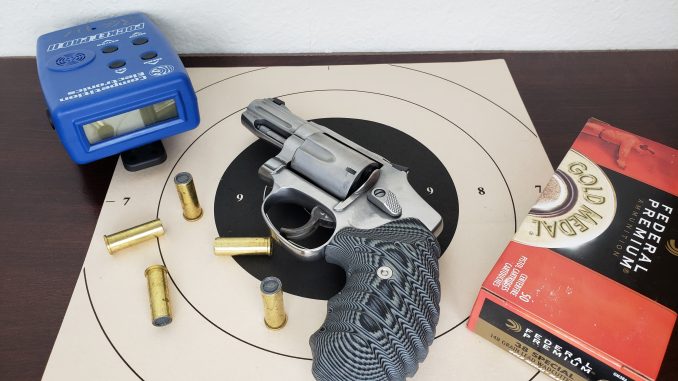 Shooting is a challenging skill to master. It becomes even more challenging when using small and lightweight pistols, especially those with heavier triggers. Most people consider a pocket pistol to be a "belly gun". Something for use within contact distance, and no further. This results in nearly zero training with these guns, and certainly nothing past a few yards. Unfortunately, we don't get to pick the circumstances in which we may have to use our concealed firearms, so we must be ready for challenging situations, even when our equipment is sub-optimal. The Hardwired Tactical Super Snubby Test is an excellent way to challenge yourself with your preferred pocket gun.
The Setup
Setting up this drill is pretty straightforward. You'll need a single B8 bullseye target, a 10 yard range, 15 rounds of ammunition, and a shot timer. There are three strings of fire with this drill, five rounds each, all starting from low ready. If your pistol or revolver features an exposed DA/SA hammer, fire everything from double action. There's no thumb-cocking allowed here.
Place your target at ten yards to start. On the beep, bring your gun up and fire 5 rounds, two handed. Par time is 8 seconds.
Next stage bring the target in to five yards. On the beep, fire 5 rounds, two handed. Par time here is 5 seconds.
For the last string place your target at three yards. On the beep, fire 5 rounds, strong hand only Par time is 3.5 seconds.
For those wanting a bit more of a challenge, there is an "advanced" version of the Super Snubby Test. Shooters will start from concealment instead of low ready. If using a pocket holster, start with your grip established in the pocket with your finger OFF of the trigger. At the 3 yard stage, both hands can be used in this version.
Scoring the Hardwired Tactical Super Snubby Test
Much like the rest of this drill, scoring is very straightforward. There are 150 points possible. Much like with The Test, I try to hold myself to 90% or better on accuracy, and staying under the par times for a "passing" score. This means you'll need at least 135/150 to pass this drill, and no busted time. Traditionally, the 3 yard stage featured a 3 second par time, but that is no longer the case, with it now bumped up to 3.5 seconds.
I reached out to Hardwired Tactical to get their input on the specifics of scoring this drill. Here's what they had to say:
Traditionally, over on time is a fail. With that said, we encourage people to make the numbers on accuracy till they can make the time. 90% is what is the standard for a "solid" shooter. For those looking for using it for some sort of qualification, usually 70% is a pass with the score of 90 the true desired result and goal. You can add about a half second on the 3 yard. I have found that [3.5 seconds] is more realistic to hold black, which is the goal.
To save you some math, 105/150 will net you 70% on accuracy. Again, focus on your accuracy first, then work on speed. Fast misses are still misses, and with five shots in the gun, you can't afford that. Not to mention your responsibility for everything that comes out of your barrel.
Range Time
The Hardwired Tactical Super Snubby Test gave me a run for my money. Despite using one of the nicer snubbies on the market, a Smith & Wesson 640 Pro, I initially had a lot of trouble with the time constraints. Even the 3 yard stage was challenging for me due to the speed I was trying to fire using the previous 3 second par time.
This slideshow requires JavaScript.
My last two runs resulted in the following scores using my carry ammo, Federal Gold Medal Match .38 Special 148gr wadcutters.
Run One

Ten yards: 49/50 in 4.92 seconds
Five yards: 45/50 in 3.73 seconds
Three yards: 36/50 in 3.64 seconds (one miss)

Run Two

Ten yards: 42/50 in 6.30 seconds
Five yards: 45/50 in 4.02 seconds
Three yards: 47/50 in 3.57 seconds
The Hardwired Tactical Super Snubby Test is an awesome drill. It works both speed and accuracy, and even works in some strong-hand only shooting. Maintaining proper trigger control, at speed, with a heavy double action press is more challenging than I expected. Show us how you perform by posting your targets on our Facebook and Discord!
Overall I am fairly pleased with my performance. I'd post results of my previous attempts, but apparently I didn't take pictures while trying to hide my shame. These are my best scores to date, but I still have some work to do to make passing scores. I'm looking forward to trying this with a few other wheelguns. Specifically a S&W Model 19 with a 2.5" barrel, and a Ruger LCRx 3". Once that gets done I'll post the results here for a comparison.
Want to see what else Hardwired Tactical has to offer? Check out there website for training opportunities, blog posts, and more >>HERE<<