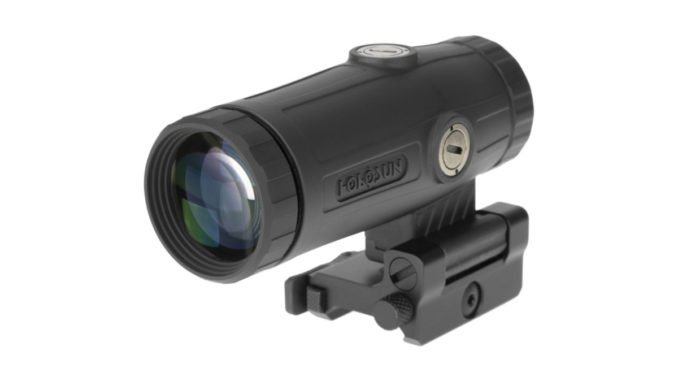 Holosun has been killing it lately with the introduction of the HS507C last year, the HS508T earlier this year, and now they have announced the new HM3X magnifier.
The HM3X magnifier was shown at SHOT 2019 along with the HM3X/T. The difference between the two is the housing, the 3x magnification HM3X will feature an aluminum housing whereas the T model will sport a lighter titanium housing but will be otherwise identical.
When our Senior Writer Paul W. took a look through the new magnifier on the SHOT Show floor, he remarked that he was "honestly surprised by the clarity of the glass."  High praise for the new magnifier which should carry even more weight knowing that he went and bought one as soon as they were available on Amazon.
The Holosun HM3X Magnifier will carry an MSRP of $235.28 and are for sale on several websites like Amazon, Optics Planet, and Brownells for right around $199, sometimes less with coupon codes. Find more about Holosun on their website.
More about the new HM3X magnifier from Holosun:
Holosun is pleased to announce the release of their 3 power Flip-to-the-Side Magnifier, the Holosun HM3X. This new product debuted to the public at the NSSF SHOT Show 2019 to much industry acclaim. The clear glass and very generous 2.75" eye relief of the HM3X are designed to pair with and augment Holosun's red dot lineup.

With its flip-to-the-side design, the HM3X allows users to toggle between an un-magnified and 3 power magnification view through their optic as situational requirements demand. The HM3X's aluminum body is durable and corrosion resistant, protecting it from the wear and tear of heavy use. The IP67 water and dust tight rating combined with a nitrogen gas purge ensure that the HM3X won't let you down in humid or damp environments.

Holosun offers versatility and value in all its offerings, and this magnifier is no different. The unit includes a quick detach mount that can be rotated during magnifier installation to allow it to flip either to the right or the left. Additionally, the mount has hard stop positions that sit straight behind an absolute co-witness height optic (1.4" from the top of the rail to the center of the lens) or flipped-to-the-side at ninety degrees. Also included is a spacer that creates compatibility forlower 1/3 co-witness height optics (1.63" from the top of the rail to the center of the lens).

The Holosun HM3X Magnifier will be available in 2019 through Holosun's online store, Davidsons Gallery of Guns and at other authorized retailers. The HM3X will debut with an MSRP of $235.28. Holosun would like to thank Davidson's Inc. in Prescott, AZ for their support and assistance in the launch of this new product.