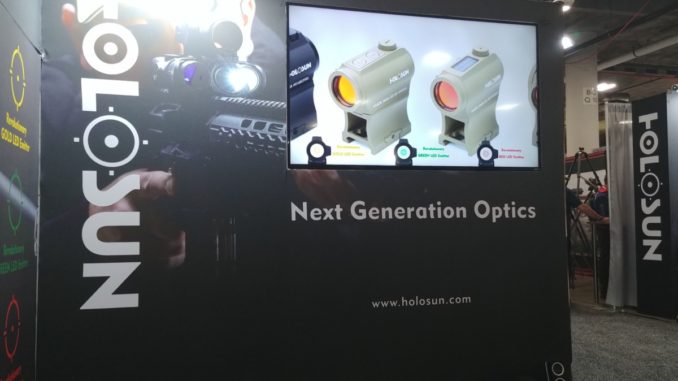 Holosun is a company that has really made a name for itself over the last few years. They went from the "budget" line, to the "value" line. No longer are they seen as clones of more expensive, more quality designs, but rather, are now a middle ground, between the very high end, and the mid range.
I had the opportunity to speak with one of their engineers, and he was very enthusiastic about the optics and lasers. The biggest take-away that I had from our conversation is that Holosun always wants to wants to improve. To paraphrase his words, Holosun wants to put their old products out of business with the new ones. As time and technology progress, Holosun can make new products that outperform the old ones. Holosun will not settle and rest on their laurels, and this mentality shows in their products.
Holosun is always releasing new products, but the two new ones for SHOT 2019 are the HS503R/CU and the HM3X/T.
Holosun HS503R/CU
The new Holosun is a holographic sight, similar to other Holosun offerings. I actually own a 503G, in the ACSS reticule, and it has been very durable. What the 503R does is replace the buttons for brightness with a rotating turret. This turret has 12 power settings, and another feature. The 503R has two reticules, either a 2 MOA dot, or a 2 MOA dot with a 65 MOA circle. There is a an additional power setting on the turret, that if rotated to, switches between the reticules. Prior models required holding the one of the power buttons down to change reticules, but Holosun wanted to make this quicker, and more tactile. The battery life is 50,000 hours, and a standard CR2032 battery is used.
Here, the reticule change adjustment can be seen.
The 503/CU is the same, but has a solar panel, and a shake awake function, in addition to the previous features.
MSRP for the HS503R and HS503CU are still TBA, as of time of posting.
Holosun HM3X/T
Holosun has finally brought a 3X magnifier to the market, in the form of the HM3X/T. Is is a side flipping, QD mounted 3X magnifier. It is compatible with both absolute, and lower 1/3 height optics. When I was able to look through the magnifier earlier this week, I was honestly surprised by the clarity of the glass. It was really quite clear. The HM3X has an aluminum housing, while the HM3XT has a titanium housing. Otherwise, the two are identical.
MSRP for the HM3X and HM3XT are still TBA, as of time of posting.