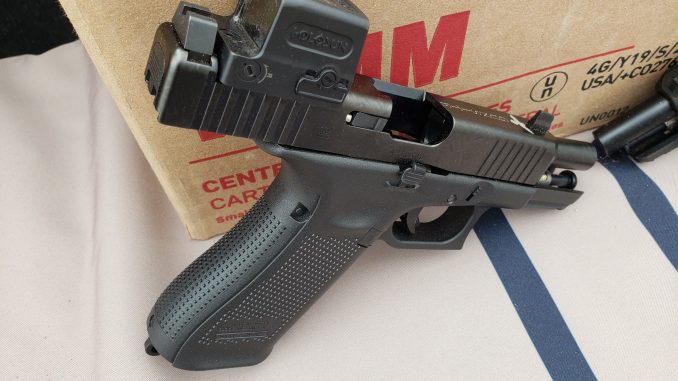 Earlier this year a collaboration between Gunsite Academy and Davidsons was announced, taking the gun world by surprise. The Gunsite Service Pistol is essentially a Glock 45, factory cut for a Holosun 509T, with a handful of other features to improve the user experience. "Heresy!" is what many of the initial impressions were; "a polymer frame, 9mm, optics equipped Glock would have Cooper spinning in his grave!" That is the sentiment that I primarily see, that Colonel Cooper would hate this gun. I disagree with these claims, for the most part, though this is the perspective of someone who never met the man. Here's my reasoning as to why the Gunsite Service Pistol is a logical result of the Modern Technique.
The "Heavy-Duty" Pistol Criteria
A "heavy-duty pistol" is the final aspect of the Modern Technique taught by Gunsite Academy. The gun must be reliable, accurate, and in an effective caliber. Other desirable features include high visibility sights, triggers of 4-6.5 pounds depending on action, no sharp/snagging edges, frame texturing to support grip, and quality ambidextrous controls. For years this has been considered the realm of the 1911, a Gunsite tradition, and signature pistol of Colonel Cooper. Let's dive deeper here to see how the new Glock meets these requirements.
Reliability
Largely I think we can all agree on the reliability of a Glock.  Of course there have been hiccups over the past nearly 40 years, but the overwhelming performance has been positive. I've been a Glock shooter for years, and the stoppages I've had are almost completely a result of faulty ammunition. While they certainly aren't "perfection", they've become the measuring stick for service pistols, running to hell and back.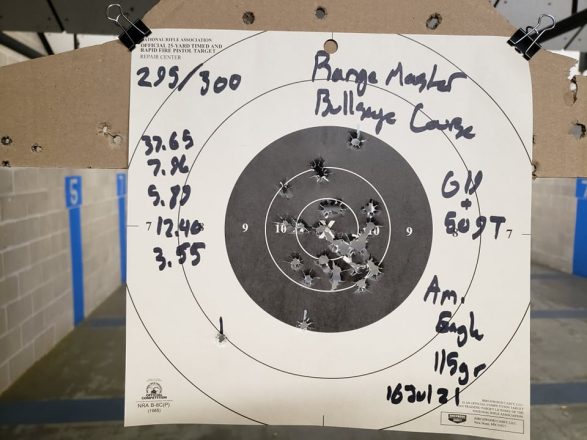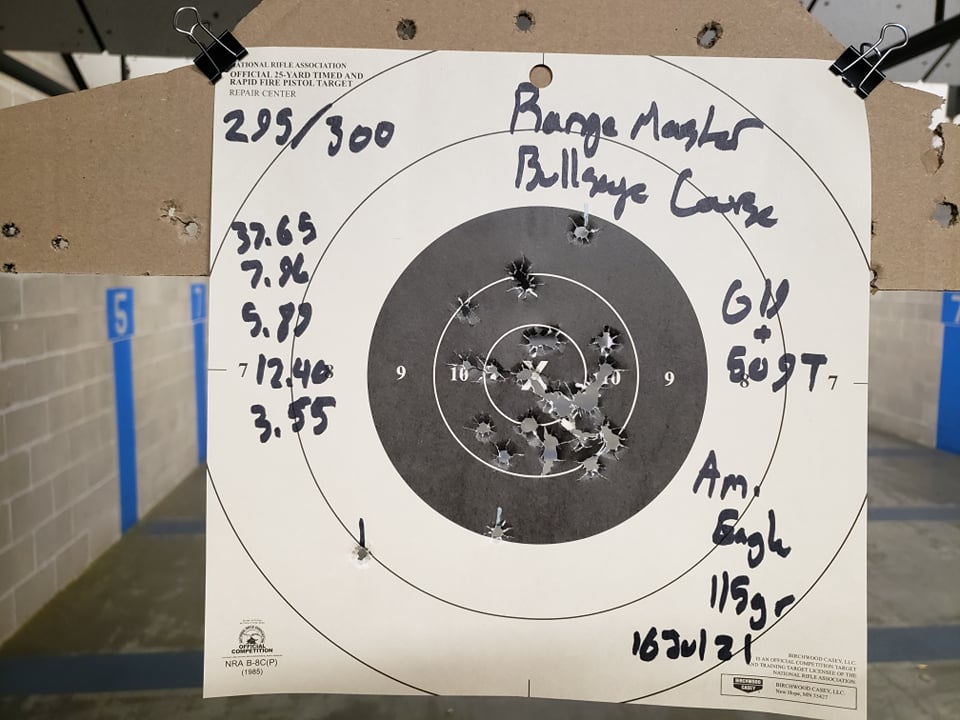 There's not much to say here, as Glock speaks for itself.
Accuracy
Glocks traditionally aren't particularly accurate, but not especially inaccurate either. The 5th generation has improved performance in this realm, taking them to the level of some aftermarket options. I've managed to keep everything in the 10 ring of a B8 at 25 yards with G48 and Federal HST. Better shooters can likely squeeze more out of the plastic fantastic than that. A nice 1911 will still beat a gen5 Glock in accuracy, but likely not for the same price. While 50 yard bullseyes may come in handy from time to time, I think the Glock makes the grade.
Caliber of the Gunsite Service Pistol
The caliber debates have effectively been put to rest, in my opinion, though they still rage online. From the work of Doctor Gary Roberts, the FBI, and others, it's apparent that modern bullet technology has brought 9mm effectiveness onto par with larger calibers. All this while maintaining greater capacity and reduced recoil. The affinity for God's caliber makes sense for those who were brought up in the first half of the 20th century. That said, time and technology, have changed. I think this directly meets the "Accuracy, Power, Speed" mantra spoken at Gunsite.
High Visibility Sights
An optic is extremely visible, so long as you can acquire it and have an appropriate brightness level selected. I won't wax poetic here, but I think the optic can certainly be an advantage for those willing to train and practice. That said, optics aren't a mandatory item. It being supported with quality irons will help in a pinch, which can also be easily modified to be higher visibility.
I think the Chinese origin of the Holosun would cause Colonel Cooper heartburn, and I wouldn't blame him for it. However price and availability of the Aimpoint ACRO P2 are likely a factor here. The middling performance of the Steiner MPS makes it less appealing in my eyes than competitors. Open emitter optics come with their own issues, especially when worn openly in the line of duty. While it may not be ideal, the Holsoun 509T is a logical choice here.
Going with a factory cut slide is a huge benefit for the user. No longer will you have to stack tolerances, relying on the typical MOS plate system. Reliability of your mounting solution is dramatically increased with a direct-milled slide, especially when paired with a solid optic. This security and confidence, paired with good BUIS, makes an optic a no-brainer.
Texturing, Controls
Despite their blocky nature, Glocks are pretty smooth, with low profile controls and surfaces. There are no exposed hammers or enlarged levers to snag. While fairly small, the OEM ambidextrous controls are solid, allowing for out-of-the-box use by southpaws. These can also come in handy for those who practice mirror-image shooting, or if you have to manipulate the gun weak hand only. Even the most ambidextrous friendly 1911 lacks a support side slide stop, and rarely do you see a reversible magazine release, giving Glock a leg up.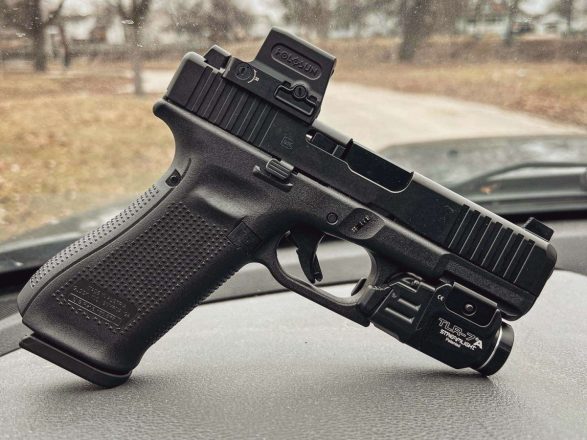 The grip texture itself is decent, if not a little smooth for some shooters. Those looking for something more aggressive can easily get some stippling, grip tape, and more for a nominal fee. This helps to ensure of solid purchase even when hands are wet with rain, sweat, or other moisture. The polymer frame is also fairly easily reprofiled for ease of use by smaller handed shooters with services from Boresight Solutions, Great Lakes Custom Works, and others. While different grip panels and frame texturing can be modified on the 1911, the ability to customize is more severely limited, and often the .45ACP size frame can be problematic for some shooters. Again, Glock is starting to make sense for the next evolution of the Gunsite Service Pistol.
Other Notes and Wrapping Up the Gunsite Glock Service Pistol
Colonel Cooper was a known critic of the grip safety in the 1911, as mentioned in Yankee Fist. Glocks, like most modern handguns, lack the grip safety in favor of trigger-based systems, solving that criticism. Of course none of this is to imply that Cooper didn't have criticisms of Glocks, though they were far from what many claim. For further reading, much of this is covered in this article I wrote last year, where I interviewed Ken Campbell, and Freddie Blish of Gunsite Academy. Additionally, Ken Campbell covers much of this specifically in this article from SHOT Show when we dropped by the Glock booth.
All of this said, I love the 1911. I was surprised when this project was announced, but I think it's a logical step forward from where we've come from. Another run of the Glock Service Pistol is expected soon, with a 1911 counterpart also on the horizon. Both are solid options, each with their own advantages and shortcomings.