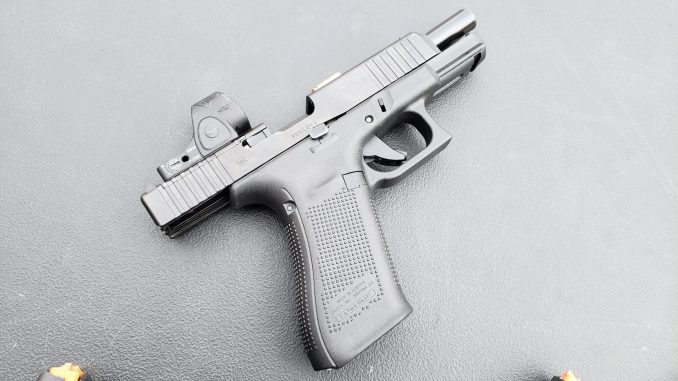 Today we checked out some of the latest releases from Glock during SHOT Show Range Day 2023. Check out the details below.
Glock 47
While the G47 isn't a brand new gun, it is new for civilian ownership. This pistol is a pseudo-hybrid of the Glock 17 and 19, offering a full size grip with the option to swap between the shorter and longer slides. Think along the lines of a G45 that can also accept G17 slides.  These are Gen5 guns, with the standard MOS optics cut. We fired one with the Trijicon SRO mounted, and it shot as you'd expect, like any other gun from this manufacturer.
MSRP on the Glock 47 is $745
G20 and G21 Gen5
Glock is finally bringing the 10mm G20 and 45ACP G21 to their Gen5 lineup. Both guns will be MOS compatible, with standard changes for the latest generation of Perfection. MSRP on both guns is $745.
Gunsite Glock Service Pistol
Gunsite Academy and Glock are collaborating on the Gunsite Glock Service Pistol. This takes a G45, and adds a direct-milled Holosun 509T red dot sight, OEM minus connector, OEM lanyard loop, and Ameriglo suppressor height sights. The top of the slide features the Gunsite raven and "GUNSITE" engraved behind the front sight. Serial numbers are unique, starting with "API", for the American Pistol Institute, Gunsite's original name. Those purchasing the gun directly through Gunsite will also receive a special edition striker plate.
The Gunsite Glock Service Pistol is available now, with a street price of $1,274.99.
Check out the video below for more details on this pistol from Gunsite CEO, Ken Campbell: