I bought a Galil Ace a few months back, to scratch my AK itch. While not normally a fan of IWI guns, that Galil made me more cognizant of their designs. Well, IWI US revealed a new rifle for the US market at SHOT Show 2023. The Carmel is their new rifle, and we were able to check it out. How was it?
The IWI US Carmel
The Carmel is a short stroke gas piston rifle, chambered in 5.56. The current offering is a 16", free floated gun, with a cold hammer forged and chrome lined 1 in 7" twist barrel. Despite having polymer receivers, the Carmel comes in at 8lbs, 2 ounces.
This slideshow requires JavaScript.
The first thing I noticed on the Carmel were the controls. The controls are different than an AR, but still pretty close. Ambidextrous magazine release, bolt release/bolt hold, and safety are very nice to have. One of my gripes with the ACR and CZ Bren is that some controls are in the trigger guard, but IWI was intelligent, and put them on the receiver instead. While not amazing, the trigger was certainly not bad. The Carmel fits standard AR pistol grips, which is a big plus. You can use your AR mags too, as it is a STANAG magwell.
The Carmel touts that it is completely ambidextrous, and it nearly is. The controls on the lower are all ambi, and the charging handle can be moved to either side of the rail. The ejection port cannot be switched, but with having a brass deflector, that's totally fine. I was pleasantly surprised to see a dustcover on the Carmel.  The rifle has a sidefolding stock, which was easy to fold and un-fold. It can be fired while folded, but that's not something you'd really do.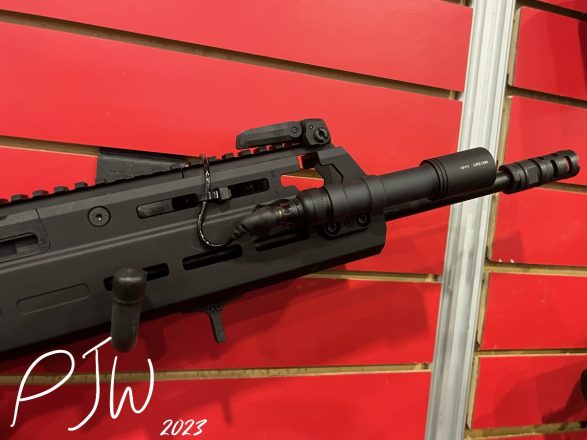 The front end of the Carmel is pretty standard. It's got a roughly 12" M-LOK rail, with mounting at 3-6-9 o'clock positioning. There's also a cut in the rail to switch gas settings, with 2 positions available. A monolithic 1913 top rail bridges the gun, making mounting optics and accessories easy.
My Early Carmel Impressions
I like the AR-15 platform a lot. It is easy to work on, cheap to modify, and generally reliable. However, there have been a ton of "Not AR-15s" that have hit the market over the last 20 years. Many have fallen to the wayside, as they were not competitive with the AR platform. MSRP on the Carmel is $1799, which firmly puts it in the premium AR range, but considerably cheaper than similar "Not ARs". While I won't be rushing out to buy one, I think it is a neat rifle. I'd love to shoot one in the future.