BLUF: The Smith & Wesson Model 10 offers handcrafted American quality for mass produced Brazilian prices. You'll be hard-pressed to find a better revolver within its price range.
Happy Accidents
I was browsing Gunbroker checking out prices on Smith & Wesson revolvers when I stumbled across a used Model 10 that was in the last few hours of its auction. The finish looked great, and the price was right, so I dropped a bid, closed my laptop and went about my day. There had been tons of activity on the revolver prior to my bid, so I knew I had no chance of winning, but I didn't mind since a new gun wasn't quite in my budget at the time.
A few hours later I got an email from Gunbroker congratulating me on my purchase. Shocked, but ecstatic, I filled out the necessary paperwork and a few days later I was the proud owner of a new (to me) Smith & Wesson six-shooter.
Smooth Like Butter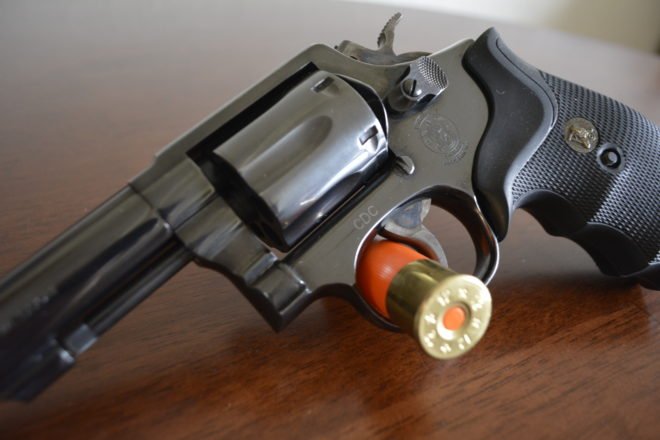 The Model 10 is one of S&W's oldest guns still in production, first released in 1899 as the Hand Ejector. It is a six shot, .38 Special only, double action revolver. The sights are fixed, with the rear being integral to the frame. My model, the 10-10, manufactured during the late 1980's comes with a 4" heavy profile barrel, rubber Pachmayr grips, and a hammer with a fixed firing pin. On the frame you'll notice "CDC" etched into the finish; This is not for the Center for Disease Control, as I originally thought, but California Department of Corrections. Aside from some holster wear on the front of the trigger guard, the gun was immaculate. The trigger is heavy but so incredibly smooth that the weight is barely noticeable. I'm of the persuasion that a revolver should only be fired double action, and doing so is a dream with this piece.
Get a Grip
The Pachmayr grips are both a blessing and a curse: the sticky rubber surface keeps the gun secured in my hand under recoil and sweat, as well as providing a larger palm swell which fits me much better when compared to the factory wood grips.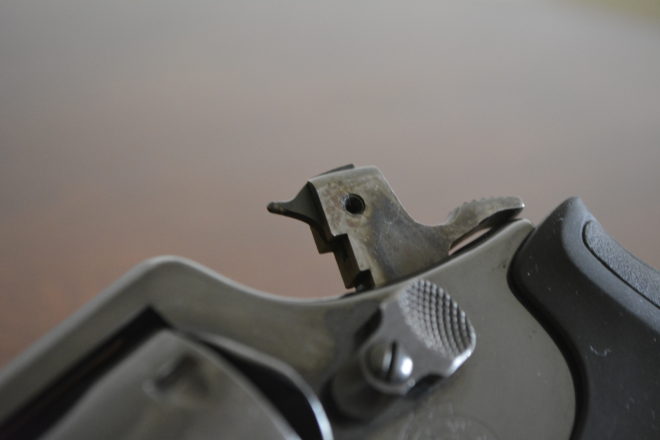 This security comes at a cost, as the rubber catches on my clothing—slowing my draw—as well as making adjustments difficult without completely regrasping the stocks if I manage to botch my initial grip. Personally, the positives outweigh the negatives with the Pachmayrs, though you may be better served with offerings from Hogue, Altamont, or VZ.
I've never sat down on the bench to try for cloverleaf groupings, but I know the Model 10 is more accurate than I am. Whether T-Zoning a silhouette, or speeding through a plate rack, I've never missed a shot due to anything aside from my own shortcomings as a shooter. This gun is a tack driver, even with its rudimentary sights.
Possibly the biggest plus of all is how cool you look showing up to the range or a match with this on your hip. Sure it may be technologically inferior to a modern semi-auto, but I've never had anyone ask to take pictures with my EAA Witness Polymer. Seriously, I had a guy at the range take a selfie with my gun but not actually want to shoot it. My generation is the worst.
Showing Its Age
Despite the high praise, there are some downsides to the Model 10. The gun is only chambered for .38 Special; while I rarely fire .357 Magnum out of my other guns, having the option to switch between the two would be nice.
The sights leave something to be desired. Though I have no issue taking both rapid fire and slow aimed shots, the fixed rear sight is slower and harder to use than the target sights found on my Model 15 and 19. Since the sights are not adjustable, you must figure out where your favorite load prints and shoot from memory, a potential issue for reloaders. You won't find any fiber optic or tritium inserts, though a little nail polish on the front ramp and black sharpie on the rear make a solid improvement over the bare metal.
The thinner chamber walls heat up rapidly after firing a few dozen rounds in quick succession. There have been multiple instances where I came close to dropping the gun during a reload in the middle of a USPSA stage due to the hot cylinder burning my bare hand, but the desire to not get DQ'd or damage the revolver overcame my pain. Gloves might be a wise investment if you plan on putting a lot of lead down range.
Blessings in Disguise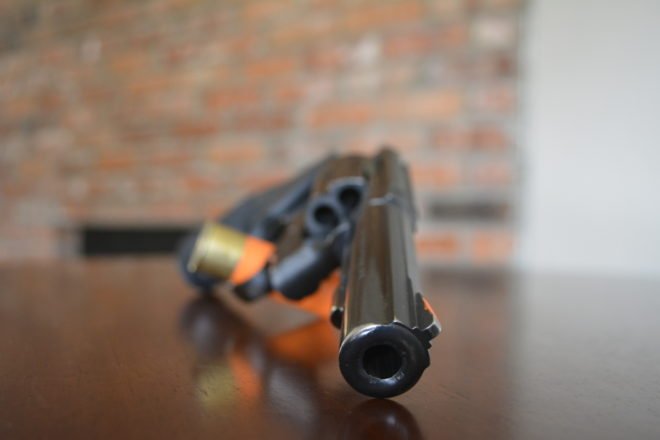 Being an all steel revolver, the weight is substantial, coming it at nearly 2.4 pounds unloaded. This may begin to wear on you over the course of a day if you opt to carry it, or put off new shooters who think heavy equals bad. Personally, the weight is actually a benefit in my mind.
Shooting the Model 10 feels almost like firing a .22lr when using lighter loads, as the heft helps absorb most of recoil. Not that .38 Special was a teeth-chattering round in the first place.
Despite owning revolvers that are typically considered superior options (1970's era Model 15 and 19), and several modern Wonder 9's,  the Smith & Wesson Model 10-10 reigns as one of my favorite guns of all time. I have put nearly 1,000 rounds through this gun alone and plan on firing thousands more. If you are looking at getting into the six-shooter game, I suggest you start here.