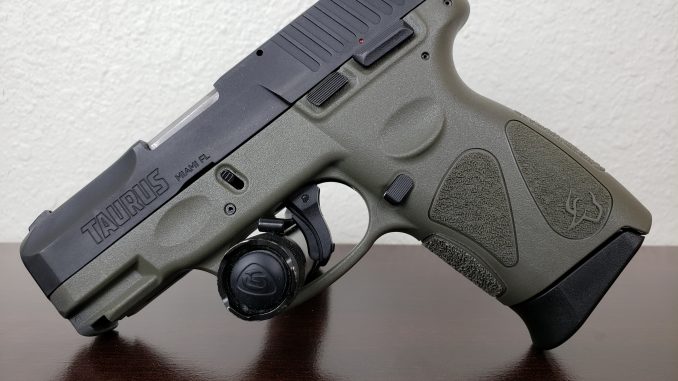 Taurus is one of the biggest names in budget friendly firearms. What may be bigger than their sales is the opinions surrounding their products. Walk into any gun shop and you'll find Taurus pistols and those who feel strongly about them, myself included. Following an extremely negative experience in my youth, I didn't have the highest view of Taurus. That being said, I like to keep an open mind. After hearing several positive experiences with Taurus's newer products, it's time to give the company another shot. With that in mind, I bought a new Taurus G2C in early 2019 for a shockingly low $186.
Unboxing the Taurus G2C
The G2C comes in a nice cardboard box, arriving with two 12 round magazines. Always the fashionable man, I selected the olive drab frame, opposed to the common all black model. Internals have a light coating of oil, with the outside bone dry. The metal finish is very flat, and slightly rough.
Controls
Controls are fairly conventional, but not southpaw friendly. The magazine release is reversible, but the slide lock and manual safety levers are right hand only. Deliberate force is required to release magazines, and the button is fairly small but serviceable. The slide lock functions well as a release, while being small enough to avoid accidentally locking the gun open during firing. Take down levers are in the style of Glock, with tabs on either side of the frame, pulling downward for disassembly.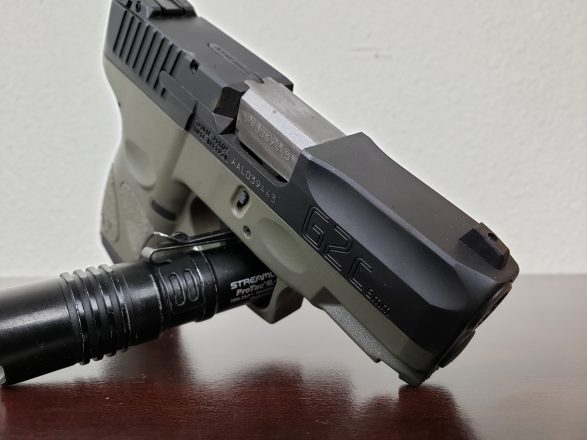 Manual safeties are not something I'm typically fond of in defensive pistols. The G2C's safety lever is long but unobtrusive. This makes it fairly easy to swipe off, and difficult to inadvertently activate. When the safety is on, the slide cannot reciprocate, much like a 1911. Having the safety be right-hand only is a massive failure on the part of Taurus, and something still lacking in the updated G3 line of pistols. Despite the manual safety, the Taurus G2C is a double action design, featuring a Glock style trigger safety. Additionally, there is a loaded chamber indicator atop the slide, providing a physical and visual reference for shooters.
Iron sights are the typical 3 dot arrangement. Front sights are fixed in place and non-adjustable. Rear sights are adjustable for windage and elevation. My sights were well zeroed out of the box, allowing me to make hits on a B-8 bullseye at 25 yards without issue.
Ergonomics
Ergonomics are mostly excellent on the Taurus G2C. Grip texture is aggressive on the raised panels, with the rest of the frame featuring the typical polymer frame pistol texturing. These panels effectively bite into the hand without getting uncomfortable, and are something that other brands should emulate. The grip is surprisingly thin for its' capacity. While the G2C isn't going to give a P365 any competition, it certainly blows the G26 away in terms of size efficiency and comfort.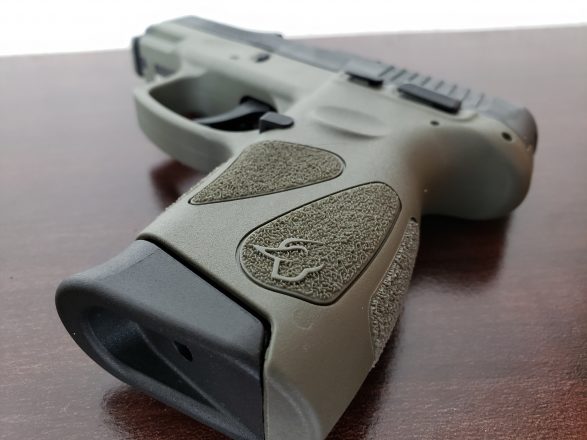 Trigger reach is long, with roughly 75% of the pull being slack. This is followed by a significant amount of creep and stacking. Reset is very short, without much in the way of audible or tactile cueing. When fully pressed, the trigger safety sticks out significantly from the face of the trigger. This did not cause issue, but was certainly noticeable.
Repeatedly during firing the trigger would seem to hang up on itself. This happens about halfway through the press, and could be remedied by releasing the trigger either in part of completely. Things like this aren't a problem on the range, but could be a serious issue in a defensive gun use.
Range Time with the Taurus G2C
Roughly 300 rounds were fired over the course of an hour during my first range trip. The gun was cleaned and lubricated before initial firing to check for maladies from the manufacturing process. This was the most ammunition fired over the shortest amount of time throughout my review process.
Rounds fired 685
50x Tula 115gr FMJ
50x Winchester Forged 115gr FMJ
50x Winchester Service Grade 115gr FMJ
50x Browning Train & Protect 115gr FMJ
50x Federal RTP 115gr FMJ
50x Herter's Select Grade 115gr FMJ
50x Herter's Target 115gr FMJ
70x Fiocchi 115gr FMJ
110x On Target 115gr FMJ
50x Blazer Brass 124gr FMJ
50x Winchester White Box 147gr FMJ
10x Hornady Critical Defense 115gr FTX
10x On Target 124gr UHP
10x Federal HST 124gr JHP
10x Federal HST 147gr JHP
15x Speer Gold Dot 124gr +P JHP
To my surprise, the Taurus G2C fired every round flawlessly. Based upon prior experiences, I expected to cut this review short in under 300 rounds, and I'm happy to say that was not the case here.
Accuracy is comparable to what I can achieve with similarly sized pistols. The same can be said about recoil, being somewhat snappy, but far from unpleasant. If you've ever shot a Glock 26, the G2C will be a more pleasant experience.
Final Thoughts on the Taurus G2C
MSRP at the time of purchase was $316. When looking online, prices typically ranged from $180 to $216, making the Taurus G2C an excellent value. Taurus quality control is spotty at best. It seems if you get a good one, it will run well, but the likelihood of getting a lemon is relatively high. Two other shooters bought G2Cs from the same lot, one of which had a completely non-functional magazine release, and another has significant reliability issues. While it may not stack up to service pistols like those from Glock or S&W, the Taurus G2C blows away other guns in its price range. If you have money and time, I'd suggest saving up to buy something like a Ruger Security 9 or slightly more for a used Glock or M&P.