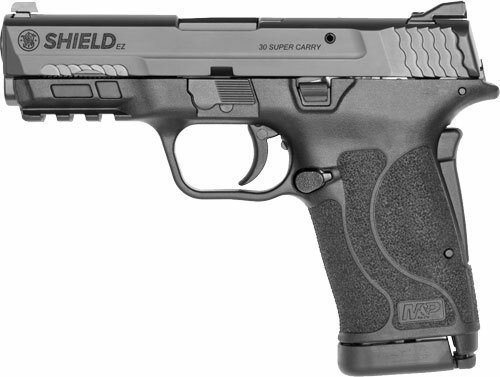 Today we learned of two new pistols in the Shield EZ line from Smith & Wesson. What sets these two new models apart? Simple, they're in a brand new caliber, the 30 Super Carry. What is 30 Super Carry? Check out our article on the new caliber >>HERE<< for more information.
The new Shield EZ remains largely unchanged from previous iterations aside from the new caliber. Shooters still have the option of choosing a manual safety lever, or omitting it, this being the reason why two new models have been introduced. A benefit of the reduced diameter rounds is an increase in capacity, up to 10+1 rounds of 30 Super Carry fit in the gun, opposed to 8+1 of 9x19 or 380ACP. Interestingly, the external extractor seems to have gone away in favor of a new component, elsewhere on the gun.  MSRP is $521 on the gun, though street prices are likely to be lower.
30 Super Carry Smith & Wesson Shield EZ Details
Smith & Wesson is excited to introduce ytheir S&W® Shield™ EZ® in a new caliber! Offering the Shield EZ chambered in Federal® 30 Super Carry™ the Shield EZ pistol features an 10+1 round capacity and a 3.675" barrel, ships with two 10 round magazines that feature a load assist tab for quick, easy loading, as well as a picatinny-style equipment rail to accommodate accessories. The pistol also features an optimal M&P pistol 18-degree grip angle for a natural point of aim, white-dot front and adjustable white-dot rear sights, and a light, crisp trigger!

 

Smith & Wesson Shield EZ Chambered in 30 Super Carry.

Easy to rack slide.
Crisp, light trigger with tactile and audible reset.
Includes 2 easy-to-load magazines.
Grip safety.
Magazine offers 10+1 round capacity.
Windage adjustable, White Dot Rear Sight.
Disassembles without pulling trigger.
Grip texture optimized to size and recoil.
Tactile Loaded Chamber Indicator (TLCI).
Picatinny-Style Rail.
Perfect size for nightstand, carry or a day at the range.
Reversible magazine release.
Optimal 18-degree grip angle for natural point of aim.
Armornite® – Durable, Corrosion Resistant Finish.
Backed by Smith & Wesson's Lifetime Service Policy

More Information

Safety: Thumb and Grip Safety
Chamber Length: 0 in.
Frame Finish: Black
Front Sight: White Dot
Rear Sight: 2 Dot
Grips: Aggressive Texture

Finish: Black
Firing System: Internal Hammer
Frame Material: Polymer
Trigger: Tactile & Audible Reset
Magazine Type: Double Stack Magazine
Barrel Configuration: Single
Rifled Barrel: Yes
Minimum Pull Length: 0 in.