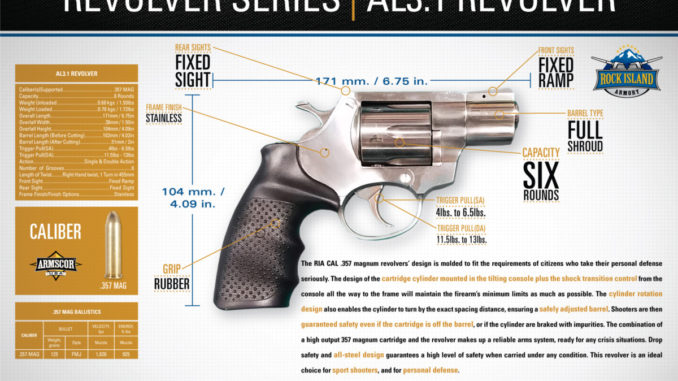 In an unexpected move, Rock Island Armory announced three new revolvers to their lineup.
The Rock Island Armory AL3.0 and AL3.1 are snubnose, six shot, .357 Magnum revolvers. Shooters have their preference of bluing or stainless steel finish, with no other differences between the two. The AL9.0 is chambered for 9x19, and features a three inch barrel with adjustable sights. Like it's magnum brethren, the AL9.0 holds six rounds, and is currently only offered with a blued finish.
All three revolvers come with rubber grips, vaguely resembling Hogue offerings. Double action triggers pull in the realm of 11-13 pounds, with single action coming in at 4-6.5 pounds. The guns are made of all steel, and sit somewhere between a J and K frame in size. AL9.0 owners have the option of using moonclips to aid in loading the rimless 9x19.
The Rock Island Armory AL3.0, AL3.1, and AL9.0 revolvers will hit shelves in January 2020.