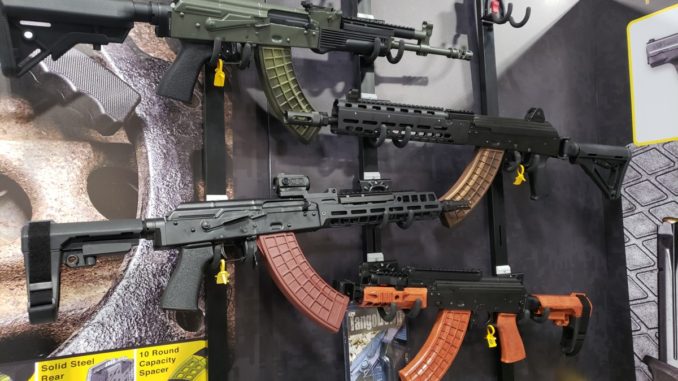 XTech Tactical stole the show among the accessory market during SHOT Show, unveiling a slew of new products for 2019.
Kicking off a new line for XTech Tactical is their new magazine extension for the Smith & Wesson Shield. These extensions are compatible with both flush fit and extended 9/40 Shield magazines, raising capacity by two and one rounds respectively. Each extension comes with a new magazine spring to maintain reliability. MSRP is $19.95 and shoppers should see them in stock by mid-February.

AK PRODUCTS
Continuing their support of Kalashnikov style firearms, XTech Tactical is releasing several new products. First on the list is MAG47 MIL. This latest iteration of the MAG47 line of 7.62x39 AK magazines, the Mil offers a solid steel rear locking lug, increasing durability under hard use. The MAG47 MIL has a lifetime warranty, an MSRP of $34.95 and will be available by the end of February.
For those unfortunate enough to be stuck in state with magazine capacity restrictions, XTech Tactical has a solution. Their MAG47 10/30 is a non-permanent magazine block for 7.62x39 AK magazines that restricts capacity to 10 rounds. If shooters purchase MAG47 10/30 then later move to a free state, XTech offers a standard length magazine spring as a replacement for the reduced length included with the MAG47 10/30 for a nominal price of $5.00. For each MAG47 10/30 sold, XTech will donate $1.00 to Gun Owners of America to help in the fight against Second Amendment restrictions. The MAG47 10/30 has an MSRP of $29.95 and will be available by the end of February.
SMART LASER
In a departure from their usual offerings, XTech has developed the Smart Laser, a 200 lumen weapon mounted light/laser combo. Instead of the typical paddle activation, the Smart Laser uses sensors on the back of the device to detect when the user puts their finger along or into the trigger guard. This intuitive approach reduces training time, making positive target identification easier, even for those less proficient. Additionally the Smart Laser has buttons for activation along both sides of the device. The Smart Laser ships in early May and has an MSRP of $179.95.
XTech is teaming up with Gun Dynamics for the initial run of the Smart Laser. Gun Dynamics is a pro-2A crowd funding platform that provides gun owners a like-minded haven to raise capital for new endeavors. This collaboration has not started as of the time of this writing, so stay tuned for the official announcement!