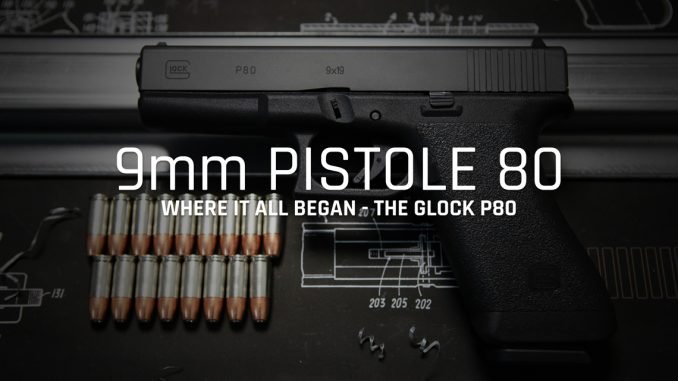 Glock and Lipsey's are partnering for an exclusive re-release of the original Glock, the P80. What's old is new again, with this as the latest in the trend of retro firearms reproductions. Adopted by the Austrian Army in 1982, and brought to the US as the "G17" a few years later, the P80 was never saw importation into the US.
Shooters will immediately notice the lack or finger grooves and accessory rail. Grips feature a wrap around, pebble texturing, and slim magazine release. Other differences include the single pin frame, smooth trigger face, and a flat ejector.  Slides are emblazoned with original P80 markings.
Lipsey's and Glock are also bringing back the original tupperware style box. This all ships in a collectible overbox with a booklet on the history of the pistol. A cleaning rod, spare magazine, and certificate of authenticity also come with the P80.
Distribution is strictly through Lipsey's and their affiliate dealers. Check out Lipsey's website for more information on the P80 Glock and where you can pick up your own. Details can be found >>HERE<<.
Lipsey's Release on the P80 Glock Reproduction
The GLOCK P80 revolutionized the gun industry and established the iconic GLOCK brand.  Gaston Glock designed his first handgun for the Austrian military pistol trials in 1981.  After winning this prized competition, the Austrian military named it the Pistole 80 and the first GLOCK pistols produced were subsequently marked P80.  In 1986 this same pistol, commercially known as the G17,  was introduced to the US market.  You now have the opportunity to have your own piece of GLOCK history with the Lipsey's Exclusive GLOCK P80 Edition.