I first learned of the Rangemaster Bullseye course when reading through my Rangemaster handbook after graduating from the Instructor Development course. When you hear "bullseye course", you probably see black and white images of old men firing their revolvers single action, one hand in their pocket, bladed to the target. I can hear you say "bullseye shooting is boring" through the screen right now. Well I'm here to say you're wrong. And no, I'm no Boomer, I'm still a few years away from 30 as of publishing this. You want to work on your accuracy? Go find a bullseye shooter.
Setting Up the Rangemaster Bullseye Course
For this drill you need a single B-8 bullseye, your pistol, a spare magazine, 30 rounds of ammunition, and a shot timer. With each string of fire requiring only five rounds in a magazine, shooters should have no issues, no matter their chosen firearm. Everything is fired from low ready, so there are no provisions for different types of holsters.
Course of Fire
25 Yards

Fire 5 rounds. Par time is 1 minute.

15 Yards

Fire 5 rounds. Par time is 15 seconds.

10 Yards

Fire 5 rounds. Par time is 10 seconds.

7 Yards.

Fire 5 rounds, perform a slide lock reload, then fire 5 additional rounds. Par time is 15 seconds.

5 Yards

Fire 5 rounds. Par time is 5 seconds.
Scoring this Course of Fire
Scoring is fairly standard. Every round is worth a maximum of 10 points, for a total of 300. A passing score is 270, all fired under the par time. Any rounds fired after the par time counts as a miss, removing 10 points from the total score. Rounds that fail to hit at least the 7 ring are considered a miss, subtracting 10 points each.
Range Time with Rangemaster Bullseye Course
As of this writing I have a single rep with the Rangemaster Bullseye Course under my belt, shooting with my dominant hand. I scored a 295/300, and came in well under each par time. I've had the opportunity to shoot the Advanced version of this course during the Rangemaster Advanced Instructor course, which definitely helped me manage my expectations.
As part of my preparation for the Rangemaster Master Instructor course, I've also been shooting this mirror image. That is shooting as though I'm a left handed shooter, to be clear. My first attempt landed me a 268/300, just short of passing. A few weeks later I made another attempt, getting 273/300 despite four double feed stoppages in a single string of fire. As a righty, my left handed shooting is a little weak, and requires far greater focus to achieve the scores that I can muster.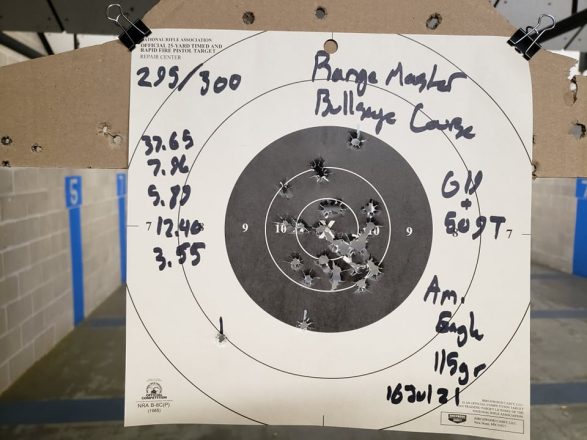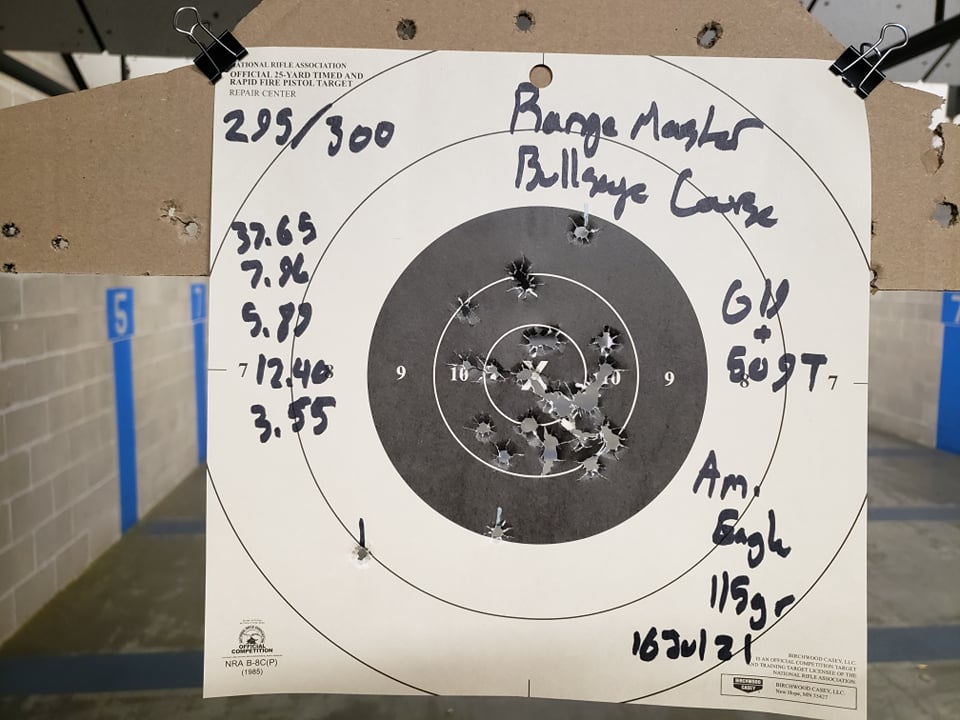 Final Thoughts on the Rangemaster Bullseye Course
This is a fairly easy standard for me, but not too long ago I would've had some problems at further distances. Par times are fairly generous as well, helping to alleviate some stress. Testing accuracy at distance, as well as light time pressure up close, along with reloads, this is a very well rounded course of fire. It's definitely helping me improve my skills as an honorary-lefty, covering all the bases in one run.
Try it for yourself and let us know how you perform!