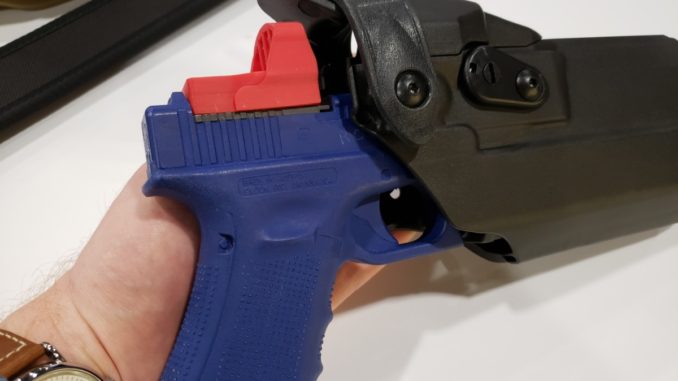 Safariland had their latest duty holster, the 7TS RDS on display during SHOT Show 2020.
Safariland is known for their top of the line, duty grade holsters. Specifically, they are regarded as some of the best in the business for retention systems. Staying on track with modern trends in firearms, Safariland has offered holsters compatible with red dot (MRDS) equipped pistols for years. Not one to rest on their laurels, the new 7TS RDS addresses a handful of issues present with previous optic ready holsters.
The major change with the Safariland 7TS RDS is the redesigned shroud for the optic, commonly known as the Cheeto Guard. Previously, this component was only held on with friction, making it easy to bump off the holster. Additionally, shooters needed to manually unlock the Cheeto Guard in order to draw the holster reliably. The 7TS RDS completely redesigns this piece. Now the door is lower profile and is attached to the holster more securely. Even better, the Cheeto Guard now functions almost like a doggy door, automatically opening as the holster is drawn. Several attempts at botched draws resulted in perfect activation every time.
The 7TS RDS is constructed from an injection-molded polymer, opposed to the kydex used in previous holsters. This allows for a more repeatable and streamlined manufacturing process. Safariland is also capable of more easily making modifications to the holsters for new designs and special requests.
Baby We Got Options
Currently, the 7TS RDS is compatible with Surefire X300 and Streamlight TLR-1 lights in the same holster. Any holster fitting within those length and width boundaries should also fit. There are plans for low profile light options, such as the TLR-7 and non-light bearing models.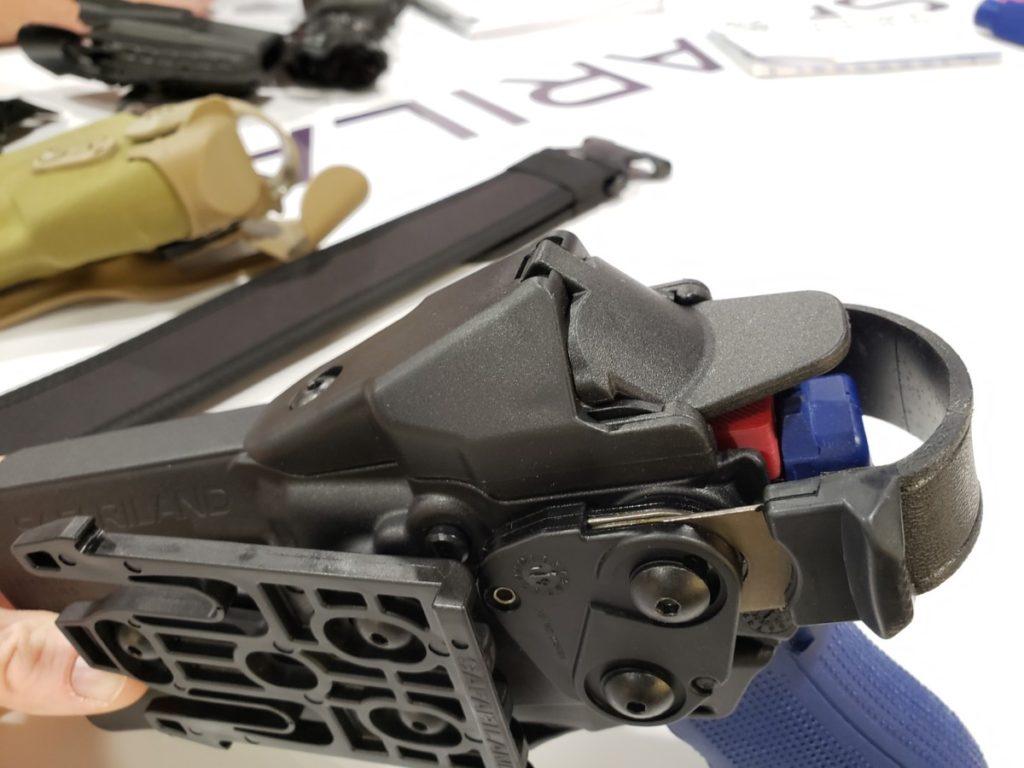 Safariland is supporting all double stack 9mm Glock pistols from the beginning. From there they will add SIG Sauer P320, Smith & Wesson M&P, and more. The 7TS RDS is not currently compatible with the Aimpoint ACRO. Most other optics will fit the holster. These include the Trijicon RMR and SRO, Leupold DPP, Holosun 509T, and other similarly sized optics.
The Safariland 7TS RDS will be available in February with an MSRP of $140. Compact light and non-light bearing models are slated for a summer release with the same pricing.