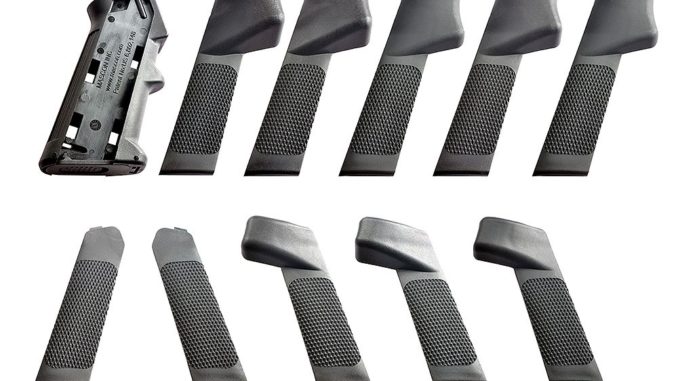 Strike Industries is introducing a new style of AR-15 grip for shooters that would like some adjustability with their pistol grip. The new Accuracy Grip is a standard A2 style grip that has 10 replaceable panels allowing the shooter to fine tune where the pad of the finger lays on the trigger. These grips were done in cooperation with Accuracy Grip company.
Strike will also be introducing what they call the "finger bump" that will allow shooters to add the same style of adjustability to most polymer pistol grips. We will update you when we have photos and more information on the "finger bump".
MSRP for the Accuracy Grip is $39.99, there is no indication on the MSRP of the "finger bump" at this time. You can learn more by checking out the Accuracy Grip's product page on Strike Industries site by clicking here.
The Accuracy Grip is a fully modular grip designed to increase comfort and custom fit the hand to the trigger,  along with improving accuracy and tactical maneuverability of the AR-15 platform rifles.

The Accuracy Grip comes with a main body, two (2) blank panels, and eight (8) selectable Trigger Finger Extenders (TFE's).  The user selects from the various sizes of TFE's to ensure a proper grip i.e., consistent trigger finger placement.  Proper and consistent trigger finger placement will virtually eliminate all lateral push and torque normally exerted on the trigger. The shooter will experience consistent and repeatable shot placement.

Features:
– 5 right and 3 left Trigger finger extender panels , 2 plain panels, main body.
– Right hand shooters can utilize the left TFE as a platform to rest the thumb to allow for greater tactical control of the rifle when it is held away from the body.
– Complete with patented TFE technology,  Accuracy Grip has addressed  the military requirement for a "fully functional tactical modular grip, designed to fit all hand sizes".
This post originally was run on The Firearm Blog - http://www.thefirearmblog.com/blog/2016/05/12/strike-industries-accuracy-grip/