Recently I received a package from Strike Industries with a Mega Fins Drop-in handguard and some Strike Industries Dummy Rounds for review. After installing the new rail I turned my attention to the new dummy rounds. Magpul released something similar a while back, but Strike improved on the concept with the addition of an included key ring ... maybe?
The product description on their website is pretty inclusive of what you get when you buy a package of the Strike Industries Dummy Rounds.
Strike Industries dummy rounds will let you safely test the feeding, extraction, and magazine function of your firearms without the worry of an accidental discharge. They also let you dry fire without risking damage to the firing pin. SI Dummy Rounds are a great training tool for safe handling of any of the most popular firearm calibers. This will aid in keeping your fundamentals sharp and keep the cost down on practice. They are made out of polymer material so they will not corrode or cause corrosion to any of your firearms.

Package Included:
– 5 PCS Dummy Round
– 1 Key Ring

Features:

-Available in 556, 308, 762×39, 9mm, and 45ACP
– Mag Release Tool
– Able to be worn as a key chain, necklace, etc…
– Durable polymer construction
As always Strike's packaging is refreshing and attractive, not to mention the patches they sent were pretty cool.
I received the dummy rounds in .45 ACP and 5.56 NATO. Seeing as I don't have a gun chambered in .45 currently they will make nice keychains, but more on that later. I opened the 5.56 dummy round box to find a nice surprise, Strike included a keyring with the dummy rounds!
As you can see they used a nice bright red polymer to make them easy to find if you use them at the range.
Starting with the 5.56 dummies I loaded them up into a mil-spec mag. The dummies loaded just like you would expect.
I then grabbed my SBR that I just installed the Mega Fins rail onto and inserted the mag.
The first round slid into the chamber without issue when I closed the bolt.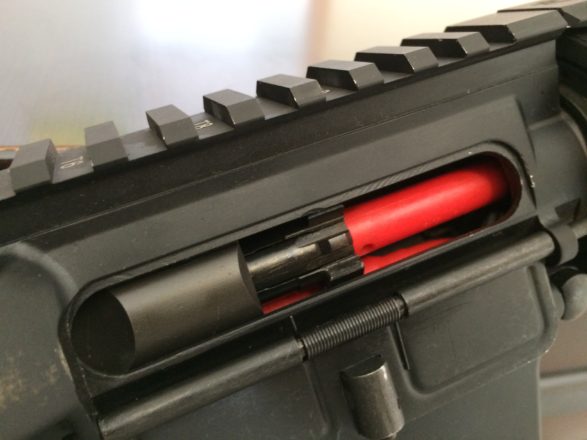 But as I extracted the dummy round I noticed the next round in the magazine nosed up quite a lot.
As I closed the bolt again it jumped into place and the chamber closed without issue. I extracted the dummy and the very next round had the same nose up problem. Except for this time, it was so severe that the bolt rode over the round.
I chalked this up to a bad mag and grabbed a Pmag that I had laying around. As you can see the dummy rounds loaded into the mag without an issue.
As I worked the charging handle I experienced no issues at all with the Pmag allowing the dummy rounds to nose up. I must have cycled them a hundred times without experiencing the same failure that I got with the Mil-Spec mag.
As previously mentioned the dummy rounds have a hole in them to allow you to use them on a key ring. In my humble opinion, they make pretty cool keychains. I threw my office key onto one of the provided keyrings, it sure beats keeping a loose key in my pocket.
I popped the .45 ACP dummy round box open to find the same as before. Because I currently don't own a .45 I will relegate these to keychain use.  I did try them in a friend's carry 1911 and found them to cycle reliably. I forgot to take photos of this, so you will have to take my word for it. Oops.
Strike did a great job improving on the polymer dummy rounds. I really like the hole that they included. I gladly will recommend these if you have a need for testing the feeding, extraction, and magazine function in your firearms.
MSRP for the Strike Industries dummy rounds ranges from $5 to $8 depending on caliber. They are offered in 9mm, 45 ACP, 5.56 NATO, 7.62×39, and .308. Their complete line of dummy rounds can be found here.
This post originally was run on The Firearm Blog - http://www.thefirearmblog.com/blog/2015/03/12/lightening-review-strike-industries-dummy-rounds/