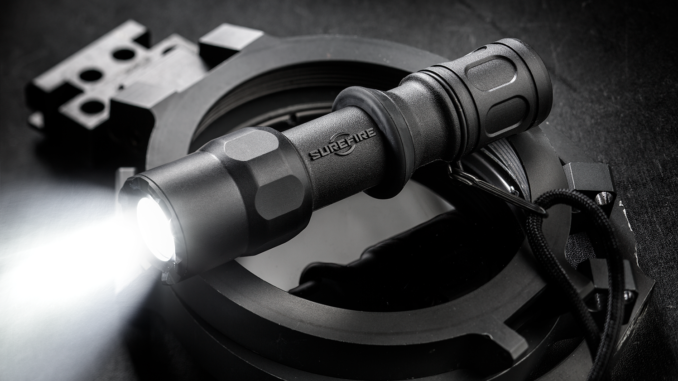 It's no secret that I like flashlights, especially high lumen count lights from Surefire. The new SureFire G2Z-MV and the G2X-MV have just been announced featuring an 800-lumen MaxVision beam, making me a very happy person. Why am I happy about a new light? The introduction of the high lumen handhelds tells me we might possibly see a new Scout light from Surefire in the near future that crests that 1000 lumen threshold. I sure would love to replace my aging Streamlight RailMount 2 lights with something more reliable.
The new lights will feature a polymer body and a pushbutton activation switch on the rear of the light just like you would expect from a SureFire handheld light. SureFire gave the G2X-MV light a high output mode of 800 lumens that throws light evenly thanks to a MaxVision style reflector or a low output setting of 15 lumens that is perfect for map reading or other tasks. The SureFire G2Z-MV has only one mode making it more suited for "tactical" use.
You can read the press release below or visit www.surefire.com for more information.
Mega Lumens Monday: SureFire Launches the ALL NEW G2X-MV & G2Z-MV!
Fountain Valley, CA—SureFire, LLC, manufacturer of the world's finest—and most innovative—illumination tools and tactical products, is excited to announce Mega Lumens Monday! SureFire set the bar, and now they're raising it. Each Monday SureFire will be releasing a new product that sets the standard in the illumination industry. Check in Mondays to see what's new... Because the best is yet to come.To kick it off, today SureFire is launching the all new G2X-MV and G2Z-MV with 800 lumens!

SureFire's new dual-output G2X with MaxVision™ flashlight features a proprietary reflector that shapes the high-output LED's light into a wide, useful MaxVision Beam™, which is optimized for your field of view. With a high output of 800 blinding lumens and a low output of 15 useful lumens, the versatile G2X-MV is ready for most any task at hand.

The new single-output G2Z CombatLight® is a no-nonsense workhorse designed and built specifically for tactical use. A single push or click of its tailcap switch provides foolproof activation under even the most stressful conditions, unleashing 800 blinding lumens of light shaped by a proprietary reflector into our wide, useful MaxVision Beam™.