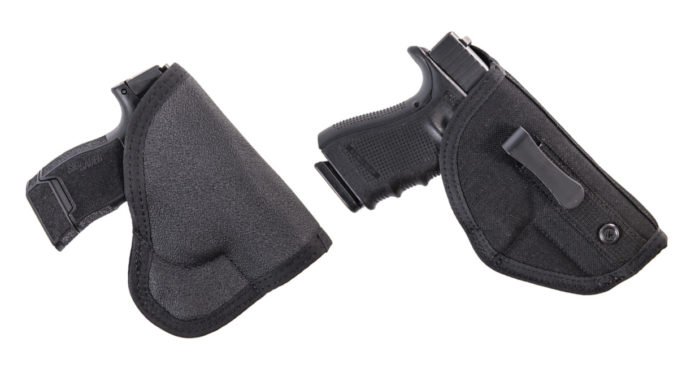 The introduction of two new HSGI holsters just before NRA's Annual Meeting in Indy is another addition to the already expansive High Speed Gear product lineup. After HSGI's acquisition of Comp-Tac last year, they expended their holster offerings but still didn't had some gaps in the product line.
We may be reviewing these in the future, make sure to check the holster section of the website for other holster reviews in the meantime.
HSGI Quick Pocket Holster
A new pocket holster offering called the Quick Pocket Holster features a rubberized outer coating to keep it in place when drawing your pistol from a pocket. HSGI says that the pocket holster will fit most small J frame size revolvers as well as subcompact semi-auto pistols.
HSGI's new Quick Pocket Holster has an MSRP of $27 and should be shipping soon, sadly the holster is not listed on the High Speed Gear website yet.
HSGI Sure-Grip IWB Holster
The other holster launched is an IWB option that appears to be designed to be useable without a 1.75" belt clip but offers the ability to use one if a more stable fit is desired. The holster is backed with neoprene that HSGI says offers a gel-like feel while adding more grip.
You will be able to get the holster in 7 different colors and three different sizes. There is no indication as to what the sizes will cover but one might assume that sub-compact, compact, and full-size pistols will be covered.
MSRP for the Sure-Grip IWB holster comes in at $35, like the Quick Pocket Holster the Sure-Grip IWB is not available on retailer's sites or HSGI's website yet but should be coming soon.
More from High Speed Gear:
SWANSBORO, N.C. - Manufacturer of Battle Proven Tactical Gear™, High Speed Gear®, has launched the Sure-Grip® IWB Holster and the Quick Pocket Holster. The Sure-Grip® Holster is designed to provide the utmost in comfort for inside-the-waistband carry, combining the manufacturing techniques and materials HSGI® is famous for. The Quick Pocket holster offers superior grip to keep the holster pocketed even when firearm is drawn.

The Sure-Grip® IWB Holster is constructed of 1000D Cordura® nylon laminate and a neoprene backing. The neoprene backing creates a "gel-like comfort" while simultaneously providing a level of grip that will hold in even the most physical situations. The Sure-Grip® IWB Holster also comes with a removable belt clip that can be used to help secure the holster to your waistband and provide extra grip throughout daily situations.

Sure-Grip® IWB Holster

Constructed with 1000D Cordura® nylon laminate
Neoprene backing provides grip and padding
Injection-molded belt clip fits belts up to 1.75"
Features double-needle edge binding on all edges
Available in three sizes
Available in seven colors

The Quick Pocket Holster is designed to concealed carry a subcompact handgun in your pocket. The rubberized exterior grips the inside of the pocket, keeping the holster in place when drawing.

Quick Pocket Holster

Fits most small (J frame) revolvers and subcompact semiautomatic pistols
Rubberized fabric grips pocket interior
Flared wing is designed to catch inside pocket to further hold holster in place when drawing
Features double-needle edge binding on all edges
Available in black and coyote brown

"While many of High Speed Gear's® products are used by professionals in the course of their occupations, we know that times the job doesn't end just because you clock out. Products like the Sure-Grip® IWB Holster and Quick Pocket allow our customers to keep carrying their equipment even when they might be doing everyday activities," explained Bill Babboni, vice president of High Speed Gear®.