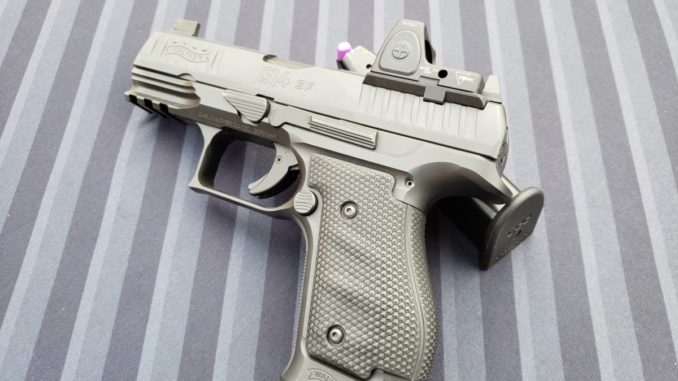 Walther had the latest pistol in their lineup, the Q4, on display at Range Day during SHOT Show 2020.
The Walther Q4 takes cues from the popular Walther Q5 competition pistol, with a few modifications made for duty use. The barrel has been shortened to 4 inches, and the beavertail is radiused for use in Safariland retention holsters.
Following market trends, the Q4 comes in both optics ready models, and straight iron sights. Optics are mounted on plates using the rear sight dovetail. Historically this meant Walther owners were left without a rear sight, but this is no longer the case.
The company is creating in-house plates featuring integral rear sights, placed behind the optic body. These are paired with a matching front sight manufactured by Dawson Precision. Plates are currently made for use with Trijicon, Vortex, and Leupold optics, with more options on the horizon.
The Walther Q4 features and MSRP of $1,399 for irons only, and $1,499 for optics ready models. Both version will be available in February 2020.
Affiliate Disclaimer: Firearm Rack is funded through direct donations and affiliate programs. Some links on FirearmRack.com are affiliate links. Using one of these links costs nothing extra, the retailer pays a percentage of the sale to Firearm Rack. Funding in this manner will assure that factual information is always first. If you would like our Amazon affiliate link or find more retailers on the Support Us page