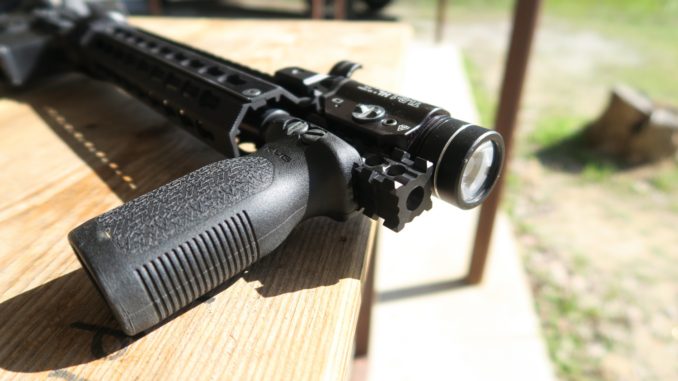 It is all too easy to fall into marketing hype when searching for accessories for your rifle, even easier still when you are new to shooting sports. With the boom in new shooters over the last several years having limited knowledge about what practical accessories work and which ones don't, companies all over the world trying to dip into the pocket of new shooters are giving birth to some questionable gun parts. One lazy weekend day I decided to see if I could find the most ludicrous accessory on the market. I think I may have succeeded in finding the worst ar-15 accessory on the planet, the Tufforce Muzzle Brake with 4 side Picatinny rail.
I ran across this muzzle brake while poking around Amazon a few months ago and decided I had to order it for no other reason than to use it as an example as to why thinking your accessory purchases through is important. Not only were the images they used to show off the features of the muzzle break Interesting, the product reviews are nothing short of hilarious. For the low price of $25.99 (at the time of this being published) you too can do wonderful things like move your front sight forward for better accuracy, just disregard the fact you would never be able to zero the rifle because no one makes a muzzle brake height front sight to my knowledge.
As I said, the reviews are nothing short of magical. If you need to kill some time they are defiantly good for a solid chuckle. Below is one of my favorites, If Chris Costa approves of it how could I go wrong?.
When the Tufforce brake showed up it was packaged in the finest plastic bag, I couldn't help but toss it into my backpack so I could get the office's impression of the Tufforce brake. Rest assured the consensus was that it is a terrible idea. We were all really surprised at how light the brake was. It appears that Tufforce made it out of 6061-T6 aluminum for whatever reason, not a terribly robust choice for a muzzle device as I will show later.
I decided that the best thing for me to start with was installing it on my test bed SBR upper for science. I wanted to start off by trying to see if a Knights Armament rail cover would survive the blast. Nope. When I pulled the trigger it disappeared in the fireball to never be found again. So much for rail covers. The stills below were taken from video shot at 60 frames a second, you can see that the cover was there and gone in the 1/60th of a second that the frame captured.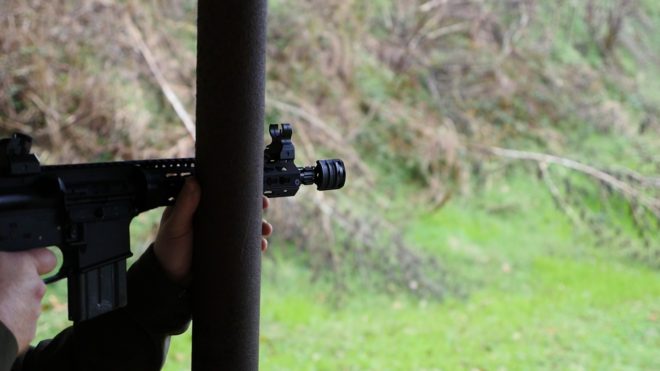 With all those empty uncovered rails I couldn't help but add some lumens and a forward grip. I can't say that I see this arrangement as safe for the shooter or even for the equipment mounted to the brake. While the thumb over bore grip has reigned supreme, we are taking it to a new level with a thumb over muzzle grip as long as you don't mind losing a digit or two.
My friend Bryan offered to model the muzzle brake so you can really take it in. Operator status achieved. We decided that it was far too risky to shoot the rifle while holding the grip.
We shot exactly 31 rounds through the brake and I noticed some serious erosion of the ports. I imagine that after a range session the brake could potentially fail. As much as I wanted to test the longevity of the brake I was legitimately concerned it might somehow hurt someone or my gun. This was the best picture I could manage with my point and shoot, you can see the bright silver areas is where the brake was eroding.
I hope that this story might make a new shooter or two think a bit harder about where you spend your hard-earned dollars. If you want to read some of those wonderful reviews on Amazon you can click here to check out the product page. Tufforce produces several other products that I am sure are just fine, you can check those out on their website here.
This post originally was run on The Firearm Blog - http://www.thefirearmblog.com/blog/2016/02/17/review-worst-ar-15-accessory-found-yet/