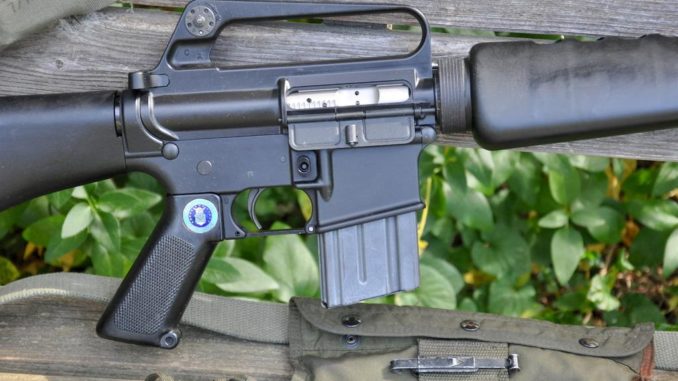 I'm not gonna lie, I am super excited to see more retro AR-15 parts like new production retro M16A1 furniture hit the market since M16A1 kits have become very hard to come across in good, complete condition and they often cost nearly as much as a complete rifle. I might see a set of this M16A1 furniture in my future for a beater clone.
The $349 M16 parts kits have dried up. If you are looking to build a retro rifle clone, new production parts or a complete rifle from one of the outfits putting together a retro rifle are your only real options.
Brownells has really been leading the charge when it comes to keeping the selection of retro rifle parts available to anyone who wants to put together their own 'Nam throwback rifle. When they started offering M16A1 correct barrels with installed front sight posts, people that don't have the capability of installing a front sight post on a virgin barrel at home like myself were reasonably excited. I can recall the barrels selling out quickly and the backorder list being forever long. After about a year wait, my barrel showed up at the door and I couldn't have been happier with my clone rifle.
Since the introduction of the barrels, Brownells has made A1 upper and lower receivers available, barrels in several different profiles to include XM177 and M16A2, period correct small parts and most recently, new production retro furniture. You can find all of the retro parts that Brownells has by clicking HERE.
The gun nerds over at Brownells have rolled out three different colors for builders to choose from depending on the overall look they are going for.
The black furniture would obviously be for builders looking to replicate the M16, M16A1, XM16E1, Colt 602 and rifles produced after 1963.
The green furniture is perfect for those looking to replicate early production Colt 601 rifles that were adopted by the Air Force in 1959.
While the brown furniture probably isn't exactly the same, you can use it to put together a copy of the very early AR-15 prototype rifles.
This post originally was run on The Firearm Blog - http://www.thefirearmblog.com/blog/2017/09/15/brownells-launches-retro-m16a1-furniture-let-cloning-commence/