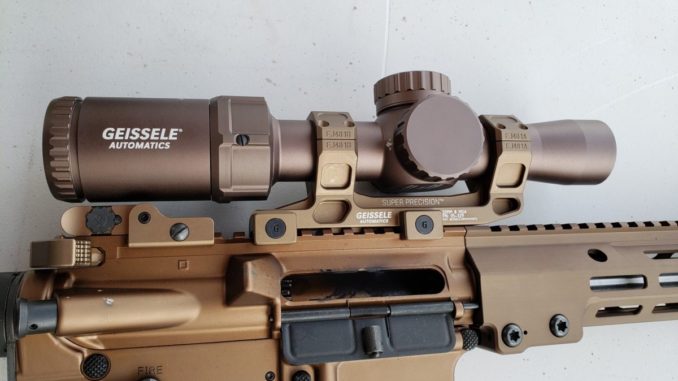 Geissele took the market by surprise, introducing the Super Precision rifle scope during SHOT Show 2020
The Super Precision is Geissele's first entry in the Low Power Variable Optic (LPVO) market. It features a mil reticle with mil adjustments for windage and elevation. There are currently no provisions for an MOA version. The reticle is illuminated, though it does not feature the levels of brightness found in some competitive options. I was able to see the illumination under cover on the range, but I could see this being challenging in direct sunlight. The brightness adjustment knob can be locked to prevent accidental changes.
Adjustments are made in 0.2 Mil clicks from capped turrets. The Geissele Super Precision weighs an average 24.2oz without a Geissele mount. Second focal plane means your reticle will be changing size as you change magnification.
Glass is very clear, with no distortion at either 1x or 6x power. A 26mm objective lens aids in gathering light for a brighter sight picture. I had zero issues using the Super Precision optic with either one or two eyes open. Magnification adjustment is middle of the road for speed, being slower than the Vortex Razor HD, but faster than many comparably priced options. The scope is not manufactured in house, instead being produced by Light Optical Works out of Japan. Overall this seems like a solid option for its price point.
The Geissele Super Precision 1-6x26mm LPVO features an MSRP of $975 in black, and $1,075 in Desert Dirt.
Affiliate Disclaimer: Firearm Rack is funded through direct donations and affiliate programs. Some links on FirearmRack.com are affiliate links. Using one of these links costs nothing extra, the retailer pays a percentage of the sale to Firearm Rack. Funding in this manner will assure that factual information is always first. If you would like our Amazon affiliate link or find more retailers on the Support Us page