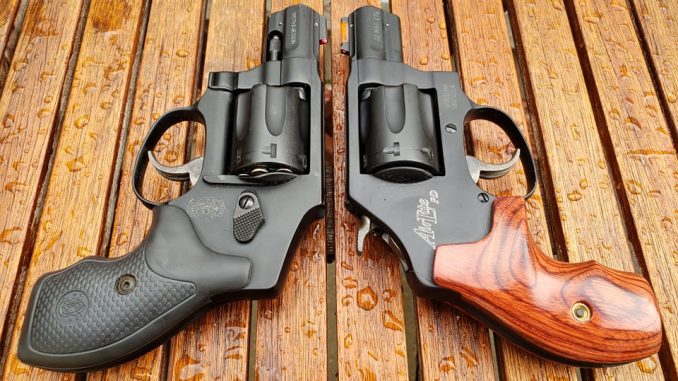 This may sound like heresy, but I like exposed hammers, with a prominent spur, on my concealed carry revolvers. This rings true whether I'm carrying appendix, in the pocket, or strong side. I'll stop you there, as this has nothing to do with shooting in single action. Single action triggers have no place on defensive handguns unless your name is Wyatt Earp or Josey Wales. My affinity for hammer spurs is purely administrative, not marksmanship oriented.
Why Choose an Exposed Hammer Spur
Manufacturing processes, as much as they have improved over the years, still produce lemons from time to time. With this in mind, we need to ensure that every piece of life-saving equipment we use functions properly. Before heading out the door, we should have no doubt in our minds that our gun works with our chosen ammunition. But even within the same box of ammo, problems can arise. I personally have found high primers, rounds where a flash hole was never drilled, and improperly seated bullets, and other defects. Hammer spurs allows us to mitigate at least one of these problems. How do we do this? Let me explain.
Load up your cylinder with your preferred ammunition, then close the action. How do you know that your cylinder is going to rotate properly if you end up needing to employ your defensive revolver? If you're carrying a gun with an internal or bobbed hammer, there's not really a way for you to tell. When using a gun with a spur, I can draw the hammer back far enough to where the cylinder spins freely. From here I can rotate the cylinder to ensure but there are no high primers, pulled bullets, or other defects in the manufacturing process which would prevent the gun from cycling. While this may not mitigate problems internal to the ammunition, it does help us avoid at least some fairly common issues relating to our ammunition. From here, release the trigger and lower the hammer.
Downsides to Hammer Spurs on Carry Revolvers
I'd be remiss if I didn't mention that you should be following the four rules of gun safety while doing this, as you are handling a real gun with live ammunition, and pressing the trigger at least somewhat.
Downsides of revolver spurs typically revolve around discomfort in the appendix position. While this can be a factor, there are ways to mitigate this issue. More time carrying the gun helps to normalize this feeling, much like when beginning to conceal carry. Next, selecting holsters with a sweat guard can help prevent the spur from pressing into our body. Finally, improving our fitness will reduce the discomfort.
Pocket Carry
The other primary negative I hear relates to hammer spurs and pocket carry. Specifically that the spur will get caught on the pocket during the drawstroke. Luckily this is easily avoided as well. Simply lay your thumb over the spur during the drawstroke, which will smooth out the the rear of the gun, avoiding snagging. This will also shrink the overall profile of your hand and gun, easing the draw. Think along the lines of your fist getting stuck in a jar when going for the last pickle/cookie/whatever.
This slideshow requires JavaScript.
The one hang-up here could be firing your gun while still inside a pocket. This is less of a factor for pants pockets, and more of a concern in a coat. In this scenario, your hammer spur could potentially get caught up in the lining of the coat, preventing proper cycling of the gun.
Final Thoughts on Hammer Spurs on Concealed Revolvers
Of course there's nothing wrong with internal hammers. I own and carry a few of my own, such as the excellent S&W 640 Pro. That being said, don't feel limited by exposed spurs. There are some serious benefits to an exposed hammer, and most negatives are easily mitigated. Try your hand at both styles of revolvers and see which works best for you. You may be surprised by the results.