Eye-catching visuals can be a critical part of brand recognition for up and coming companies. For some this means hiring Gun Bunnies, for others it means bright lights and loud noise. For the Hush Puppy Project and Super Vel, it means frogs and 2D waifus.
The Guns
For SHOT Show 2019 Hush Puppy Project and Super Vel Ammunition have released their collaborative effort to re-imagine the MK 22 Mod 0 pistol. The Hush Puppy Project uses a suppressor ready Smith & Wesson M&P 2.0, called the HPP MP9. What makes their pistol unique is the locking lever that prevents the slide from cycling when activated, eliminating up to 113 decibels of noise. The HPP MP9 is available through Lipseys with an MSRP of $799.
Not content to sit on their laurels, Hush Puppy Project is releasing two new pistols in addition to the HPP MP9. These are a Gen 5 Glock 19, and a Glock 43. Both have modifications to the slide to prevent slide from cycling during firing, much like the HPP MP9. Both Glocks are set to release in March 2019. No pricing has been revealed at this time.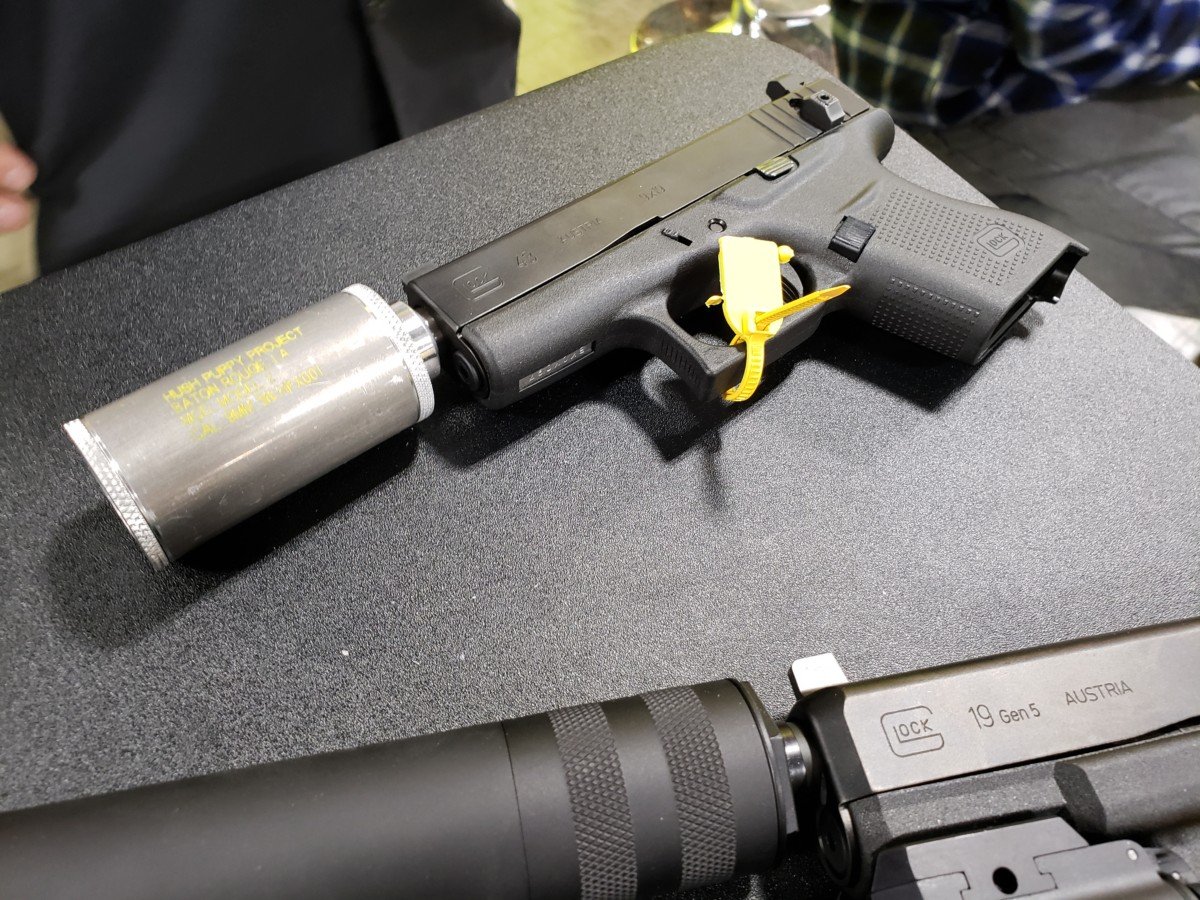 The Suppressors
The Model 1 is a direct thread modular suppressor designed specifically for use with the HPP MP9. The first segment uses a monocore baffle. Next you have a smaller, removable section that uses wipes. Attaching the first segment of wipes to the monocore baffle gains users an additional 10db of suppression. Those familiar with wipe based suppressors know that they provide excellent noise reduction but only for a few shots. This is where the third portion comes into play.
The final segment of the Model 1 stores additional wipes, which are designed to be swapped out with those used in the second component. Once swapped, the owner ships the final segment, filled with the ruined wipes, back to the Hush Puppy Project for replacement. All three segments can be combined and used simultaneously, but that defeats the intention of the design. The Model 1 is available through Lipseys and has an MSRP of $899.
As a partner for the upcoming G43, Hush Puppy Project is releasing a compact suppressor, the Model 2. The Model 2 is a wipe-only suppressor to maximize noise reduction while minimizing footprint. No release date has been announced for the Model 2 suppressor.
The Ammo
Super Vel's contribution is their 147gr subsonic hollow point ammunition. As the original manufacturer of companion ammo for the MK 22 Mod 0, Super Vel has brought their rounds into the 21st Century with modern bullet design. Super Vel ammunition is available directly through their website. Prices vary per caliber and quantity.