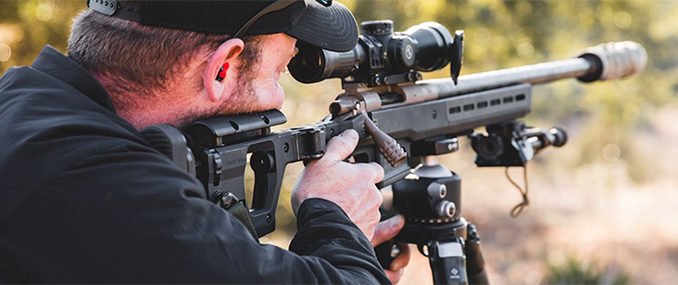 Want to turn your short action Remington 700 short action into a precision rifle? Magpul's new Pro 700 Rifle Chassis will let you do just that. It's an American-made billet aluminum chassis featuring plenty of adjustments to fit the shooter, a folding stock and plenty of M-lock slots (of course). And the 5.4 pound unit is fully ambidextrous to accommodate left-haneded actions.
Price: $999.95 Here are the details . . .
The Magpul Pro 700 Rifle Chassis is an uncompromising, full featured precision rifle chassis for short action Remington® 700 actions and other Remington® 700 footprint actions. The Pro 700 combines innovative engineering, precision machining, Mil-Spec quality finishes, and an extensive list of purposeful design features with complete adjustability to provide demanding end users with the most comprehensive available precision rifle platform solution for true out of the box performance.
Based on a full billet aluminum skeleton and clad in Magpul polymer for environmental comfort, noise mitigation, and ergonomics, the Pro 700 is also fully ambidextrous. Capable of fitting both right and left-handed actions with the simple swap of a bolt-cutout plate, and with a reversible cheek riser and reversible hinge on the folding version, "lefties" haven't been "left out."
Made in U.S.A
FEATURES
Type III hard anodized machined 6061-T6 billet aluminum V-bedding block, body, adjustment knobs and forend with high strength injection molded polymer body covers
Ambidextrous bedding block can be changed by swapping the QD sling swivel plate and bolt cut out plate for left or right hand actions using a 1/8" hex wrench
Folding stock with push-button activated durable steel hinge with Melonite® finish is reversible for left or right folding capability with the use of a 5/32" hex wrench. A fixed stock adapter is available for a non-folding stock solution
Folding stock is also designed to capture the bolt handle when folded and is compatible with a large variety of aftermarket bolt knobs and handles
Optional inline mount for clip-on night vision and thermal imaging devices
Overall LOP adjustment range is 13.25" – 15.125"
Butt pad height can be adjusted up 1.33" and down .90" and is adjustable left or right 5 degrees
Comb height adjustment has a 1" range with a secondary locking knob to eliminate movement in the cheek riser
Cheek riser features a 3-position fore/aft adjustment of +.375", 0" and -.375" which can also be changed for left or right side usage
Injection molded polymer grip with 5 degree forward edge sweep and enlarged palm swell with 7 degree aft edge sweep, with a .75" fore/aft trigger reach adjustment
Additional grip option included with a more aggressive forward sweep (8 degree forward / 20 degree aft edge sweep)
Durable steel rotation limited QD sling swivel mounts with Melonite® finish fits up to 1.5" push button swivels
M-LOK® slots for accessory mounting on the forend (left-6/right-6/bottom-7) and the stock (bottom-2)
Integrated AICS pattern magazine well optimized for PMAG® 5 & PMAG® 10 7.62 AC™ magazines as well as most other AICS pattern short action magazines
Large trigger guard allows for use with gloves and accepts most factory and aftermarket curved or flat triggers
Low-profile, anti-snag ambidextrous magazine release is made of Melonite® treated steel for wear and corrosion resistance
Ambidextrous thumb shelf for firing hand thumb placement
Two ¼-28x1/2" Socket Head Cap Screws are included for use as action screws