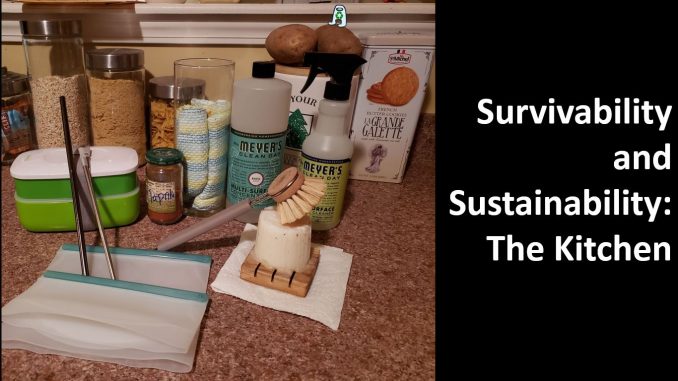 The kitchen has been one of the easiest places for me to implement sustainability practices. There is more product turn over in the kitchen than in any other room of your house. Every week you are replacing food, cooking, storing, discarding, and cleaning in your kitchen. It is relatively easy to make more sustainable choices in your kitchen, and you can start by looking in your trashcan.
Recycling and Composting
The first thing I did in my kitchen was starting recycling. About half of what I threw away was recyclable. Soup cans and pasta boxes had previously ended up in the trashcan, but belong in the recycling. Once I got another receptacle to hold the recycling it was easy to separate. Recycling alone cut the waste I was sending to a landfill nearly in half.
After recycling, I started composting. Food waste is what creates methane gasses in landfills, which is bad for the ozone. When I started composting I was living in an apartment, and didn't have the time to dedicate to a patio composter. Instead of throwing food in the trash, I started freezing my food waste until I could go to my mom's and put it in her compost pile. Composting then decreased my landfill waste even more. Now a lot of what I throw away is plastic bags from frozen veggies, or wrappers from meat packaging. Rarely does a recyclable or food waste end up in my trashcan.
Being cognizant of what you do with kitchen waste is a good first step in a sustainability journey. Helping the environment could avoid a disaster that forces us to implement our preps and be forced off grid. You can also try to sell your recycling. In many cities you can sell aluminum, and in some states you can get 5¢ for turning in plastic bottles.
Food Storage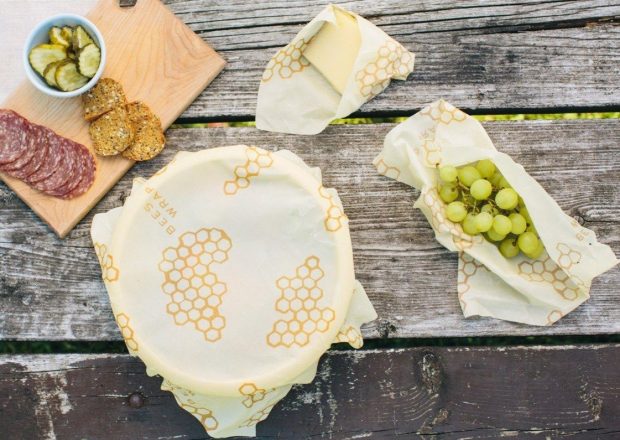 Plastic cling wrap and Ziplock bags can be found in nearly every kitchen across America. These are some of the most common products to help store and transport food. I think most of us use plastic wrap to take our sides to Thanksgiving dinner. I did, at least until I found sustainable options.
Bee's Wax Wraps are a sustainable replacement to plastic wrap. These are a cloth, or cloth fiber that is coated with bee's wax. They are malleable once slightly warmed up in your hands, and can be used to cover containers for transport, or to cover food in your kitchen. You can buy bee's wax wraps in various sizes to fit different needs, and they come in a multitude of cute designs!
Aluminum foil is a good choice if you need something disposable, but don't want to produce plastic waste. It can be recycled and even reused! If you are going to recycle aluminum foil at the end of it's life just make sure that you wash off any food residue!
Rather than use disposable Ziplock bags you can store food either in reusable seal bags, or you can use Tupperware. Recently at Aldi I bought some silicone sandwich and snack baggies. These will be used in my lunches, or to store cut and washed veggies in our refrigerator. Leftovers from dinner find themselves in Tupperware. Note, people won't care if you bring cookies in Tupperware rather than on a paper plate wrapped in plastic wrap.
Don't buy new products yet!
Before you think you have to go to the store and buy new Tupperware or Ziplocks, you can start by reusing what you have. When I do use Ziplocks I try to wash them out and reuse them once or twice. I feel better knowing they weren't a single use item. My dad bought me a nice Tupperware set for Christmas one year, but before that I regularly used butter containers, and sandwich meat containers from Aldi.
Cleaning Supplies
Does everyone keep the majority of their cleaning supplies under their kitchen sink? Growing up that's where we kept ours, so I just kind of associate cleaning supplies with kitchens. Also, my kitchen is the room that always seems to need cleaning. It shouldn't be surprising that there are quite a few sustainable cleaning products out there.
Sustainable cleaning products aren't necessarily "organic" or "green". We use Dawn and regular dishwasher soap in our house because I think these products clean better than their counterparts. To counteract the amount of plastic waste that is produced, I try to buy these products in larger quantities. Another sustainable option is to buy concentrated product. I like the Mrs. Meyers all-purpose cleaner. I have been reusing a spray bottle and refilling it with the Mrs. Meyers and water. So far the product has lasted about a year, so less plastic waste!
Conclusion
Looking through your trash, refrigerator, and under your kitchen sink you will find opportunities to make more sustainable choices. These are changes that will be minimal to no cost. Nor do these changes cost any additional time. You are going to continue discarding waste, so recycle or compost what you can. You are still going to store food for later, so use something that will last longer to store it. You are going to clean your kitchen and house, so buy larger containers of cleaning product. You can also sign up for a monthly product sample from The Mighty Nest. I have been a part of their "mighty fix" for just over a year and enjoy getting sustainable products each month!