I had heard of Matrix Arms via a friend near the end of 2022. Intrigued by craze of "not Glock" Glocks, I looked into them, and decided to try out their handgun on Range Day. How was the Matrix Arms MX19?
Matrix Arms On the Range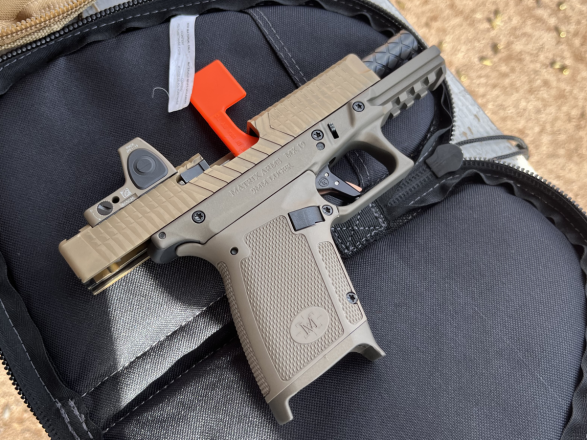 Matrix's flagship firearm is the MX19, a Glock 19-esque pistol. However, the MX19 is like a Glock mashed up with a 2011. It has an aluminum frame, with wraparound grips, and a proper 1913 accessory rail. The MX19 also features pretty aggressive slide serrations, factory RMR cuts, and a Timney 3lb trigger. It takes Glock mags, and is based on the Generation 3 pattern.
The MX19 is a weird gun to pick up in handle, as I'm pretty familiar with Glocks. Controls are all in the same places as a Glock, however, the grip angle is more 1911-style. Shooting characteristics are kind of what you'd expect. Metal frame Glock still shoots pretty Glock-like, but with a little less recoil. The aggressive slide serrations, and frame texturing were certainly nice, and the optic cut is fairly low, so quick and accurate shooting was not difficult. However, it wasn't all perfect. I do not like the Timney trigger. It is too light, and was not responsive enough. With enough Glock shooting, that tactile trigger comes to be appreciated, but it wasn't here. That being said, I wouldn't be surprised to see different triggers being offered in future MX19 variants.
Check our shooting with the MX19:
Overall, I like that the Glock is becoming similar in the 1911, in the sense that more than just the original company is making version of it. While the MX19 might not be perfect, it is a pretty cool variation of the Glock platform. MSRP starts at $679 for MX19 frames, and $1135 for complete pistols.