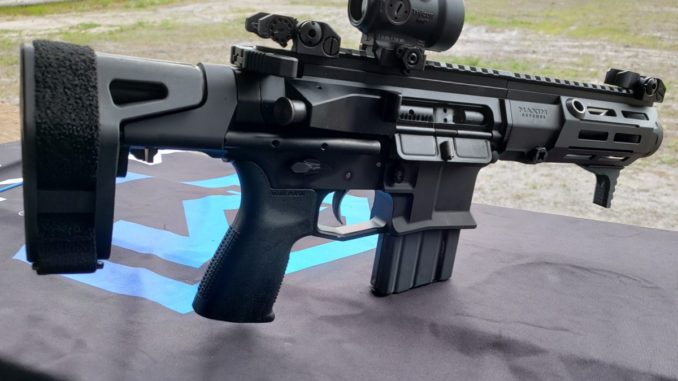 Maxim Defense had their PDX pistols and SBRs on display during Big 3 East 2019.
What makes the PDX stand out from other short barreled rifles is Maxim Defense's proprietary bolt carrier group and buffer. Instead of having a traditional setup, the buffer is partially contained by the BCG, reducing the overall collapsed stock length to a measly four inches. Overall length is only 18.75 inches with the standard 5.5 inch barrel.
To help mitigate reliability issues inherent to stubbier designs, Maxim Defense recommends combining the PDX with their Hatebrake. The Hatebrake traps gas within a large chamber, forcing some back into the system, improving function. Muzzle blast and flash are redirected forward, away from the shooter. Firing several magazines in both semi and full auto, the PDX proved totally reliable for me in 5.56 and 7.62x39.
The PDX comes equipped with a host of upgraded components. The charging handle and safety are ambidextrous models from Radian. The trigger is an ALG Combat Trigger. The HK416 style rail provides greater strength at the cost of higher weight. Muzzles are threaded in either 5/8x24 or 1/2x28 thread pitch. Users can mate their PDX upper with any AR-15 lower receiver.
Expect a 5.56 version of the Maxim Defense PDX to be released by 15 April 2019. Several models will follow in October, including new barrel lengths, integral suppressors, and a 7.62x39 version. MSRP on both 5.56 and 7.62 models is $2299.