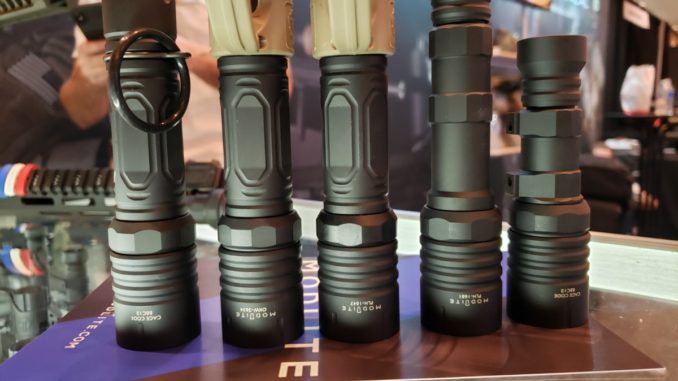 Modlite had the new ModButton and some other new things on display during SHOT Show 2020.
Modlite Handheld
If you know Modlite weapon-mounted lights, then you know Modlite handheld lights. Essentially what they've done is take their already wildly popular lights and put them in the palm of your hand. Even the same naming conventions are retained.
The Modlite PLH provides 1,500 lumens and 29,000 candela with a wider spill of light. OKW provides 680 lumens with 69,000 candela and a greater throw with less spill. Both lights come in a long or short configuration, using 18650 or 18350 batteries respectively. Long versions have a run time of 90 minutes, while short have 45 minutes of life.
Both the PLH and OKW handheld are available now and retail for $350.
Modlite ModButton
The ModButton is Modlite's new pressure switch. This is a compact, single-button switch designed to be mounted to a picatinny or MLOK rail segment. Unlike most pressure switches, which are held on by friction, the ModButton features two screws to lock it into the rail.
Shooters can use the button with any Scout type light, whether Surefire, Modlight, Arisaka, or more. The Mod Button is also compatible with Crane plugs, allowing you to integrate with DBAL, PEQ, MAWL, and other aiming and illumination devices. The lead for the Modlite ModButton is extended to 9" in length, allowing for more customization with placement along the rail. Activation is possible with the entirety of the pad, not just a centered hotspot.
The Modlite ModButton will be available in March with an MSRP of $124. Find more on the Modlite website.