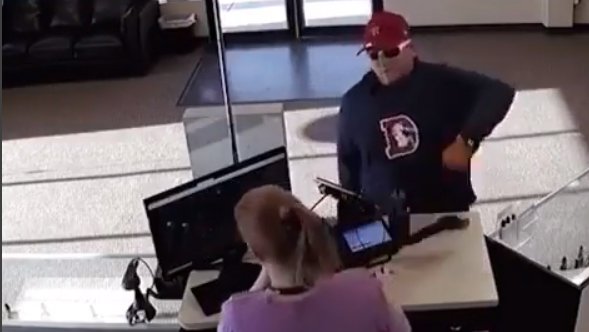 We have a twofer this week! The first video is a straight up gun fail during a botched robbery and the second video looks really cringy on the surface, but once I dove into the video deeper we learned that there is way more to the story.
Make sure you check out today's Daily Gun Deals
I should preface this post by telling you that I reached out to Tig personally and asked for more info about the second video. Tig is a friend of mine, but that doesn't mean that he couldn't have potentially had a judgment. Anyhow, we will talk more about the circumstances surrounding the second video in a bit.
The Botched Robbery
The botched robbery video comes from the Aurora Police Department in Colorado. In the video we see a man walk into an e-cigarette store and attempt to pull a gun out of his waistband. The moron promptly loses his grip on what was later revealed to be a BB gun and it goes flying across the counter. As the clerk retrieved the BB gun, the failed robber ran out the door, losing his pants as he fled the scene.
Idiot.
There is a bunch that we can learn from the above video so that if we should be so unfortunate to have to defend ourselves with a firearm, we don't lose control of our gat.
Practice establishing a proper grip before the gun comes out of the holster, make sure that you can keep control of the gun when your hands are sweaty or otherwise slick by installing a Talon Grip or having someone like TXT Custom Gun Works stipple your gun.
Most of all, don't be an asshole that sticks up e-cigarette stores ... or any stores for that matter.
Tig Tiegan Takes A Slug
At first glance, this video looks a lot like some grade A dumbassery but a phone call to Tig revealed that there was way more to the story. I can't call him a Monday Gun Moron, but I sure as hell can think that he was an idiot for accepting the role as the target.
We still love ya buddy. I promise.
I did ask him what his lovely wife Margret had to say about him being shot at. As I might have expected, Tig said that she told him that he was an idiot and refused to watch. I am with you on this one Marget.
At face value all you see in the video is Tig standing on a dock, wearing some armor vest and holding a Hardcore Defense NIJ Level IIIA rated shield. A man then takes aim at the shield and Tig ducks behind it just as he pulls the trigger. Thankfully the shield did its job and he was unharmed.
Tig's deeper explanation of the video made a lot more sense than what I gathered from the Instagram caption. He says that the shield had been tested and approved for all the calibers that they shot at it and this video was part of some final testing that was being done on the Hardcore Defense shield.
The shield is designed for civilians to use should they become victim to a home invasion and the manufacturer wanted to make sure that a person was capable of holding onto the shield while it was being shot by the intruder. Tig tells me that all safety precautions possible were taken and that they wanted to have the feedback from an actual human as to how it felt to stop bullets.
While I don't condone allowing yourself to be shot at, I do understand the need for real testing like in the video.
https://www.instagram.com/p/BnPs0Omh9mO/?hl=en&taken-by=john_tiegen
My big concern about the video is some halfwit is going to see it and attempt to recreate it with their buddies after round 10 of their favorite bargain beer/toilet wine.
As always, Firearm Rack does not condone this kind of stupidity and you should always use firearms in a safe manner. Please do not be dumb with guns, I don't want to make fun of you.