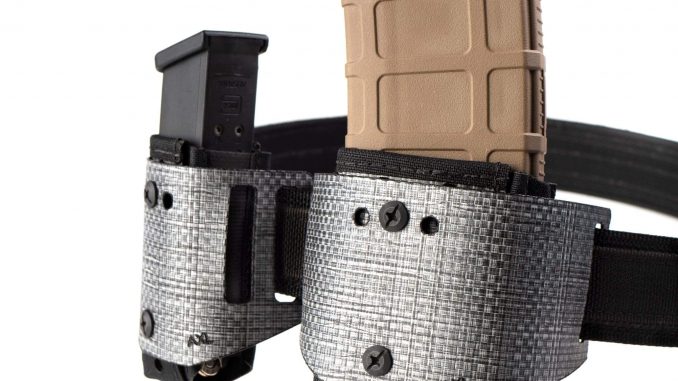 Today PHLster announced their latest product, the Ascent modular magazine pouch. Using a blend of polymers and elastic, the Ascent creates a low profile pouch that allows for the easy re-indexing of magazines; something that is lacking with most slimline pouches.
Available for both rifle and pistol magazines, the Ascent allows users to easily swap between OWB and IWB use. For users looking to conceal, PHLster includes either a Mod4 or Monoblock from Discrete Carry Concepts depending on the chosen size. For OWB, PHLster users their new, in-house belt slides. Fans of the Flex system can rejoice, as the Ascent is completely compatible.
You can check out PHLster's promotional video >>HERE<<
The Ascent retails for $59.99 and can be found >>HERE<<
PHLster Ascent Press Release
The PHLster Ascent pouches bring new materials, technology, and capability to concealed carry. 

Conventional elastic pouches are universal, comfortable and slim, but re-inserting magazines can be tricky. Rigid pouches can be uncomfortable or bulky and might not fit many different magazines.

By using an ultra high-strength flexible polymer textile, the Ascent pouches provide enough structure to maintain their shape, while being as slim, comfortable, and versatile as an elastic pouch.

Elastic portions of the pouch provide enough give and tension to accommodate a wide variety of double and single stack pistol mags, while the thin polymer exoskeleton reinforces the pouch and provides unique rigid mounting points for a variety of hardware.

This allows for a versatile, thin, featherweight elastic pouch which can accept both Discreet Carry Concepts clips and our unique OWB belt slide panels. 

Available in rifle and pistol sizes, each pouch includes a DCC clip (Mod4 for pistol and MonoBlock for rifle), and the necessary hardware to mount either the clip or the included OWB belt slide panel.

The Pistol magazine OWB belt slide panel provides two options for belt threading, to accommodate larger or smaller magazines as necessary.

To carry OWB, install the panel on the face of the carrier, selecting your desired carry angle using one of the three adjustment holes, and thread your belt through the slot and behind the magazine. This results in one of the most body-hugging, stable, snag-resistant, and low profile OWB magazine pouches available.

The elastic versatility allows the pouches to be used with other necessary items like flashlights, multitools, and tourniquets.

The Ascent pouches are fully compatible with our Flex system.

Whatever your application, the Ascent pouches provide the lowest visibility option for OWB carry, and a slim, comfortable, versatile solution for IWB concealment with unmatched features and performance.