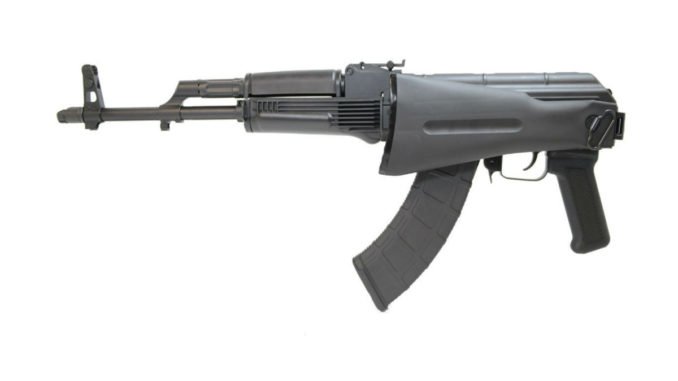 The PSA AK-47 side folder should turn a lot of heads, especially since the rifle is priced at a mere $699.99. Like the rest of the GF3 PSAK-47 rifles, the new side folder will sport the same forged trunions that have made the bargain-priced rifles gain some popularity quickly.
Looking at the specs on the PSA AK-47 side folder, it looks like it is pretty comparable to the Arsenal SLR 107 FR I used in the Xtech Tactical MAG47 review a while back.
Gas Nitride 4150 steel treated barrel
Stamped steel receiver
Hammer Forged Front Trunnion
Hammer Forged Bolt
Hammer Forged Carrier
Side Scope Mount
7.62x39 Caliber
1 in 9.5" Twist
Std. 800-yard rear sight leaf
Classic Polymer Upper/Lower Handguard, Black
Classic Polymer Grip, Black
Classic Polymer Side Folding Stock, Black
Magpul 30 round magazine (1); Where allowed by law

 **Cleaning Rod Not Included
I really hope PSA offers the side folder in the pistol variant with the super cool arm brace they showed me last year during a visit to their facility.
Like I mentioned earlier, the PSA AK-47 side folder will carry an MSRP of $699.99, the same price as the non-folding PSAK-47 Classic rifles. Find more information on the Palmetto State Armory website or on the PSAK-47 side folder product page.
More about the PSAK-47 Side Folder from Palmetto State Armory:
The PSAK-47 GF3 was designed from the ground up to be a new standard in AK-47 rifles, utilizing all new precision manufactured parts.  Thoroughly tested in development, we tortured tested to 10,000 rounds to ensure a quality product.  Not to be satisfied with just a good AK-47, we kept improving and now are proud to announce our PSAK-47 Gen3 Hammer Forged (GF3) rifle with a hammer forged bolt, carrier, and front trunnion.

The 4150 barrel is nitride treated for accuracy and durability and is pressed into a new hammer forged front trunnion to ensure the longevity AK-47s are known for.  The hardened steel 1mm receiver features a mil-spec style single hook trigger, and side rail mount.  The front trunnion and bolt carrier are engraved with GF3 to designate the GF3 hammer forged model.  The rifle is finished with a classic polymer handguard, stock, and grip; Rifle ships with 30 round Magpul magazine (where allowed by law).
Affiliate Disclaimer: Firearm Rack is funded through direct donations and affiliate programs. Some links on FirearmRack.com are affiliate links. Using one of these links costs nothing extra, the retailer pays a percentage of the sale to Firearm Rack. Funding in this manner will assure that factual information is always first. If you would like our Amazon affiliate link or find more retailers on the Support Us page